By

Leanne Hays
Updated 04/11/2023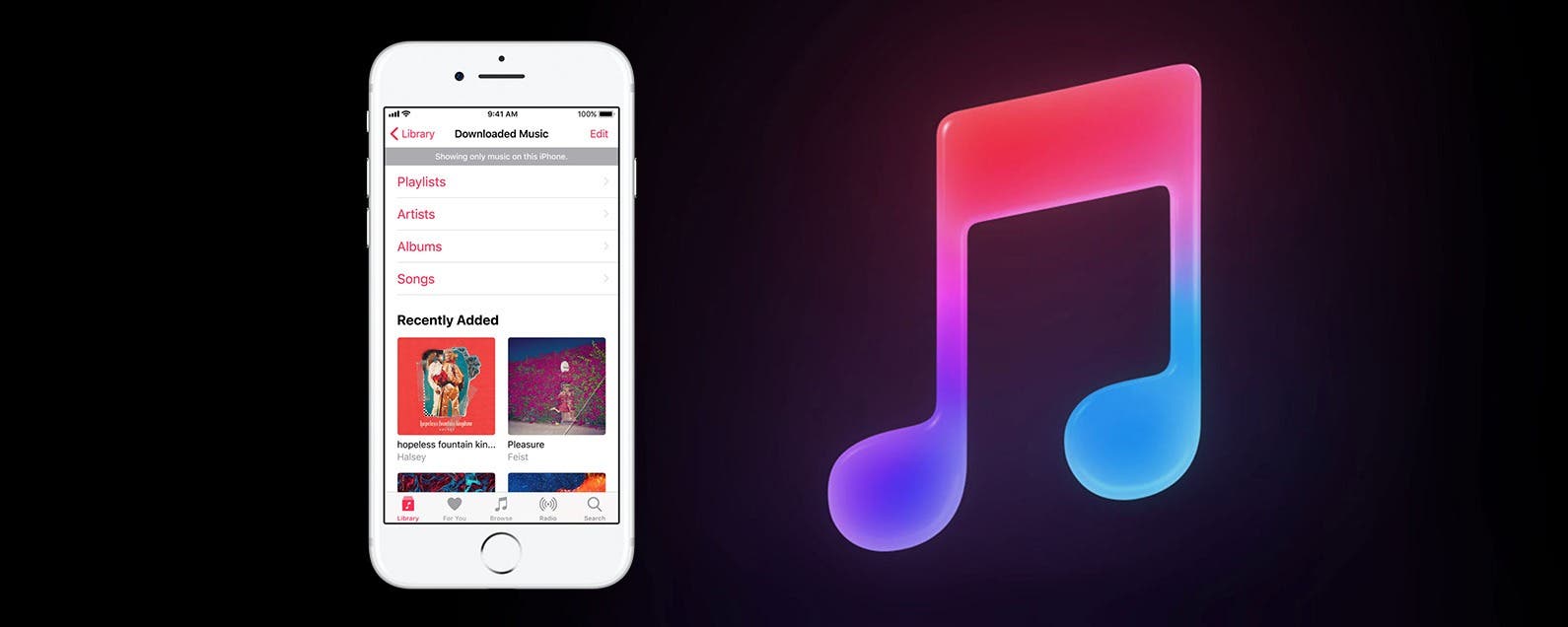 * This post is part of iPhone Life's Tip of the Day newsletter. Sign Up. *
Apple Music is a service that allows subscribers to browse and listen to a library of over 40 million songs. Apple Music users can also download music, make playlists, and follow friends to find out what they're listening to. There's even an Apple Radio feature where subscribers can tune in to a wide selection of live radio stations to hear streaming music, or create their own custom radio stations. If you find a song you like on any radio station you're listening to, you can save it to your Apple Music Library, add it to a playlist, and share it with other Apple Music listeners you've connected to. But how do you go about downloading a song or album from Apple Music when you find content you enjoy so much that you want to have constant access to it? Let's find out!
Related: How to Find and Follow Friends on Apple Music with iOS 11 on iPhone

Discover your iPhone's hidden features
Get a daily tip (with screenshots and clear instructions) so you can master your iPhone in just one minute a day.
How to Find and Download Music from Apple Music on iPhone
First, you'll need to have an Apple music account set up. If you don't have one yet, the first three months are free, and after that you'll be charged $9.99 a month for an individual subscription. After you're all set up with your account you can either use the Browse function to discover new music, or the Search function to find artists, songs, and albums you already love.
Browse Apple Music on iPhone  
Tap the Music app
Tap the Browse option at the bottom of the page.
Once in Browse, Apple Music subscribers have the option to find music they love by exploring New Music, Playlists, Top Charts, or Genres, or even to watch music related TV shows and movies. There are so many different paths to take with this feature that you'll need to explore a bit before you feel familiar with your options. Even then, offerings keep getting updated and changed, so there will always be something new to discover! I'll show you one route I took to find some new music below.
Toward the bottom of the Browse page, tap Genres.
Choose and tap a Genre you'd like to explore.
​
Find a Playlist you'd like to explore and tap on it, now you can listen to the entire Playlist, or tap on one song.
If you'd like to download the playlist to your Apple Music Library, tap on the three white dots in a red circle on the upper right of the display.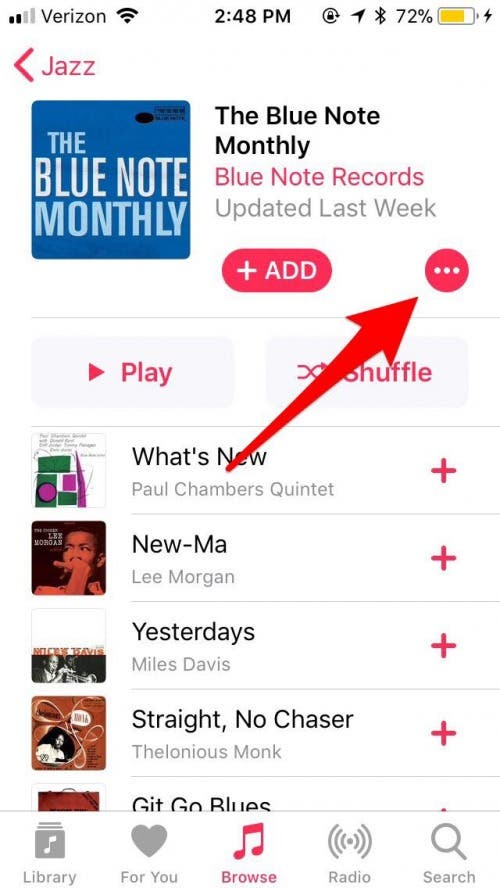 You'll see the option Add to Library.
If you tap the Library icon at the bottom of your screen you'll notice your playlist has appeared there!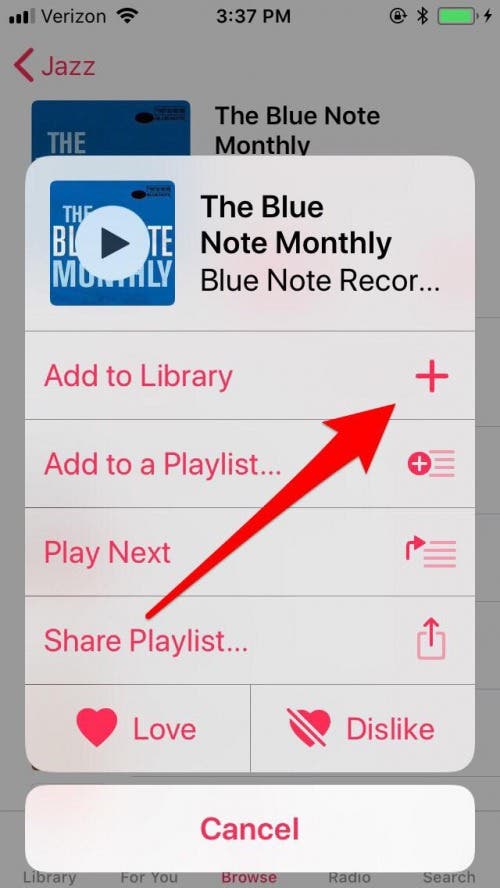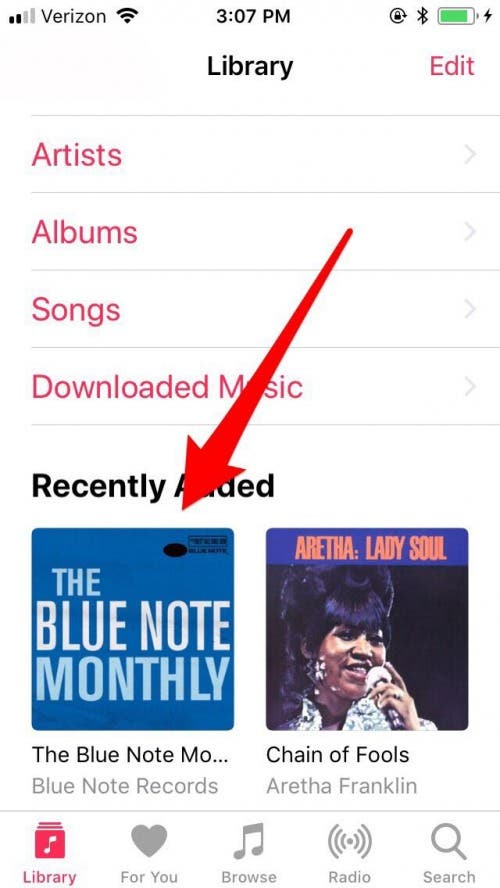 If you'd like to download the song or album not just to your Apple Music Library, but also your iPhone, go back to the red circle with the three white dots to the right of the album picture and info. Tap it again, and a new option appears, Download.
You'll see an option to download the Playlist, tap it; if you want to download just one song from the playlist, tap the red + to the right of the track.
After you tap Download you'll see all the tracks, and the whole playlist, in the process of downloading to your iPhone.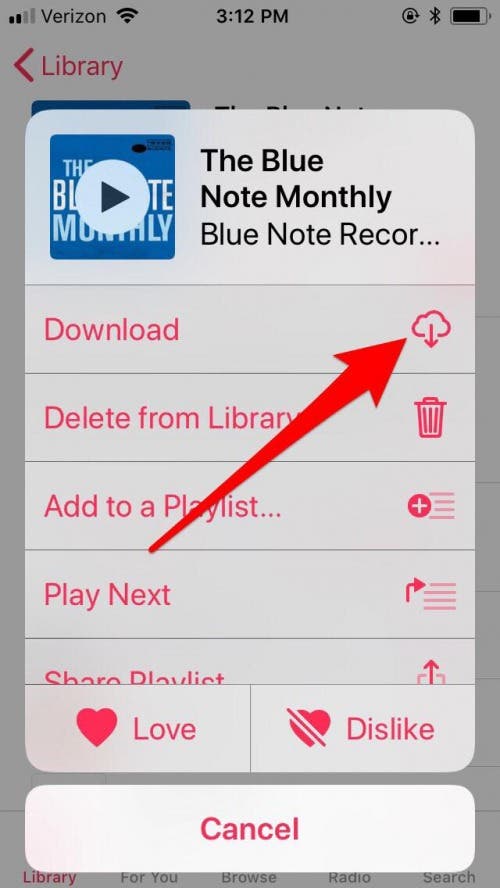 Now you can go right to your Apple Music Library to find the songs and playlists you love, so you can play them again any time, share them with friends who are also Apple Music subscribers, and mix your favorites into new playlists and radio stations. If you've also downloaded music to your iPhone from Apple Music you'll be able to find that content under Downloaded Music in your Apple Music Library. There is one catch, though. All these downloads are included in the cost of your Apple Music subscription, but if you let your subscription lapse you don't get to take this downloaded content with you; it will be erased from your phone as Apple considers this content a rental, not a purchase. Seems unfair, but then again I guess Apple had to close the possible loophole of people using the three month free trial to download as much music as they possibly could, then not maintaining their subscriptions. No such thing as a free lunch, as they say—or, apparently, a free playlist!