If you want to do your own self-service repairs on your iPhone, we'll show you how to get the manuals you need.
By

Brian Peters
Updated 06/23/2022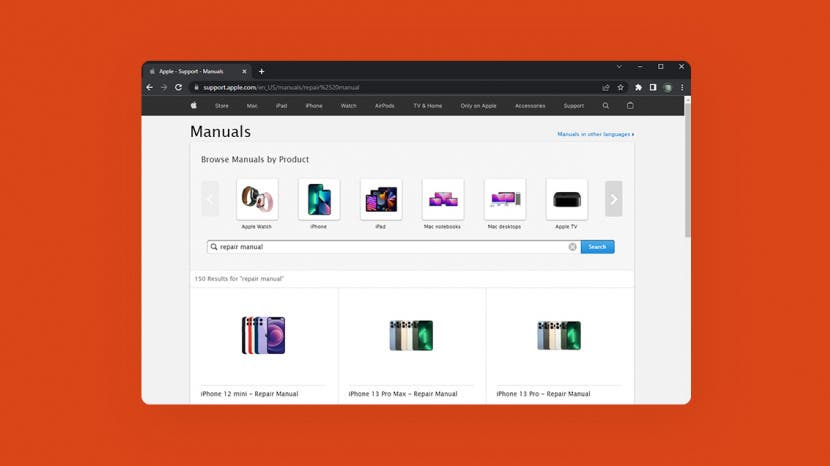 Whether you're an electronics expert who prefers to do things yourself, or you just want more in-depth information on the inner workings of your Apple device, there are a variety of reasons you may want to access Apple's self-service manuals and tools, and we'll show you where to go to find them.
Related: Cracked Phone Screen? iPhone Screen Repair Costs & Options
How to Download Apple Self Service Repair Manuals
Official Apple Self Service Repair manuals for iPhones of various models are easy to get, as long as you go to the right web page. Below I'll show where to find them and demonstrate using a desktop web browser. You can get them through your iPhone or iPad as well if you prefer, but I find most PDFs much easier to read and reference on a PC or Mac, and easy reading is important for technical manuals like these. For more guides on handling hardware and software problems with your Apple devices, be sure to sign up for our free Tip of the Day newsletter.
Open Chrome, or your desktop browser of choice. Search for Apple self-service repair and click through to the official Apple Self Service Repair site. You can also go directly to https://support.apple.com/self-service-repair.


Click the repair manual link in step 1.


Find the manual for the type of iPhone or other device you need to repair and click it.


This will open the PDF for the manual directly in Chrome. You can also save it to your hard drive or print it to view by clicking the Download or Print button as you wish.


Now, you will hopefully have the information you need, though you will likely need Apple tools and parts, which you can order from the Apple Self Service Repair Store. It is important to be aware of the costs of tools and replacement parts before you move forward with self-service repairs. Even if you have the skills and expertise to handle them, you may find that the cost of tools and parts means you won't be saving much over having your device professionally repaired.