Want to know how to quick paste without going through a whole action menu? 3 Finger Touch lets you do this easily.
By

Amy Spitzfaden Both
Updated 02/22/2021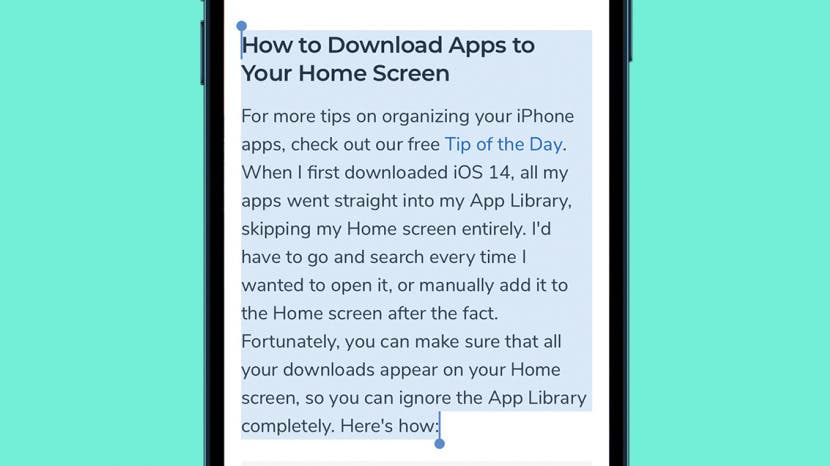 * This post is part of iPhone Life's Tip of the Day newsletter. Sign Up. *
This article will tell you how to use the iPhone 3 finger touch to copy, paste, and cut. It was introduced as part of iOS 13 gestures, and is a handy way to perform these actions without scrolling through the actions menu. Cut and paste words on your iPhone, or copy a phrase you want to save for later and easily paste it elsewhere. Let's learn how!

Related: How to Quickly Select & Edit Text with 3D Touch on the iPhone
This is a useful trick that will minimize the time and energy it takes to cut, copy, and paste and prevent you from having to press the exact right spot on the screen. For more great tips on iPhone gestures, check out our Tip of the Day! These gestures can be a little tricky to master, especially if you have a smaller screen, so be sure to look for the notification at the top to show you were successful. Happy pinching!
To copy, use three fingers to make a pinching gesture on your screen. Be sure to start with your fingers far enough apart that your screen can distinguish the touch points.


 

A menu will appear up top with the copy image highlighted, or, depending on what app you are in, you might instead see a little box at the top that says "Copied." Either of these indicators will show that your copy was successful.


 
To paste, go to where you want to paste the text and move three fingers away from each other, starting at a centralized location. This can be a little tricky, so you might have to try a couple times before you get the hang of it.


 

Your copied text will appear, again with a notification at the top either in the form of an action menu or a box saying where the text was copied from.


 
To cut, highlight text from a place where it can be cut (such as the Notes app; Safari or other web browsers won't work), and use the same gesture as copy, but twice in a row. The same notification will appear up to to show you were successful.