Do you get the pop-up saying "Accessory not supported" on iPhone? Find out why it happens and 6 ways to fix it.
By

Kenya Smith
Updated 01/17/2023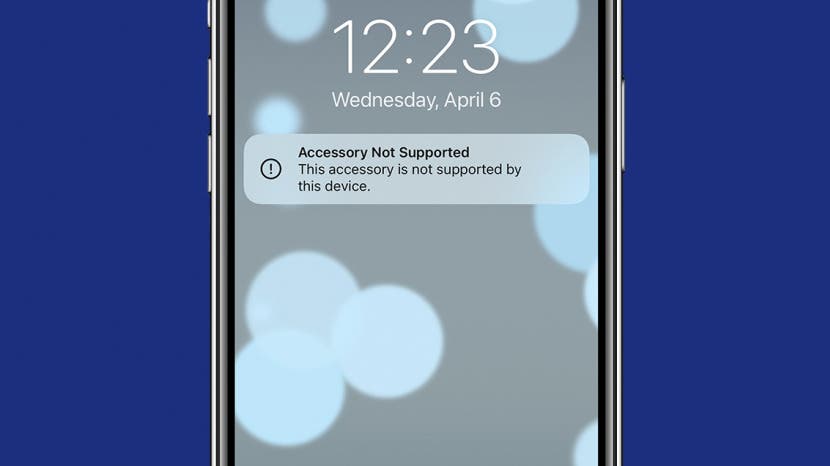 You're attempting to charge your iPhone when all of a sudden, the message, "This accessory may not be supported" suddenly pops up on your screen. There are multiple reasons why your iPhone gets this certain pop-up. We'll show you six things to do when your iPhone won't support an accessory.
Related Article: Phone Battery Myths, Fast Charging, Charger Cable Safety & More
1. Re-connect Your iPhone
When your iPhone says, "This accessory may not be supported," the first thing to do is to try reconnecting your iPhone. Tap Dismiss and pull your accessory out of your iPhone's Lightning port. Plug the iPhone back in to check if the same pop-up comes back.
2. Make Sure Your Charging Cable Is MFi-Certified
If you're still receiving the pop-up after re-connecting, another factor to look for is the type of charging cable you're using. Most of the time, when your iPhone keeps saying, "accessory not supported," the charging cable that you're using for your iPhone isn't MFi-certified. MFi originally stood for "Made for iPod" but it now applies to all Apple devices. To gain MFi-certification, manufacturers must run their products through Apple compliance tests that check for things such as safety and durability.
We recommend you avoid buying charging cables at gas stations and dollar stores because most of these cables aren't MFi-certified. In some cases, these cables can cause damage your iPhone by overheating it. It is best to use the cable that came with your iPhone. If the original cable doesn't work and your iPhone is covered by an AppleCare plan, you can exchange your old iPhone charger for a new one at your local Apple Store. If you really want to use a charging cable that doesn't come from Apple, make sure to shop for ones with the "Made for iPhone" badge on their packaging. To learn more about chargers, check out our article on iPhone battery myths and tips regarding iPhone chargers.
3. Fix Minor Software Glitches
Another reason you might get a pop-up saying, "This accessory is not supported by iPhone," is a minor software glitch. Your iPhone's software determines whether to connect the iPhone to the accessory when you connect an accessory into the Lightning port. This problem can be solved by restarting your iPhone. If you have an iPhone 8 or an earlier model, press and hold the power button. For iPhone X or newer, press and hold the side button and volume button until Slide to power off appears.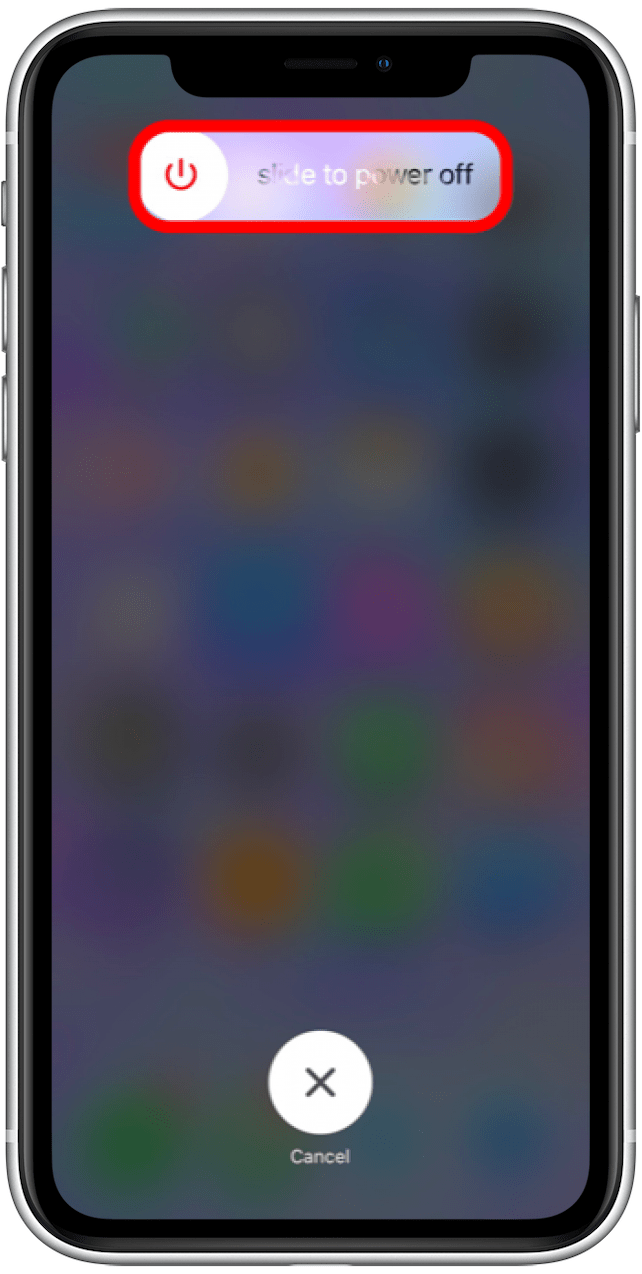 Wait 15–30 seconds, and then press and hold the power button or the Side button to turn your iPhone on. Try reconnecting your accessory once your iPhone is turned back on.
4. Check & Clean Your Accessory, Charger & iPhone
Examine the Lightning connecter end of your accessory, which is the part that you plug into the iPhone's Lightning port, for discoloration or fraying because they can be the cause of your iPhone saying, "This accessory may not be supported." Also, look at the USB end of your accessory for any dirt, lint, or debris that could be stuck. If it's not the accessory that is causing the issue, check the inside of the Lightning port on your iPhone for any gunk, dirt, or debris. You can shine a flashlight  inside the port. If there is dirt or debris, you can use an anti-static brush or an unused toothbrush to clean the accessory or the Lightning port of your iPhone. Check out our article on how to clean your iPhone's Lightning port for tips on how to do so without damaging it.
5. Update Your iPhone's Software
Before some accessories can connect to your iPhone, they require a certain version of iOS to be installed on your iPhone. Read this article to learn how to check for software updates on your iPhone. Make sure that your iPhone is charging or has at least 50 percent battery life before installing an iOS update.
6. Take Your iPhone to a Repair Shop
If you followed all the steps above, and your iPhone is still saying that the accessory is not supported, there's a chance that your iPhone's Lightning port needs to be repaired. You can schedule an appointment at your local Apple Store or at an Apple-certified repair service.
Another good article to read is How to Fix Your AirPods When They're Not Working.