When your Apple TV Remote stops working, the Apple TV Remote battery may just be drained. We'll walk you through charging your remote.
By

Rachel Needell
Tue, 05/24/2022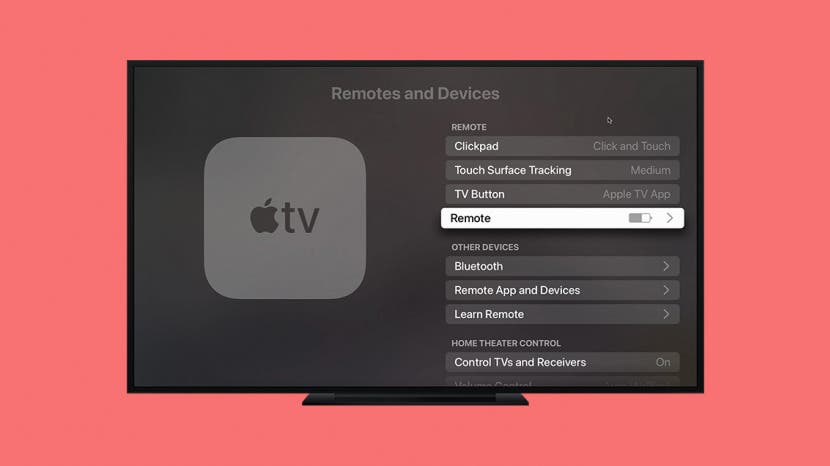 Even though most remote controls are powered by disposable batteries, the Apple TV Remote battery is rechargeable. This means that you don't need to replace the battery in your Apple TV Remote, which is very convenient. However, you will need to keep it charged in order for it to work. Although it's very simple, we're here to help you figure it out.
Related: Apple TV Models: How to Know Which Apple Model You Own
Jump To:
If your Apple TV is 4th generation or later, you will receive a notification on your TV screen when your remote drops below 20 percent in battery. And even if you don't see this notification, it's good to know that the Apple TV Remote should last anywhere from two to three months on a single charge.! The remote takes about three hours to charge completely, but you can use it while it is charging. For more tips and tricks about how to use your Apple devices, sign up for our Tip of the Day newsletter.
To charge the remote:
Connect one end of your Apple TV's Thunderbolt cable to the Lightning port on the bottom of the remote.


Image Courtesy of Apple.
Then, plug the other end into the USB port of a computer or a wall adapter.


Image Courtesy of Apple.
To check what your Apple TV Remote battery level is:
Open Settings on your Apple TV Home screen.


Select Remote and Devices.


Click Remote.


You will be able to see the Apple TV Remote battery percentage on the screen.


*Note: If your remote is charging properly, you will see a lightning bolt in the battery icon to the right of the remote.
And that's how you charge your Apple TV Remote. If your Apple TV remote is still not working right, you can always buy a replacement charger from the Apple Store or a third-party store. Otherwise, happy watching!