New MacBooks and AirPods lead the rumor pack in this second fall event.
By

Amy Spitzfaden Both
Wed, 10/13/2021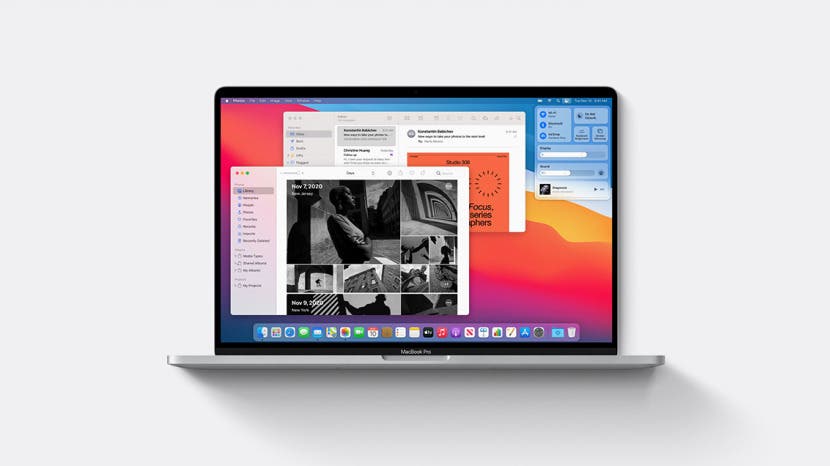 Apple announced its second event of the fall with a peppy graphic and the word "Unleashed!" While we didn't get any details beyond the time and place—October 18 at 10 a.m. PDT—there are a few significant releases we've been expecting for this year that we haven't yet seen. Most predominant among these are new MacBook Pros and perhaps a new generation of AirPods. Let's take a look at everything we might see on Monday.
What Will We See at the October 2021 Apple Event?
While it's always impossible to say for sure what we'll see launched at a new event, the rumor mill has zeroed in on two categories: MacBook and AirPods. How many we'll get in each category is under debate, so let's go over all possible options.
M1X MacBook Pro
This is perhaps the strongest of all the rumors out there. Apple Analyist Ming-Chi Kuo has predicted a new MacBook Pro coming sometime late in 2021. Kuo also says we can expect them in 14-inch and 16-inch sizes. MacRumors expects we'll see the new M1X chip in the new MacBook Pros, which is the updated version of the M1 chip Apple debuted last year. This would mean all sorts of good things in terms of performance, and might support 120Hz ProMotion, as is indicated in a reply to a tweet from Max Weinbach by Apple leaker Ross Young, who has a 100 percent accuracy according to Apple Track. Other expected features include a mini-LED display, reintroduced ports, MagSafe charging, no more Touch Bar, and webcam upgrades. You can check out our full MacBook Pro rumor roundup to learn more.
M1X MacBook Air
Earlier this year, many leakers were anticipating a new MacBook Air this year, but those rumors have dropped off substantially. Ming-Chi Kuo anticipates we won't see it for another year, while leaker Mark Gurman is a bit more optimistic, saying we could see it beginning of next year. While the anticipation has cooled, it's still exciting to see what the next generation of MacBook Air might bring. We're expecting many of the same features as we could see in the Pro, including MagSafe charging, the M1X chip, and webcam upgrades. Kuo also indicated we could be seeing colors similar to the new iMac lineup.
Mac Mini
There hasn't been a lot of noise about what we could see with a new Mac mini, but there are some strong indicators that we could see one on Monday. First, sites like CNET caught that the Mac mini is seeing its largest ever discounts on Amazon. Second, back in May, Bloomberg released a report by Mark Gurman saying we'll see a "more powerful version of the Mac mini," though he didn't give details or dates. Macworld reports Gurman predicting a new mac mini "in the next several months" back in August, so this timeline would match up. Stay tuned on this one!
AirPods 3
Another prediction from Ming-Chi Kuo was we'd see AirPods 3 this year. His original prediction was for the first half of the year, and as that didn't happen, it might call the validity of the rumor into question. But Kuo allegedly gets his info from insiders in Apple's supply chain, so dates could be subject to move if plans change. Since it's been more than two years since the second generation of AirPods came out, it does seem to be time for the new model. Chinese website 52audio has leaked a few renderings showing the new model of AirPods closely resembling the first generation, with shorter stems and similar earpieces. Replaceable silicon tips in the renderings indicate some capacity for noise cancellation, though Kuo says this will not be a feature of the AirPods 3. Whether or not they'll feature some degree of water resistance is anyone's guess, but it would be nice to see this in the new model. To learn more about what we might be seeing with the AirPods 3, take a look at our AirPods rumor roundup.
AirPods Pro 2
Apple leaker Jon Prosser predicted a new iteration of AirPods Pro back in spring of 2020. He ended up being way off base, but this could have been due to COVID, supply chain issues, or a number of other factors. Bloomberg released a report saying we'd be seeing smaller AirPods Pro. As for features, we'll likely see an improved chip, and Tom's Guide predicts improved transparency mode. You can also check out our complete overview of all the AirPods 3 and AirPods Pro rumors.
While it's unlikely we'll get everything listed, I'd be surprised if we didn't get at least a couple of these new devices. See you Monday!