By

Erin MacPherson
Updated 03/27/2023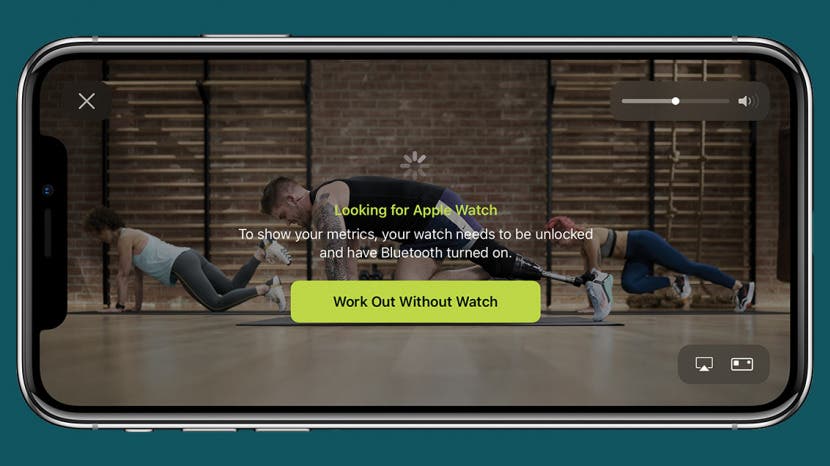 Do you need an Apple Watch to use Apple Fitness Plus? Well... yes and no. There are some things you can do without an Apple Watch, but other features won't work without a compatible Apple Watch in use. Let's take a look at how your Apple Watch interfaces with Fitness Plus, and when you can use the service without your watch.
Jump To:
Do I Have to Have an Apple Watch to Use Apple Fitness Plus?
Apple Fitness Plus can only be activated by a user who owns a compatible Apple Watch, so if you're interested in the Fitness Plus service, an Apple Watch, or both, you may want to consider investing in the super slick accessory. If an Apple Watch is just not in the cards for you or you're not interested in owning one, you won't be able to use Apple Fitness Plus—we're sorry for the bad news!
If you already own an Apple Watch and you're simply wondering if you absolutely have to wear the watch every time you use the service (I pretty regularly forget mine or find out too late that my watch isn't charged enough for a workout), we can help you figure out what you can still do without your Apple Watch, how to start a Fitness Plus workout without your Apple Watch, and which features won't work without it.

Discover your iPhone's hidden features
Get a daily tip (with screenshots and clear instructions) so you can master your iPhone in just one minute a day.
Related: How to Use Apple Watch's New Time to Walk Feature
Which Apple Watches Are Compatible with Apple Fitness Plus?
If you're thinking of buying an Apple Watch and plan to use it with Apple Fitness Plus, you'll need to be sure it's a Series 3 or later and that it's running current software. You'll also need to keep Bluetooth enabled for workout syncing.
What Can You Do on Fitness Plus without Your Apple Watch?
You can start and complete workouts in Apple Fitness plus without your Apple Watch connected, but there are several drawbacks to this. If you're not wearing your Apple Watch during the workout:
Your health metrics will not show on the video screen, and won't be there to guide you in sticking to your target heart rate or other goals.
Your workout will not be recorded and will therefore not count toward closing Activity rings, tracking steps, or counting calories.
How to Use Fitness Plus without Your Apple Watch
If something prevents you from using your watch during a workout, it's fairly simple to manually add a workout in the Health app, so don't stress too much if this happens. It's also a slightly different process to start a Fitness Plus workout without your Apple Watch:
Go to the workout summary screen for the workout you want to do.
Tap on Let's Go.


 

You'll see a warning on the screen that says "Looking for Apple Watch."
Tap on Work Out Without Watch to continue.


From this point, you'll be able to perform the workout as usual, but without the metrics and on-screen motivation via the Burn Bar that shows up in certain exercise categories. Keep in mind that your heart rate and calories will also be missing from the screen, so you'll need to manually monitor your target heart rate and calculate your calories the old-fashioned way after your workout.
One thing that always struck me as strange about Apple Fitness Plus is that, while designing a workout app specifically for Apple accessories is smart from a marketing perspective, it seems pretty limiting to make it impossible for users who don't own Apple Watches to join in the fun and get some exercise. I'm sure there were big meetings in Cupertino about that decision, but I have to say I'm perplexed by it. That said, I really am a huge fan of Apple Fitness Plus, and I strongly encourage those considering using the service to give it a try! Next, we ask, "Are Apple Watch calories accurate?"