By

Conner Carey
Updated 04/06/2022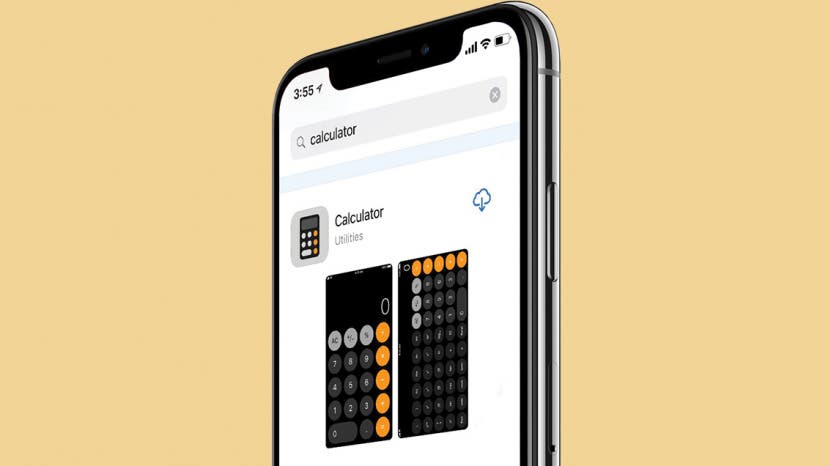 If your iPhone or iPad Calculator app has disappeared from your Home screen or Control Center, don't panic; We'll show you how to get the Calculator app back. First of all, strange as it may sound, the iPad doesn't come with a built-in calculator app (but we'll show you a workaround!). While the iPhone does have one, beginning with iOS 10, Apple gave users the option to remove Apple stock apps from their Home screens. When the feature first became available, I started deleting every Apple stock app that I didn't use. In that process, I deleted my free Calculator app, not realizing it would also disappear from my Control Center. A week later, when I needed to use a calculator, I swiped down to open the Control Center, and the calculator had disappeared! I panicked, "how could Apple remove the calculator?" "Show me my calculator!" "Where is my calculator?" After I emailed, Apple informed me that if I deleted the Calculator app, it would also disappear from my Control Center—thus causing me to look like a buffoon. This left me doubly confused and betrayed when I went through the same panic on my iPad, only to discover that this time I hadn't deleted it, Apple never added one. Has a similar instance happened to you? If the calculator on your iPhone or iPad has disappeared from the Control Center, or you can't find it at all, here's what to do. Also, if you are a frequent user of the calculator app, you may enjoy learning to use the scientific calculator on your iPhone!
Related: How to Use Your iPhone's Scientific Calculator
What's in this Article:
iPad Calculator: Show Me My Calculator!
It's wild that even today the iPad doesn't have a built-in calculator app. If you want a calculator on your iPad or in your iPad's Control Center, you'll need to download a third-party app from the App Store. We recommend PCalc Lite, a great free calculator app with a clean design and just the right amount of features. While third-party apps like PCalc Lite can't add controls to your Control Center, they can instead add Widgets to the Today View. With the PCalc Lite widget, you can access the calculator features quickly and easily, in one simple swipe. Once you've installed PCalc Lite, you can learn how to install a Widget in Today View and pin it to your iPad Home screen.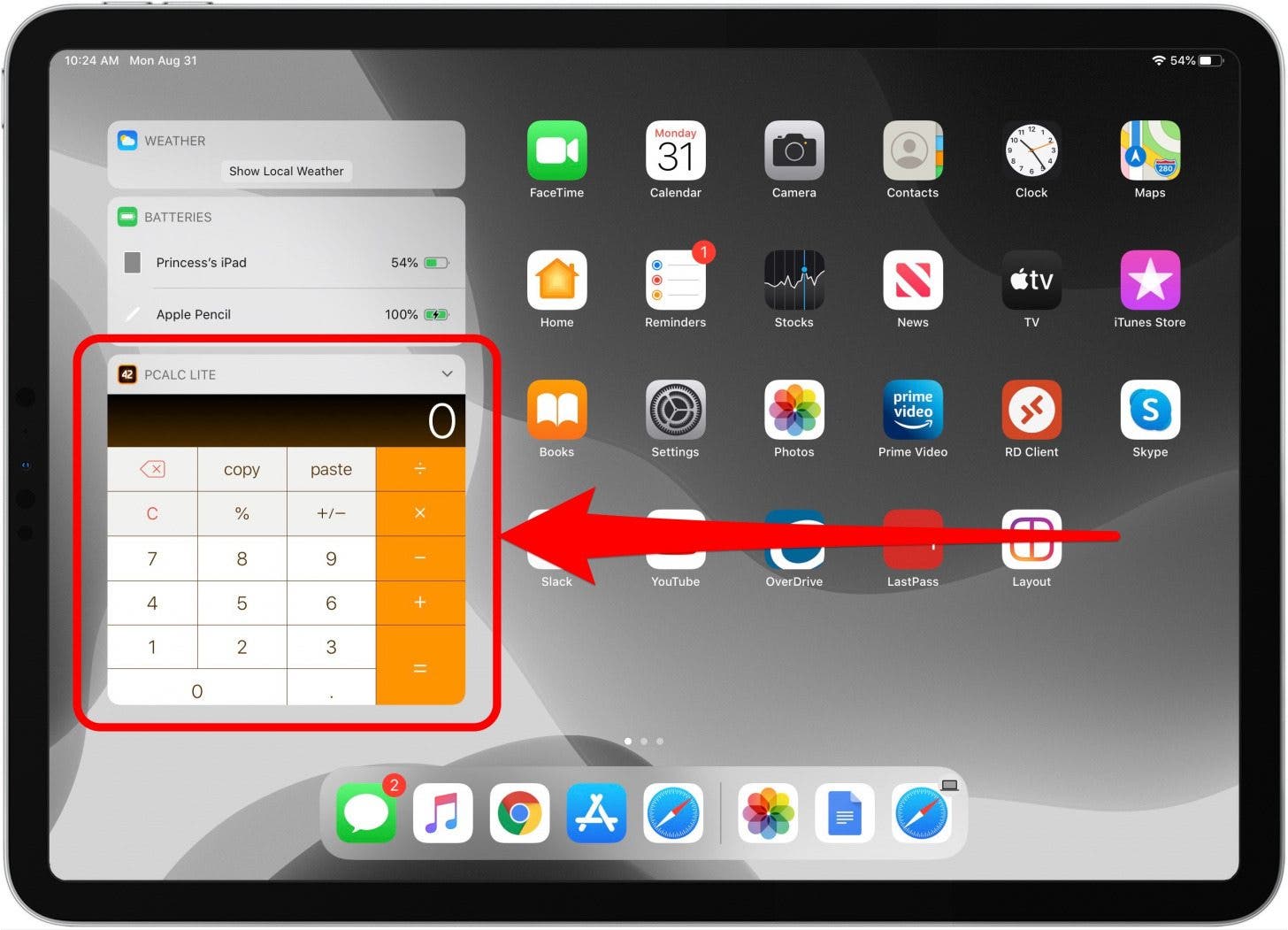 iPhone Calculator: Where Did My Calculator Go?
When my calculator went missing from my Control Center, I instantly assumed Apple was trying to do something "courageous" along the lines of removing the headphone jack. Luckily not. However, if you went a little overboard deleting all the Apple stock apps like I did, you might have deleted the Calculator app, which will also cause it to disappear from the Control Center as well. Unfortunately, you can't remove the Calculator app from your iPhone and still have it appear in your Control Center.
How to Get Back the Calculator App Missing from Control Center on iPhone
All you need to do is reinstall the missing Calculator app for it to reappear in the Control Center. To do this:
Open the App Store.
Tap the Search icon on the lower right.


 
Type calculator in the Search field, then tap Search.
The calculator you want should say Calculator with Utilities underneath in smaller text and an app icon that looks like the one in the picture below.


 
Tap the Cloud icon to reinstall the Calculator app.
If your iPhone has a home button, swipe up to from the bottom of your iPhone screen to open the Control Center. If your iPhone doesn't have a Home button, swipe down from the upper right corner.
The calculator will be back in its proper place.


Now that your beloved calculator is back, you can hide it in a folder on your Home screen if you'd like to keep it out of sight and out of mind. If you ever need to locate it from the Home screen instead of the Control Center, use the next tip to easily locate the calculator app.
Customize the Control Center
Another possibility is that you accidentally removed the Calculator while customizing your Control Center. If this is the case, it's easily fixed; follow this link to learn how to add and subtract apps from your Control Center. Also, learn how to use Control Center to adjust the volume on your iPhone or iPad.
How to Quickly Locate Apps like Calculator on iPhone
Sometimes, our apps haven't disappeared. They're merely hiding. It's easy to lose track of your apps, and before you know it, the one you need is buried deep in an iPhone folder. Whether you're looking for the disappearing calculator app or another app, you can use Search to quickly locate apps without having to scroll through your Home screens or look through folders. To do this:
From any Home screen on iPhone, swipe down from the middle.
A Search field will appear with recently opened apps.


 
Search for the app you're looking for; in this case, the calculator app.


 
If the app you're searching for is on your iPhone, it will appear when you search for it by name.
iPhone Control Center Gone?
Some iPhone users have been recently confused about the Control Center disappearing on the iPhone. I promise it's still there—the iPhone Control Center is not gone. What's likely happened is that somehow your Settings were changed (possibly after an iOS update) making it so that you can't access Control Center from within your apps. You should, however, still be able to access the Control Center from your Home screen on your iPhone. If you can't access the Control Center even on Home screen, contact Apple Support—it's likely a bug of some kind. However, you can easily allow the Control Center to open from within apps by changing a setting on your iPhone. To do this:
Open the Settings app.
Tap Control Center.


 
Toggle on Access Within Apps to allow the Control Center to be opened from within the apps you're using.


With this turned on, you should be able to open the Control Center at any time and from any place on your iPhone.

Top Image Credit: Jeramey Lende / Shutterstock