Get laptop-level productivity from your Apple tablet with these handy iPad accessories and Apple gadgets.
By

Sarah Kingsbury
Updated 04/26/2021
iPhone Life is supported by readers like you. When you buy products through links on our site, we may earn an affiliate commission. All products are independently tested, rated, and reviewed by our team of editors. Learn more.
Not only are iPads great portable devices for on-the-go creativity or entertainment, they can also be powerful productivity tools with the right tablet accessories. With the right iPad gear and Apple accessories, you can easily achieve laptop-level productivity. In this 2020 Buyer's Guide article, we'll cover the top iPad Pro accessories and iPad Air accessories, including our favorite iPad keyboard, bag, wireless mouse, and USB hub. 
Related: Buyer's Guide 2020: Mac Accessories & Gear
This is one of the best iPad cases for those who want the laptop experience that comes with having a keyboard and trackpad. The keyboard is backlit, has a row of function keys, and detaches from the case for times when you want to use just the iPad. The trackpad works well with the iPad's multi-touch gestures. Logitech makes use of the iPad's Smart Connector by connecting and powering the keyboard, rather than relying on a Bluetooth connection. While this Apple iPad case adds bulk to your iPad, that's not necessarily a bad thing since it provides protection from drops and bumps.

I always try to get away with carrying only what I need and no more. This simple, stylish bag has just enough room in the back tablet sleeve and the two front pockets for any iPad model and the accessories you need when away from home, such as your phone, wallet, cables, and charger. The adjustable cross-shoulder strap lets you wear the sling in such a way that you can easily access your iPad and other gear while wearing it. However, if you regularly need to carry more than just the essentials, a less compact bag might be a better choice for you.

If you want to use a wireless mouse with your iPad, you'll want to get a dedicated one to avoid having to unpair and re-pair it each time you switch between Mac and iPad. The Magic Mouse 2 is easy to pair and use, and the slim size means it slides easily into the pockets of my iPad bag. The decision to locate the Lightning port on the bottom of the mouse, so that you can't use the mouse while it charges, is bizarre; if the mouse needs to be hooked up to the charger frequently, it might even be a deal-breaker. Fortunately, it's not, and this is my favorite Bluetooth mouse to use with my iPad.
This stylish wireless keyboard is exactly what you need if you want to use your iPad like a laptop. It offers a built-in trackpad, backlit keys, and function row with keys for the Home button, screen brightness, Bluetooth, power, and more. It is one of the best iPad keyboards I've come across, and costs significantly less than the $299-plus you'd pay for Apple's Magic Keyboard. It attaches to your iPad Pro or iPad Air with hinges rather than a bulky case (it does have a back cover but you can opt not to use it), making it possible to use your iPad screen at any angle and then fold it closed and slip it into a bag before heading out the door.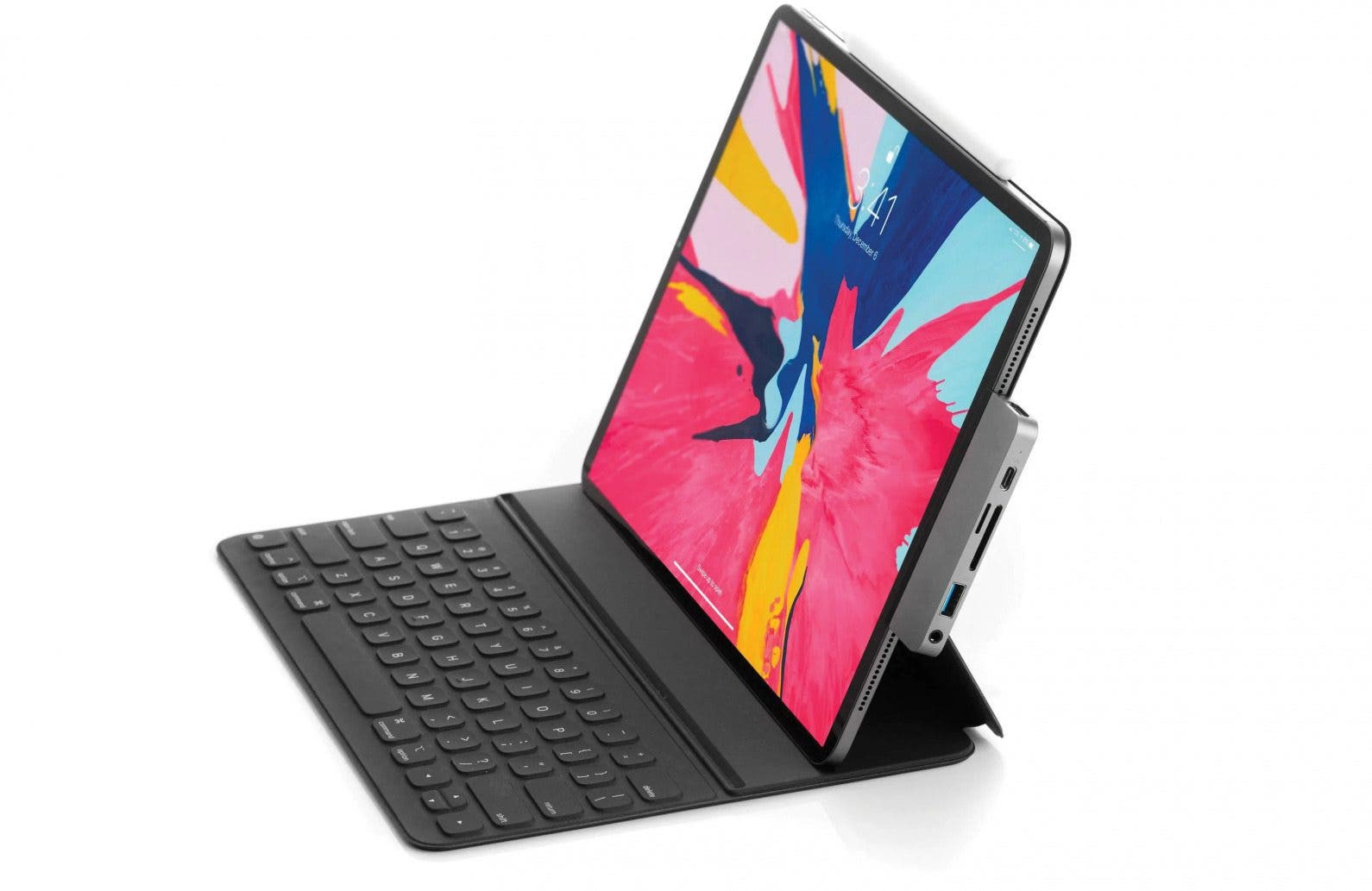 This small accessory gives big results. Use the six ports (3.5mm Audio Jack, USB-A, SD, Micro SD, USB-C, and HDMI) to transfer data and pics, listen to audio, and connect your iPad to a 4K display, TV, or other accessories. With this iPad adapter, you don't even have to disconnect the hub to charge your iPad—just plug the charging cable into the USB-C port. While the HyperDrive is designed to sit flush against your iPad, it comes with an extension cable that you can use to ensure your case doesn't interfere with connecting the hub.