By

Chris Vasques
Updated 08/31/2017
Before I headed out on a four-month trip to the island of Hawaii this past October, I put a lot of research and thought into what kind of rugged iPhone 7 accessories I would bring. I wanted to ensure the safety of my iPhone 7, as I knew it would be a valuable tool in documenting the trip. The most obvious accessory was a protective waterproof iPhone 7 case. And while my rugged iPhone 7 case ultimately did the job, there were some close calls with water, rocks, sand, heat, and yes, even a volcano. Now, if my iPhone had fallen into a volcano, I seriously doubt any case would have saved me from that loss. However, having been through this adventure with my iPhone 7, I came back to the mainland with a better understanding of what rugged iPhone gear I could have gone a little more "hard-core" with, as well as some ideas about what I could have brought with me but didn't. Here are the top seven rugged iPhone accessories I will bring on my next adventure, from an outdoor Bluetooth waterproof speaker and portable solar panels to an iPhone camera lens kit and Bluetooth shutter remote.
Related: The Top 6 Loud, Rugged, and Portable Outdoor Bluetooth Speakers for the Beach
The purpose of the trip was to document by video, photos, and audio eight students while working to promote a university program on permaculture and sustainable living. 
The environment of the Big Island is largely untouched wilderness, especially in North Kohala where we had our base camp. 
The terrain varied greatly from farm to jungle, valley to mountain, and ocean to gulch. 
Each day was an adventure on top of another adventure as we scouted out contacts to meet for the first time in the context of this education initiative. As can be expected, the media team had to be a step ahead of the game in this regard as we were also packing and unpacking equipment constantly while filming, snapping, and rolling audio. I used my iPhone 7 for most of the media I gathered myself, but we also had a few backpacks of other gear. I have to say that the most reliable piece of gear we had ended up being my iPhone 7, since the video and photo equipment was too cumbersome to bring on long hikes to remote location. 
1. A Protective Waterproof iPhone Case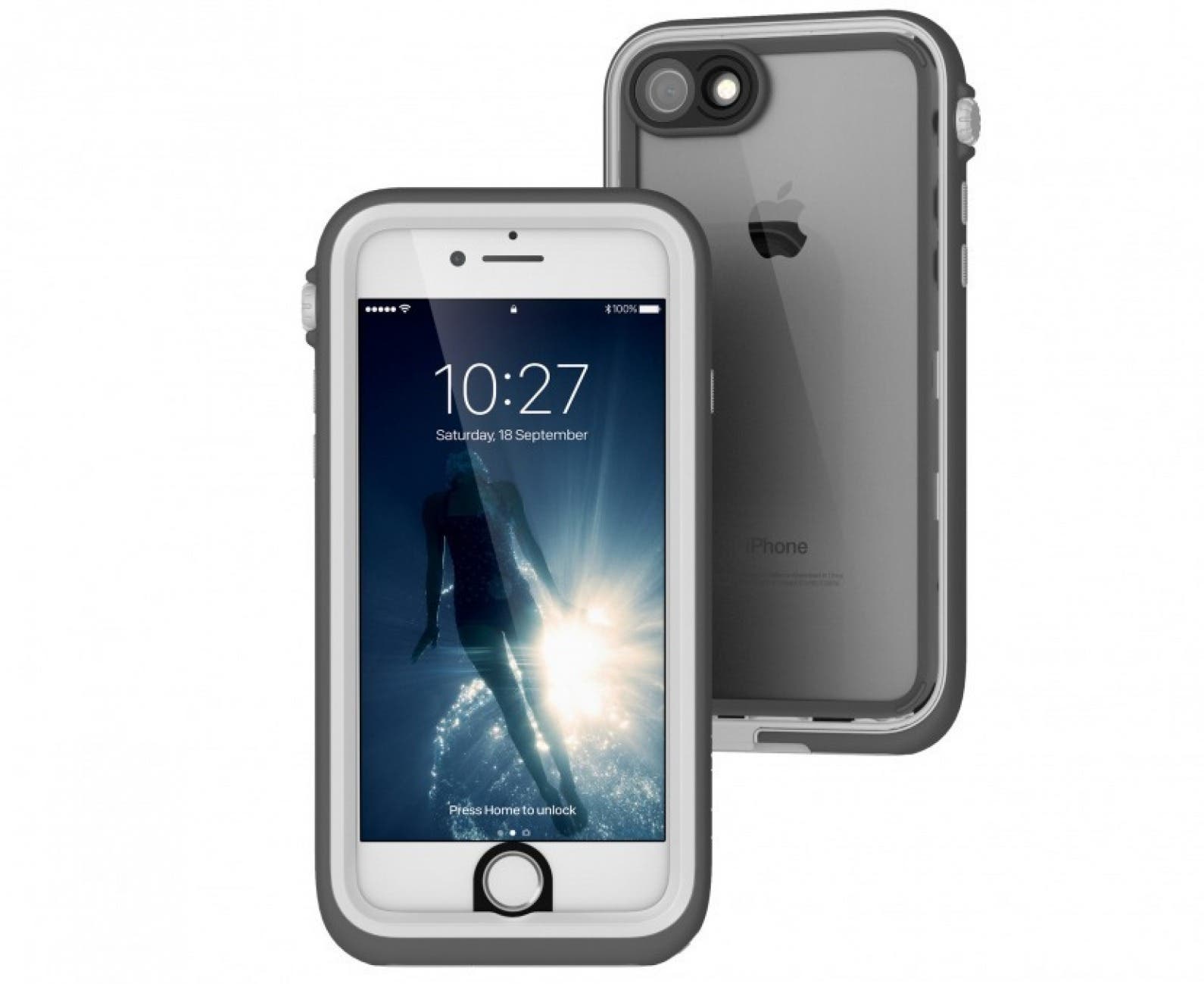 To keep the iPhone safe on serious adventure treks, a reliable protective case is the first line of defense. As one of the most expensive cases on the market, the Catalyst Case is also one of the most respected. Unlike any of the Otterbox models, the IP68 rated Catalyst is submersible up to 10 meters (30 feet). And while the iPhone 7 is rated by Apple for 1 meter at 30 minutes, this case adds a significant boost to that feature. When traveling near or through rivers in Hawaii or anywhere else, especially serious ones, I found myself wishing I had chosen a better case. There is a difference between being 99 percent sure your iPhone is safe in its protective case, and 100 percent sure. I didn't have a river to test the Catalyst iPhone 7 case in, but I did run it under water in my sink from every angle, took it in the shower with me while it played music, and shook it up in a five-gallon bucket. Nothing I did resulted in any water inside the case, and with the five-gallon bucket the iPhone took a fairly significant beating. I also noticed that even when the phone was wet, the case still had a grippy feel to it. This feature alone would have saved me a few heavy heartbeats in Hawaii. Even though my phone was relatively safe when it was wet, holding it in precarious positions still made me quite nervous. I even tested the Catalyst case with coconut oil. Unlike my Spigen case, the Catalyst maintained that vital grippiness. The case did not allow any dirt, sand, or mud to enter either; and once rinsed, it did not allow any of it to stick around either. The way the membrane is designed allows for easy cleaning.
Aside from water protection, the other constant threat to my iPhone 7was drop damage. I would like to add crush damage to this category as well since that was consistently a major concern when I was jamming my phone into a tight backpack. In my test scenario for the stuffed backpack, the Catalyst gave a show of strength. The case's construction seemed infallible. I also dropped the backpack, filled with books and office supplies, from about 10 feet. No damage. I started to get more courageous at this point, and took the Catalyst to the streets. I threw it down a flight of stairs, cartwheeled it across some pavement, and mashed it into a steel grate using the sides, back, front, top, and bottom. The Catalyst Case itself was still in fair condition through this, which was impressive enough, but the real win was my unharmed iPhone. The Catalyst's mil-spec 810G rated protection against shock from up to 2 meters was enough to take all the beating I could dish out.
After my tirade of abuse, I studied the case more closely on the inside. The Catalyst Case is ultimately a membrane that seals around the iPhone first, and reinforces that seal with intelligently placed bumpers in a war tank of a rubberized shell. The rubber bumpers and overall fit of the case disperse impacts in a way that make obvious the dedication to smart design. One interesting feature that highlights this membrane technology is how the case manages sound. When playing music, the sound seems to come only from certain spots on the case. The membrane protects so well that it redirects the sound. That was when I realized how well the case truly functions.
The protective iPhone 7 case adds bulk for sure, and again, Catalyst Case is one of the most expensive protective iPhone 7 case options. However, I personally don't buy insurance plans for phones, opting instead to rely on a strong case. The Catalyst Case for iPhone 7 is my new pick for maintaining that philosophy while adventuring.
2. A Loud, Portable, Waterproof Bluetooth Speaker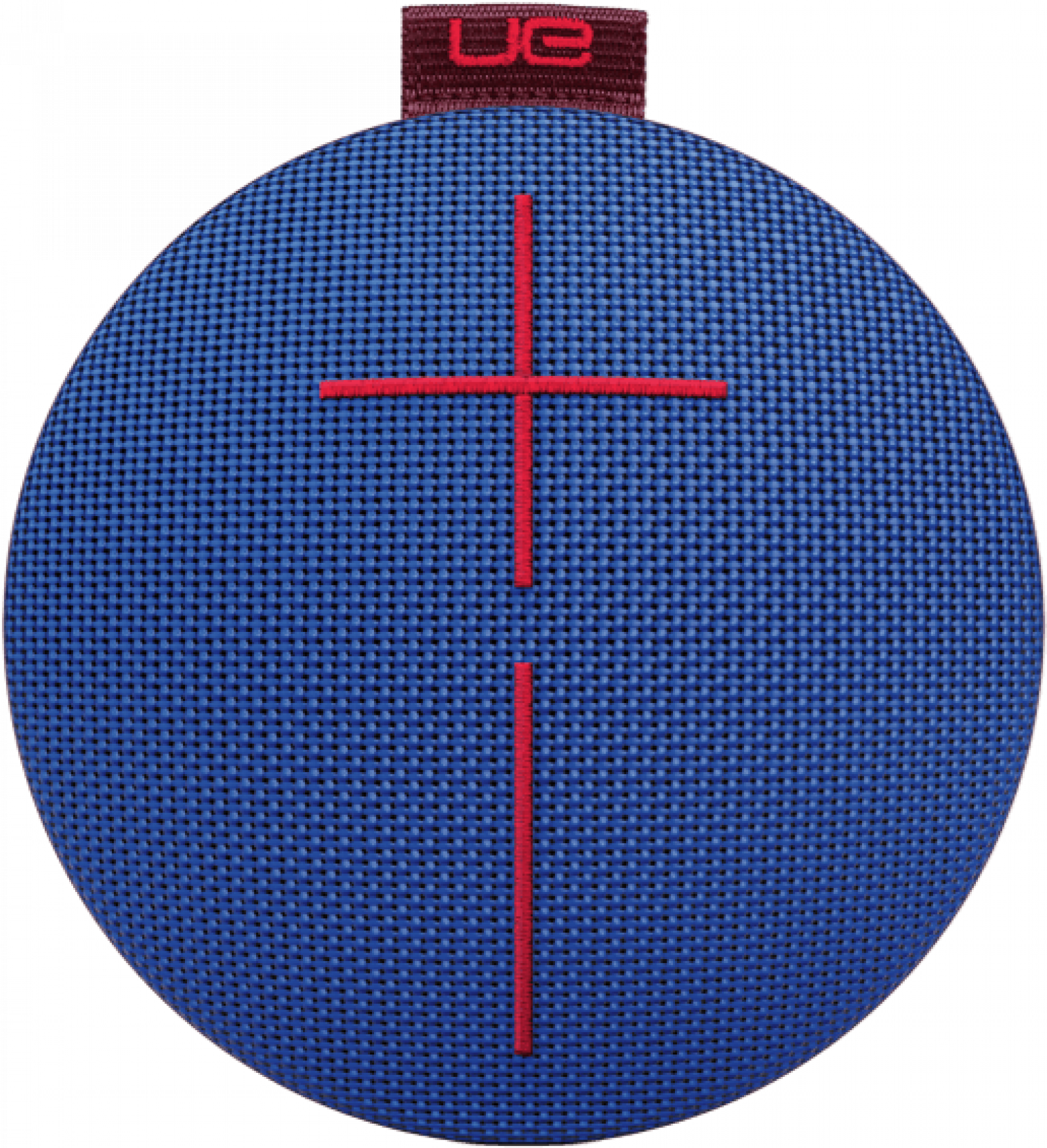 A top-rated portable, outdoor Bluetooth speaker is always crucial to adventure, period. Constant get-up-and-go travel means life on the road, life in a tent, life on the beach, and life on the move. Music can change moods, inspire dance parties, and pull people together in harmony. Audiobooks or lectures can speak to the core of why we risk our comfort, our sanity, and sometimes our safety to take these adventures. Sometimes peace of mind is as simple as a few good songs playing while you shower after a long day. Knowing all of this, I took along a Bluetooth wireless speaker to Hawaii. I used it when I could, but the volume, clarity and battery life was just plain painful. I found myself abandoning the speaker altogether for my iPhone 7 speakers, which, as I discovered, were quite an improvement over my old 6s thanks to the earpiece now blasting as loud as the bottom speaker. Still, I longed for more volume and versatility, and I was not alone. One of our hikes was up the northwest coast near Hapuna Beach while we listened to a recording from an app called "Deep Time Walk." This app used GPS to track our steps and match them with a historical timeline that spanned back to the beginning of life on Earth. The purpose of the exercise was to understand just how briefly humans have existed on this planet. The planet Earth's 4.6 billion year history is represented by a 4.6 mile walk where humans are only a small moment occurring in a fraction of the very last step. Profound experiences such as this exercise would be served well by a daisy chain of loud, waterproof Bluetooth speakers with excellent battery life.
The Roll 2 from Ultimate Ears would have been an ideal candidate for that job, and many other jobs on our trip. Even for something as simple as movie nights we would have been thrilled to have the UE Roll 2, or two of them. Not only can this small but loud Bluetooth speaker be paired with other UE speakers to create a chain of sound sources, it comes with a built-in bungee cord for mounting the speaker to just about anything. I've been a bass player for over 20 years, so bass is the first thing I listen for. The UE Roll 2 is one of the best small Bluetooth speakers with bass. I may be biased, but I like hearing the bass a little bit louder than everything else. However, for those who disagree with my preference, the UE Roll 2 has an app with an EQ to customize the sound exactly to the listener's liking. The app also allows for volume control, alarm management, control of power on/off, and battery life monitoring. The speaker is a rubberized UFO-like disc that is a little smaller than the average hand. The speaker is available in several charming colors accented by a contrasting plus and minus sign stitched into the speaker itself. Pressing down on either symbol is an easy way to adjust the volume. Besides Bluetooth for input, a cable can be plugged into the splash-guarded area next to the charge port. These are the only two ports on the device, which lends to its hydrophobic design. Ultimate Ears even includes an inflatable floatie so the Roll 2 can join the pool party.
This second release model is 15 percent louder than the original, and the Bluetooth range has been extended to 98 feet. Walls and doors did not seem to disrupt the signal. UE's battery life claim is nine hours which I found to be fairly accurate. A few times over the course of three days worth of intermittent play, I left it on by mistake and found out the Roll 2 turns itself off automatically. Adventurers will be hard-pressed to find a small, waterproof, wireless speaker with high-volume sound clarity like the UE Roll 2.
3. A Solar-Powered Charge Solution for More than Just my iPhone
If I were adventuring alone with only an iPhone, I could get by with some smaller solar iPhone charger options. But for occasions requiring appliances, laptops, drones, lighting, cameras, and a small army of power-thirsty USB devices, I need a serious power source. Whether a person is traveling as part of an adventure media team, or channeling nature's inspiration for a solo documentary, they will inevitably need to solve the power problem. In Hawaii, finding power was a constant struggle fo our three-person media team combined with eight students and two faculty members. Someone was always stuck with a dead phone, and on more than a couple occasions we ran through both backup batteries for our HD video and photo cams. With no shortage of sunshine on the Big Island, we could have been saved a hundred times over if we'd had a better solar charger.
Renogy's Phoenix Portable Generator All-in-one Solar Kit feels like a legitimate James Bond item straight from MoneyPenny. As a matte-black suitcase with light-blue accents, the polar solar power generator already demands recognition as a game changer for adventure. Inside is a pair of 10-watt monocrystalline portable solar panels that can be expanded up to 120 watts, and store energy in the generator's user-replaceable 16Ah lithium-ion battery. At 12.8 pounds, it wouldn't be something to move around a whole lot. But as a basecamp power source it would be an absolute hero. Beyond charging itself with the sun, it can also be charged by standard wall outlet or from the cigarette lighter power port in any vehicle.
The Phoenix has charge-cycle ratings right on the box. One charge restored my 15" MacBook Pro almost twice, which is decent. Charges targets were listed as: 8x iPad, 32x iPhone 6S, 3x Drone, 5x Laptop, and 47x GoPro.
The suitcase itself has a 3-watt LED flashlight built into it, but the company also includes a cord with a 5.5mm DC powered bulb socket for any standard light bulb. Also included is a MC4 to DC adaptor cord, CIG to DC adaptor cord, a universal USB cord, and the AC power adaptor cord.
4. iPhone Lens Kit
Photography lives at the heart of every adventure trip log. With the iPhone 7 and 7 Plus, we already have the best possible smartphone camera (not to mention one of the best cameras in general). So when companies like Olloclip set out to improve the versatility of their iPhone lens kit, and build on the strength of the iPhone camera, they are doing us all a great service. Olloclip has been building iPhone lens kits since 2011, and their newest line of iPhone camera attachments comes in three configurations. The Core Lens Set features a iPhone fisheye lens, a 120 degree iPhone wide-angle lens, and a 15x macro iPhone zoom lens, while the Macro Pro Lens Set includes three macro magnifications at 7x, 14x, and 21x. The Active Lens Set, Olloclip's most expensive, offers a 2x telephoto iPhone lens and a 155 degree ultra-wide iPhone lens. Each kit comes with mounts for both the iPhone 7 and iPhone 7 Plus.
I was able to spend some time with the Active Lens set to settle a burning curiosity I had in Hawaii. As I stated earlier, the best camera is the one you have with you. I stand behind that philosophy, but to take up the mantle of documentarian in any committed capacity also means that preparation counts for something. To bring Olloclip's small pack of Active Lenses would be no inconvenience at all, and the benefits of 2x telephoto zoom and the 155 degree ultra-wide shots would be worth it. I should note that the Olloclip mount is a very snug fit and does not work with a case on. When I timed how long it took me to remove the Catalyst Case and safely secure the Olloclip, it was a solid five minutes. I was being really careful because while the lens mount is medium-weight plastic, the lenses themselves are delicate glass in a metal shell. Maybe the setup takes a little extra time, but if the shot is worth it the payoff is that much sweeter. The mount also blocks the flash, so plan for that as well.
The 2x telephoto lens is relatively large and heavy. The added weight makes the phone a bit cumbersome, and warrants some extra care while you use it without a case. The design of Olloclip's mount allows for both lenses to be attached at once with one lens on the front camera and one lens on the back camera. The mount flips around to allow for a simple hot-swap between lenses.
Since I have the iPhone 7, not the Plus, I enjoyed the clarity of the 2x telephoto zoom. There is a marked difference between the 2x zoom with the lens versus just pinching for digital zoom. The 2x zoom lens is much clearer. With the wide-angle lens, I found my nature shots to be richer and more professional looking. I could see myself using these lenses regularly, whereas I don't know how much I would use the macro or fisheye lenses in the other kits. For iPhone 7 users, the Active kit seems like the best value. I brought a macro lens to Hawaii and never used it once. For serious iPhone photographers, this kit will add some unique options to your hardware. If the iPhone is your main camera, these lenses are certainly an investment worth considering, but I would practice the breakdown/setup/breakdown cycle a handful of times before taking it to the wild. I also recommend another Olloclip product called the PIVOT ($49.99,) which is a hand-held phone clamping design built for use with the Olloclip mount.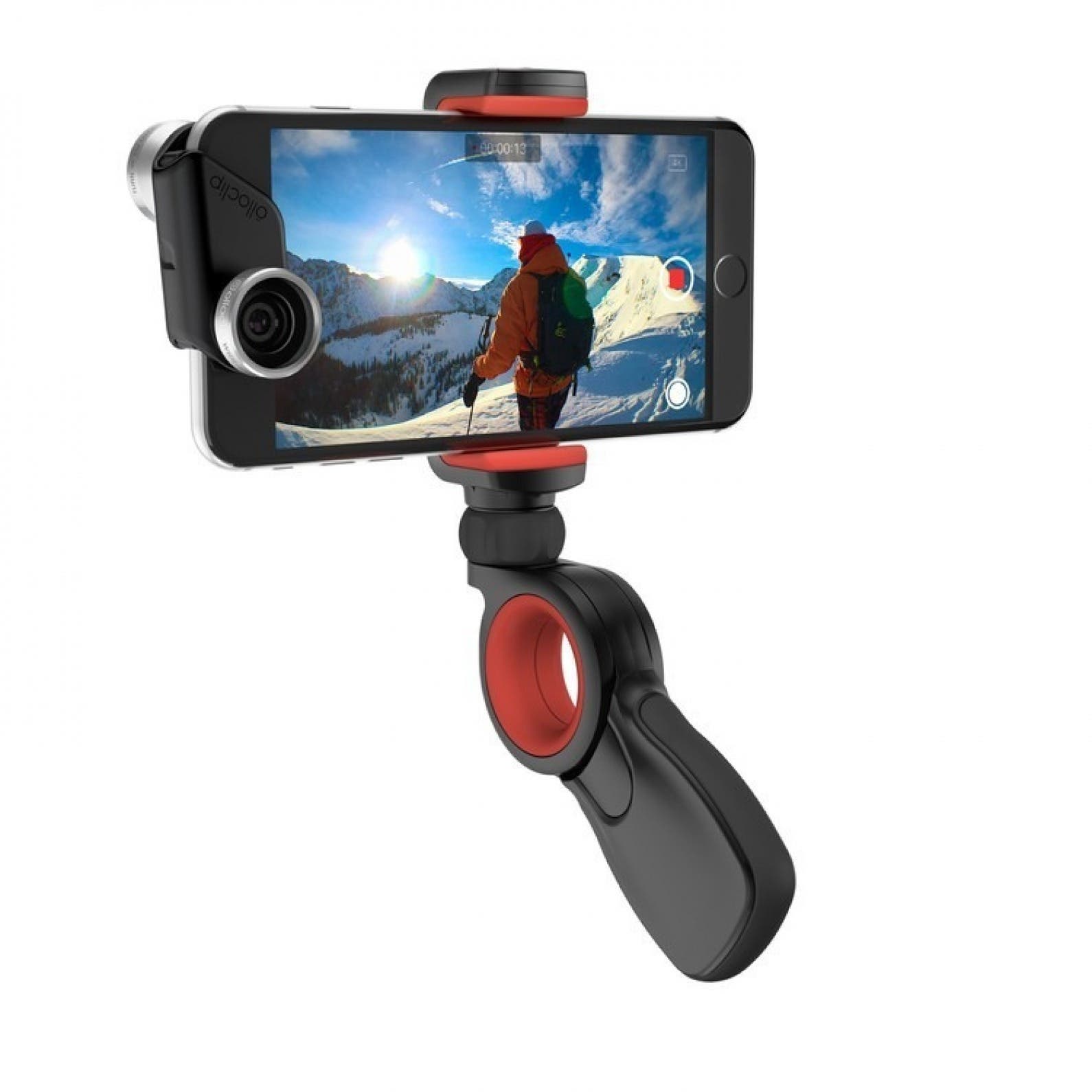 5. An iPhone Camera Remote and a Way to Mount My iPhone to Weird Places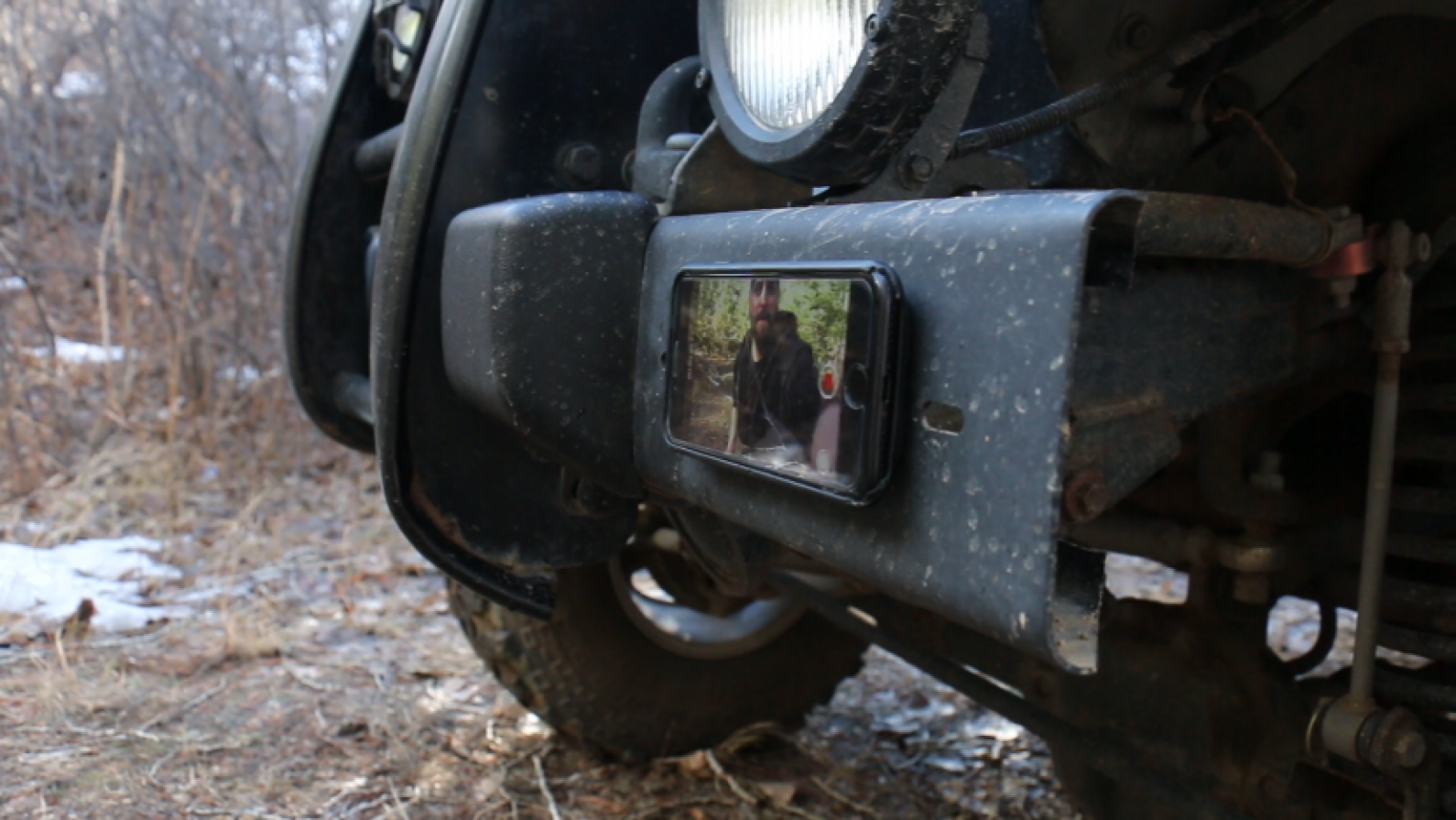 In addition to some lens versatility, our various Hawaiian adventures often required propping up cameras and phones in odd places. Our quests to meet thought-leaders, nature eccentrics, community pillars, and shamans frequently resulted in interviews, both planned and impromptu. We didn't always have the option of a tripod, or a cameraman, and the logistics of different situations made me wonder about options for mounting my phone to weird objects. I would also have liked a Bluetooth camera remote to snap stills or start and stop video recording from a distance.
The purchase options for this kind of accessory are nearly endless. Grips with fingers, sticky pads, helmets, and even cases with drones attached to them all came up in my searches. For each situation, different mounts are going to be more or less appropriate. One mount that stands out as a bit different is the ShowOff Smartphone Super Mount.
The ShowOff is a flat, plastic attachment lined with eight powerful magnets. I wasn't sure about putting magnets near my phone, but the company guaranteea the mount to be safe for devices. Included with the ShowOff are four super-thin metal stickers. At least one of these metal stickers gets mounted on the iPhone itself. I elected to mount one on an old case just to be safe. Incidentally, the sticker peeled off without a problem later on. This left me with three metal stickers remaining to mount anywhere I anticipated I would need to mount my phone. The company says it can be mounted to a laptop, but again I was hesitant with the magnets near my MacBook Pro. I skipped that test, but I put one near my bed, one in my kitchen, and one in my bathroom. The ShowOff has four magnets on each side of the panel, so all it takes is flipping the panel 90-degrees to the side and it can mount onto one of the metal stickers. Of course, beyond the stickers, it can be mounted to anything metal. I like this accessory as a solution to mounting because not many of the other mounting products were especially designed to mount directly onto a metal surface. Everything from handrails to car doors could be used, and while we spent a lot of time in the jungles of Hawaii, we also explored the cities of Hilo and Kona quite regularly. As a bonus, the ShowOff comes with a Bluetooth shutter remote.
6. Thermal iPhone Protection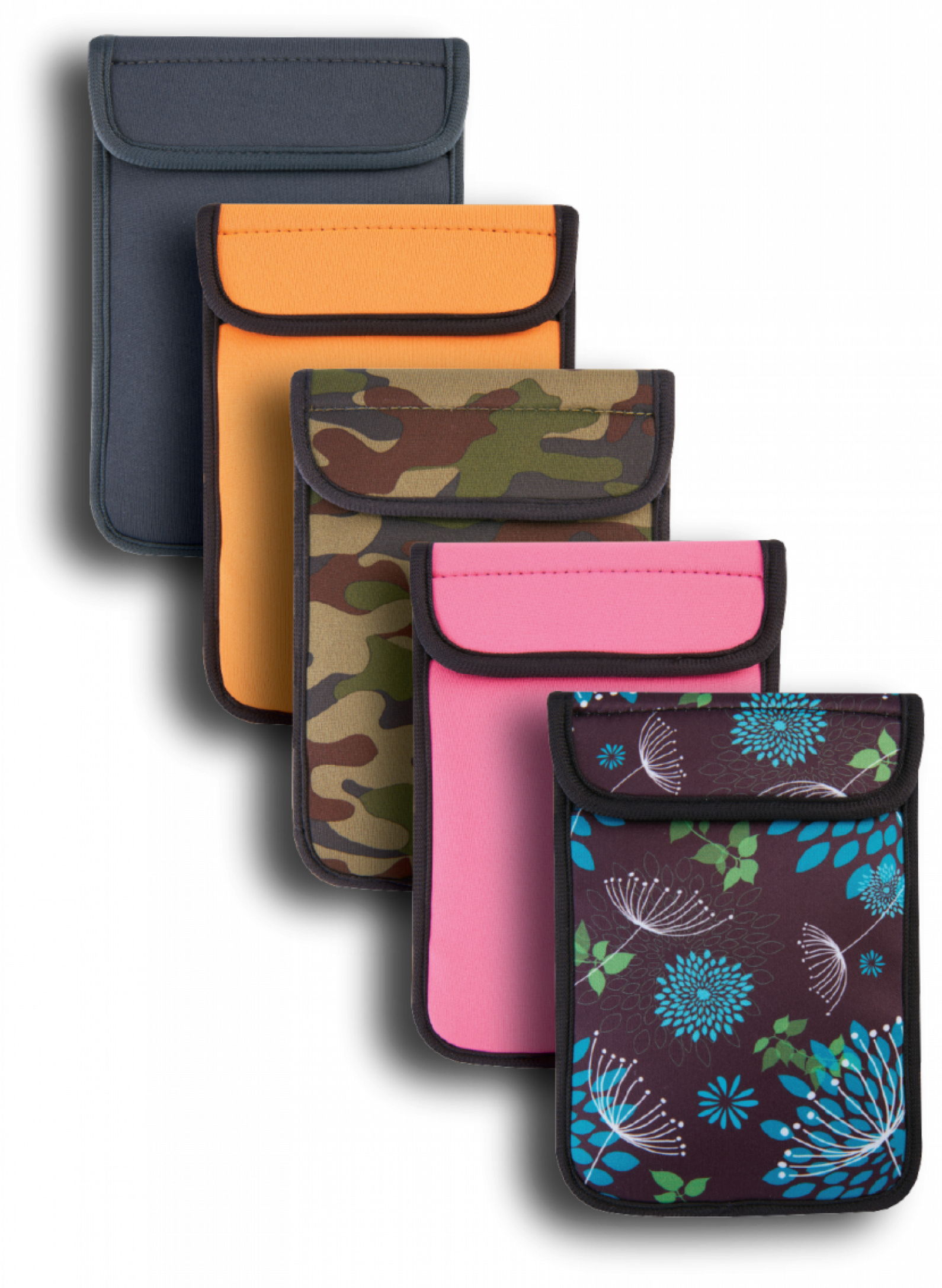 Between beach trips, hiking, and hot vans, my iPhone was a trooper in the heat. Although my iPhone 7 never overheated, Hawaii isn't known for intensely high heat. If I was either cruising through the sun a little closer to the equator or stomping through arctic conditions, I would have been a lot more concerned about phone temperature. After 15 minutes below 32°F or above 95°F, the iPhone shuts down to protect itself. All things being equal, if I'm counting on my iPhone to capture media, or worse, to make an emergency phone call, I'm going to be want an insulated iPhone case to protect the temperature of my lifeline.
The ClimateCase is a multi-layered thermal phone case made of nylon, neoprene, and a patented gel. Before heading out on a in hot temperatures, just put the ClimateCase in the refrigerator for four hours. And if the next adventure is on the chilly side, microwave the ClimateCase to make it a heated pocket for the iPhone. The company includes a zipping vinyl bag that seems like it will prevent some water from getting to the ClimateCase, however, I would more than likely rely on the Catalyst Case to handle that job. The ClimateCase has more than enough room to fit the iPhone with a Catalyst or other protective case on it. Even if part of the plan is to keep one of these heated or chilled in a bag somewhere, the ClimateCase will regulate iPhone's temperature up or down in two minutes or less. When it comes down to it, preventing this kind of hardware failure is an easy step, and it may be a step that saves the day.
Adventure can happen anywhere. And as long as we continue to put our iPhones into risky situations, we will have to consider how to protect them against disaster. Whether your idea of adventure is similar to my Hawaiian jungle journey, or you aspire to travel the world, I hope this rugged gear roundup will help you keep you iPhone safe. Do you have any adventure stories where a piece of adventure gear either failed or saved your iPhone? We would love to hear your stories in our comments section.