By

Ashleigh Page
Mon, 05/17/2021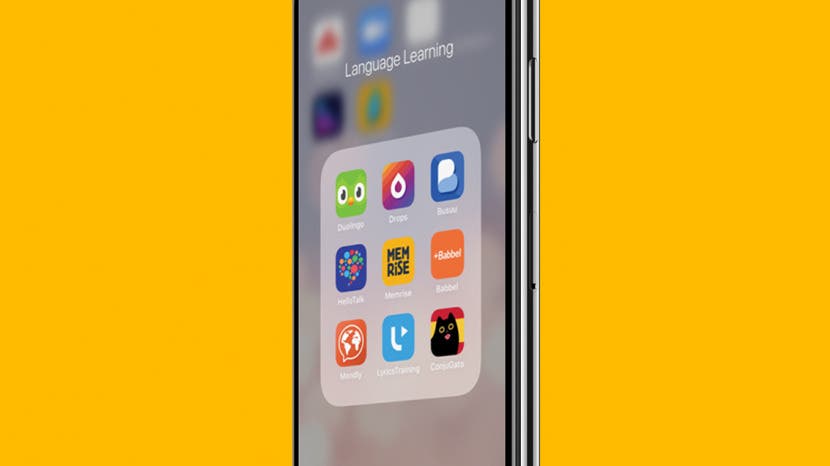 Whether you're casually interested in learning a new language or you plan to travel for work or vacation, we've compiled a list of the best language-learning apps available. With options for everyone from newbies to proficient speakers, these fun and educational apps have been chosen for their innovative approaches to language learning.
Related: Word Fireworks: The Best Language App for Learning Characters
This free and fun app is one of the most popular language apps available. It's also one I've used and loved for years. Courses are set up in a game-like fashion where completing one level unlocks the next, and learners who already have some experience can take a placement test to skip the basics if they choose to.

Discover your iPhone's hidden features
Get a daily tip (with screenshots and clear instructions) so you can master your iPhone in just one minute a day.
With a combination of fill-in-the-blank, verbal, and short-answer exercises, the brief lessons in Duolingo make it an excellent choice for beginners and casual learners, especially those who only have a few minutes a day to spare. However, if you're looking to really hone your conversational grammar to the point where you sound completely natural, this language app may not be for you. It focuses more on proficiency, pronunciation, sentence structure, and even punctuation, with less emphasis on fluidity and casual phrases than other apps.
The basic version of this app is free, but the premium options ($9.99/month or $69.99/year) offer more games, more languages, customizable options for lesson times, and more topics to learn. In my opinion, the paid version is worth the price if you're a serious learner.
From initial setup to advanced language courses, the Drops interface is fun, simple, and incredibly easy to navigate. I appreciate the tailored approach this app offers, as it customizes the bite-sized lessons based on your skill level, estimated daily practice times, and your reason for learning the language (work, travel, entertainment, or romance). With at least 41 language options available, Drops starts with the alphabet and includes everything from basic vocabulary to advanced conversational exercises, making it one of the most comprehensive language apps I've come across so far. 
This app scored high on my list for its creative approach to language learning. With Lirica, lessons are built around popular song lyrics in your chosen language to help you master beginning phrases and basic conversational skills. Phrases are displayed as karaoke lyrics throughout the song, and you can tap on words or sentences to see their meaning. As the chorus continues, you can cement your knowledge with a combination of fill-in-the-blank exercises and spoken phrases. 
The downside: your language options are currently limited to English, Spanish, and German, and if you're an advanced learner, it's unlikely that you'll find the paid premium versions (starting at $4.99) worth the cost, as the lesson difficulty levels seem to peak at intermediate.
Marketing itself as a language app "based on communication, not curriculum," this app is for serious learners looking to make some friends along the way! While it does have options for basic vocabulary practice, HelloTalk is really about connecting you to others for cooperative language learning. While it lacks a structured approach to learning, it provides the most immersive experience an app can offer, as you are quickly plunged into attempting to communicate via text or call with your language partner. Many claim this approach helped them to become fluent more quickly, and as a bonus, they made great connections with others around the world!
5. Babbel (Starting at $15.99/Month)


While the Babbel app itself is free, you'll have to subscribe in order to get full access to the expert-created content. For those who gravitate toward a more structured learning approach, Babbel delivers lessons that range from 10 to 15 minutes, and which start with vocabulary practice and shift into pronunciation and grammar. This app lacks the game-style approach of language apps like Duolingo, but the content and lessons are clearly and methodically laid out, and renowned for their efficacy.
With a variety of spoken, written, and visual exercises, the learning experience is very well designed, and I left my beginner Danish lessons with a strong grasp of greetings and pronunciation. However, the monthly cost of this language-learning subscription is higher than average (starting at $15.99/month), so I recommend the app only for serious language learners or students looking for a way to supplement their textbook resources with expert content.
6. Mondly ($9.99/month)


If you struggle with repetitive word memorization, this app is for you! It's another language-learning app where the app download itself is free, but to get access to the learning content beyond a seven-day free trial, you'll need to subscribe. Personally, I found the subscription (starting at $9.99/month) worth the price, but casual or occasional learners may not agree.
Skipping the standard vocabulary exercises, these courses jump straight into short phrases and simple conversation. Even more impressive is that they've done so in a manner that feels fun and manageable. From the beginning, Mondly focuses on building basic conversational skills, and this is arguably the best way to begin learning a language if you intend to become fluent. If you're studying a language with the intent of traveling to a foreign country and getting by on basic fluency, I highly recommend this educational app.
While serving a much more specific purpose than the other language apps on this list, ConjuGato made the list because it is the app I so dearly wish I had owned when struggling through high school and college Spanish courses. Focused on helping learners master Spanish verb conjugations, this simple and functional interface helps you to not only identify when to use which conjugation, but also to more easily differentiate between similar verbs, such as secar (to dry) and sacar (to take out). This is crucial, as small mistakes in verbs and conjugations can drastically alter the meaning of a sentence. Whether you're a Spanish student or looking to travel to a Spanish-speaking country, this app will help you greatly increase your proficiency and confidence.
Do you have a favorite language-learning app that we don't feature here? We'd love to hear about it!