By

Rachel Needell
Updated 03/28/2022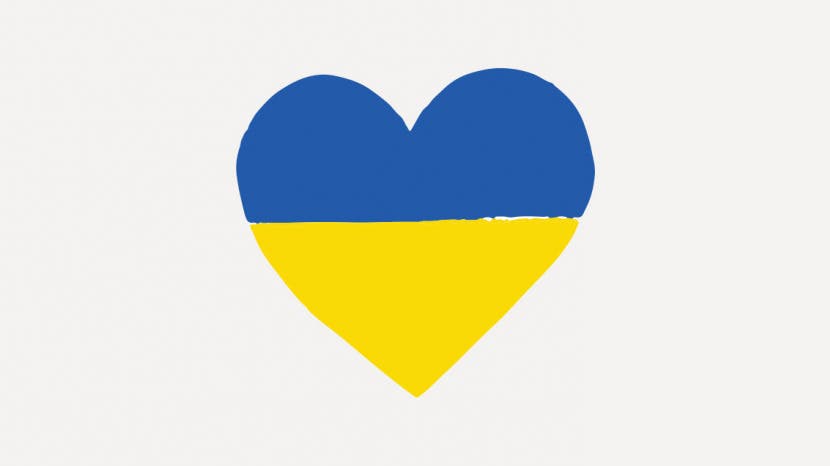 Since late Febraury, the world has been shocked and devastated by the violence committed by Russia in its war against Ukraine. At the beginning of March, Apple paused all digital and physical sales to Russia in response to the Russian invasion, including eliminating Russian access to the popular payment service Apple Pay. This dramatic move represents one of the largest responses by a big tech company, and not long after Apple's announcement other companies like Google, ExxonMobil, and Volkswagen followed suit. 

In the spirit of supporting Ukraine, a few apps have also really taken a stand. Some are creating easily accessible in-app donation buttons, others are committing large percentages of their profits to Ukrainian charities, and one has even reappropriated itself to combat Kremlin-controlled misinformation from the bomb shelters and bunkers under a war-torn Kyiv. Read on to find out how these apps are supporting Ukraine and how you can get involved too.
One of the first to make a public gesture, the U.S.-based and Ukrainian-founded real-time English language assistant and productivity app Grammarly said it will donate $5 million in the coming weeks to funds and organizations supporting the people of Ukraine. The app has also rebranded its logo to match the blue and yellow of the Ukrainian flag. And this show of support is not trivial, in fact, the app's donation amounts to five times the figure that major lenders like JPMorgan Chase and Wells Fargo have pledged for humanitarian aid during the war.

Discover your iPhone's hidden features
Get one daily tip each day (with screenshots and clear instructions) so you can master your iPhone in just one minute a day.
The founders Max Lytvyn, Alex Shevchenko, and Dmytro Lider started Grammarly in Ukraine in 2009 and the app crossed the one million daily active user mark six years later. By 2020, the user base of the app had grown to thirty million. With respect to the app's Ukrainian roots, the company released a statement encouraging its users to use their voice to oppose Russian President Vladimir Putin's war against Ukraine. The company says it will update the app to display a link to resources aimed to help the Ukrainian people. The company has also suspended their services in Russia and Belarus
Another app that helps users to master language, Duolingo, released a statement on Monday in support of Ukraine. To demonstrate the impact the conflict has had on people around the world, Duolingo says that it's seen a huge uptick in users learning Ukrainian on the language learning app. The company says it will donate all profits from the Ukrainian course to relief efforts supporting the Ukrainian people as well as waiving premium fees so refugees and their hosts can use Duolingo Plus to help with overcoming language barriers.
The app took a principled stand, emphasizing the company's belief that education is a human right. With that as a primary consideration, the company says it is working with partners to provide fee waivers to Ukrainian students to allow them to take an English proficiency test that is often required as a part of their university applications. In addition, while they are disabling all monetization in Russia and Belarus to ensure that no taxes are being paid to the Russian Government, the app will continue to operate for free in both countries. The company says, "language learning builds empathy and connection between cultures and we believe there is value in continuing to teach the English language for free in Russia, given the current information environment in the country."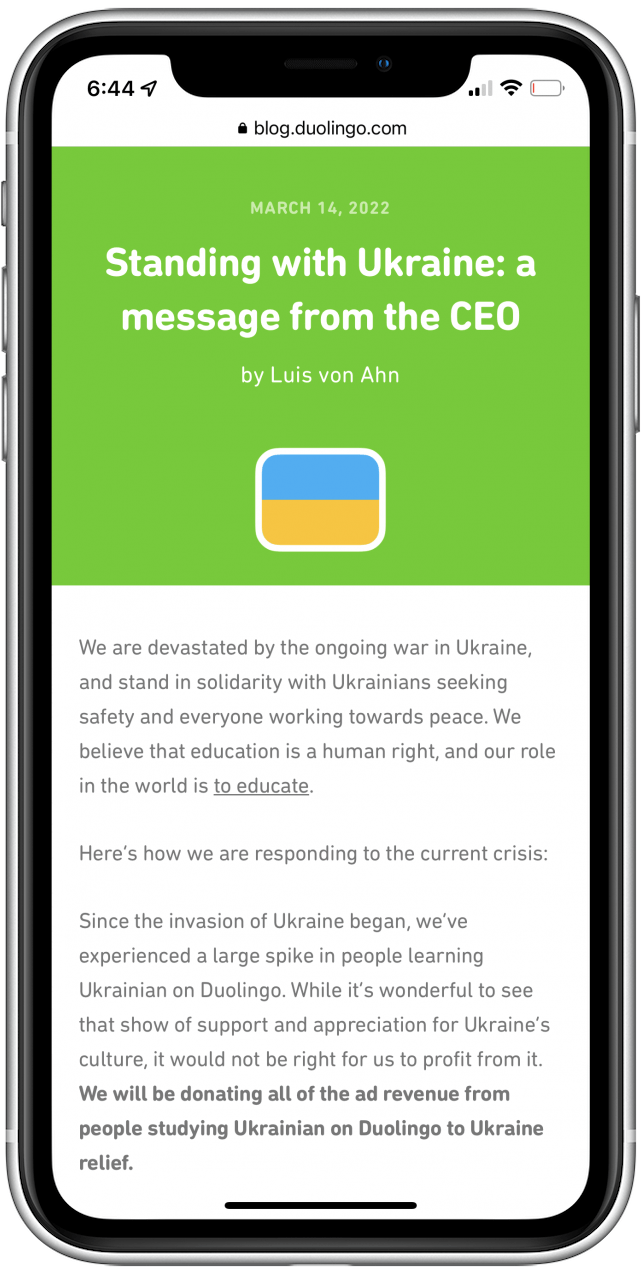 And as a cherry on top, in direct response to feedback from concerned Ukrainian users of the app, Duolingo has promised to freeze all streaks—or daily scores—for users in Ukraine. The company added how remarkable it is that even during violence and war, people still find the time to play a language learning game, a true testament to the resiliency of the human spirit.
To continue in the vein of sharing knowledge and information in times of war, Elsevier, a Netherlands-based publishing company specializing in scientific, technical, and medical content, is providing complementary access to its comprehensive 3D anatomy app called Complete Anatomy to Ukrainian citizens and surrounding countries. Complete Anatomy is the world's most advanced 3D anatomy platform and revolutionized the way students and medical professionals see the anatomical structure of the human body. Elsevier says that making these resources free and easily accessible helps to support medical and nursing students and healthcare workers throughout Ukraine during this crisis. The subscription, typically $39.99 for the first year, increases to $74.99, making the complementary price tag quite generous.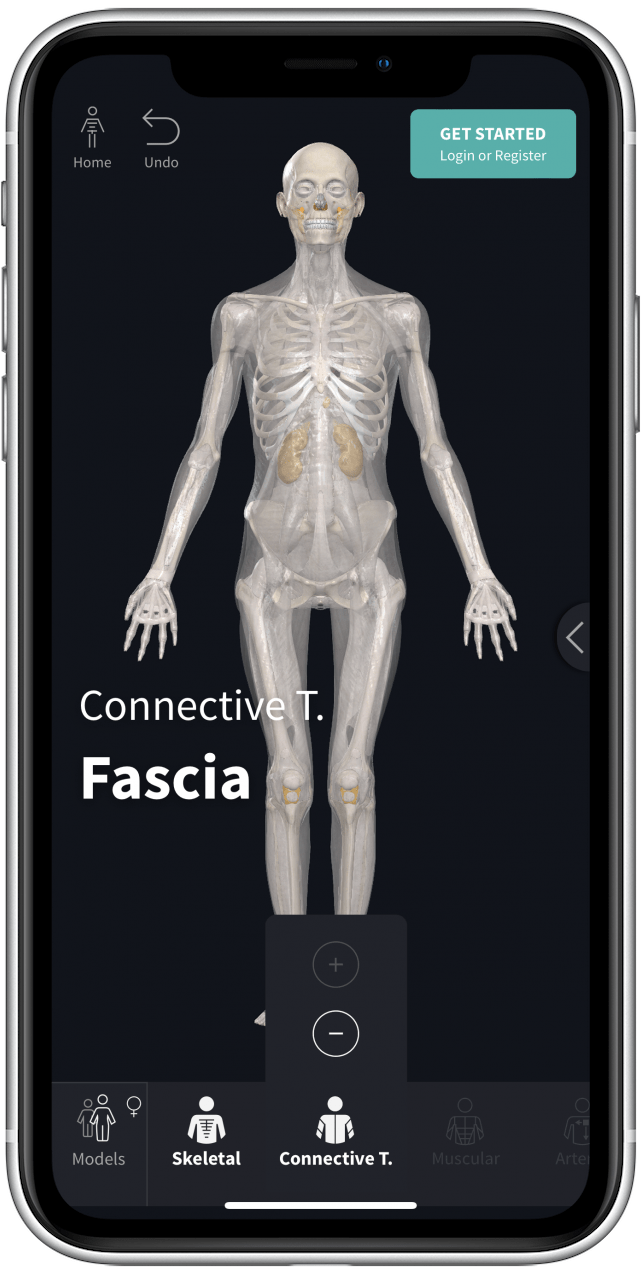 Elsevier is also offering other educational services for free for Ukrainian citizens and refugees. This includes access to its knowledge solution platform ClinicalKey, which provides easily accessible, evidence-based information and builds foundational knowledge of the medical field, and Osmosis, the company's health education platform that takes learning beyond textbooks and lectures by offering online educational videos. The company gives a list of detailed instructions at this website on how to access these resources for free and encourages everyone to continue to educate themselves and support Ukraine during this difficult time.
As of March 3, the ride sharing app Uber has created an in-app button for easy donations to Ukrainian humanitarian efforts that you can access by going to your messages in the app. The company has pledged to match donations up to $1 million and plans to donate $500,000 to the Red Cross and U.N. World Food Program to support humanitarian efforts in Ukraine and neighboring countries. The button will allow users to donate to the International Rescue Committee easily and quickly.


The app is also stepping up Uber's response to the horrific crisis by offering unlimited free rides to certain Polish cities from the Ukraine-Poland border. Additionally, the company has provided advance payments to its drivers in Ukraine and are exploring how Ukrainian refugees can have access to work on the Uber platform in neighboring countries.
Shortly after the attacks began, Uber paused operations throughout Ukraine to protect the safety of drivers and riders and began helping staff and their families relocate to other countries or to areas of Ukraine not currently in danger of the conflict. Now, Uber is assessing how to safely restore its services to Ukraine on a city-by-city basis, with safety as its primary concern.
Glovo, a Barcelona-based online delivery platform not unlike DoorDash or PostMates, has surprisingly resumed partial operations in 20 Ukrainian cities, including Kyiv, as of March 9. The app has lent its platform to provide essential services and humanitarian support directly to Ukrainians on the ground. The company suspended all operations in Ukraine on February 24 following the Russian invasion, but after careful consideration, it decided to restart in limited capacity.
This decision follows an increase in demand for urgent basic goods like food and medicine, vital services that residents and NGOs have become unable to access due to the escalating violence. Since restarting its services, Glovo has helped deliver more than 10,000 orders with more than 700 couriers still active in the country. The delivery service operates between the hours of 10 a.m. and 6 p.m. local time in order to comply with military-enforced curfews. The delivery platform will not return any financial gains from the Ukrainian services as all profits will go to humanitarian aid. In a statement released by the company, Glovo says its worker's safety was its top priority, "In case of attacks, Glovo will stop operations immediately."
The Ukrainian start-up app Reface has had to adapt its platform on the fly in order to combat Russian state media misinformation, all while its employees sheltered in bunkers or fled westward to escape bombardment. Reface, an app that uses machine learning to swap users' faces into GIFs, videos, movies, and memes, grew by 20 percent in 2020 despite the pandemic and looming threats of Russian violence. Since its release, the app has won awards and topped app download charts around the globe.
But now, the Reface team has conscripted their app into the war against misinformation spread by pro-Putin media. Dima Shvets, the CEO of Reface, watched over Slack channels as his employees retreated into bomb shelters and basements, and like many Ukrainians and foreigners alike, felt that there had to be more he could do. From those same bomb shelters and basements, his colleagues quickly got to work leveraging the app's popularity in Russia. They compiled a video that showed the horrific atrocities of the Russian invasion and prepared an accompanying text. Then, they sent out millions of push notifications to the app's users in Russia and around the world urging users to speak out against the violence.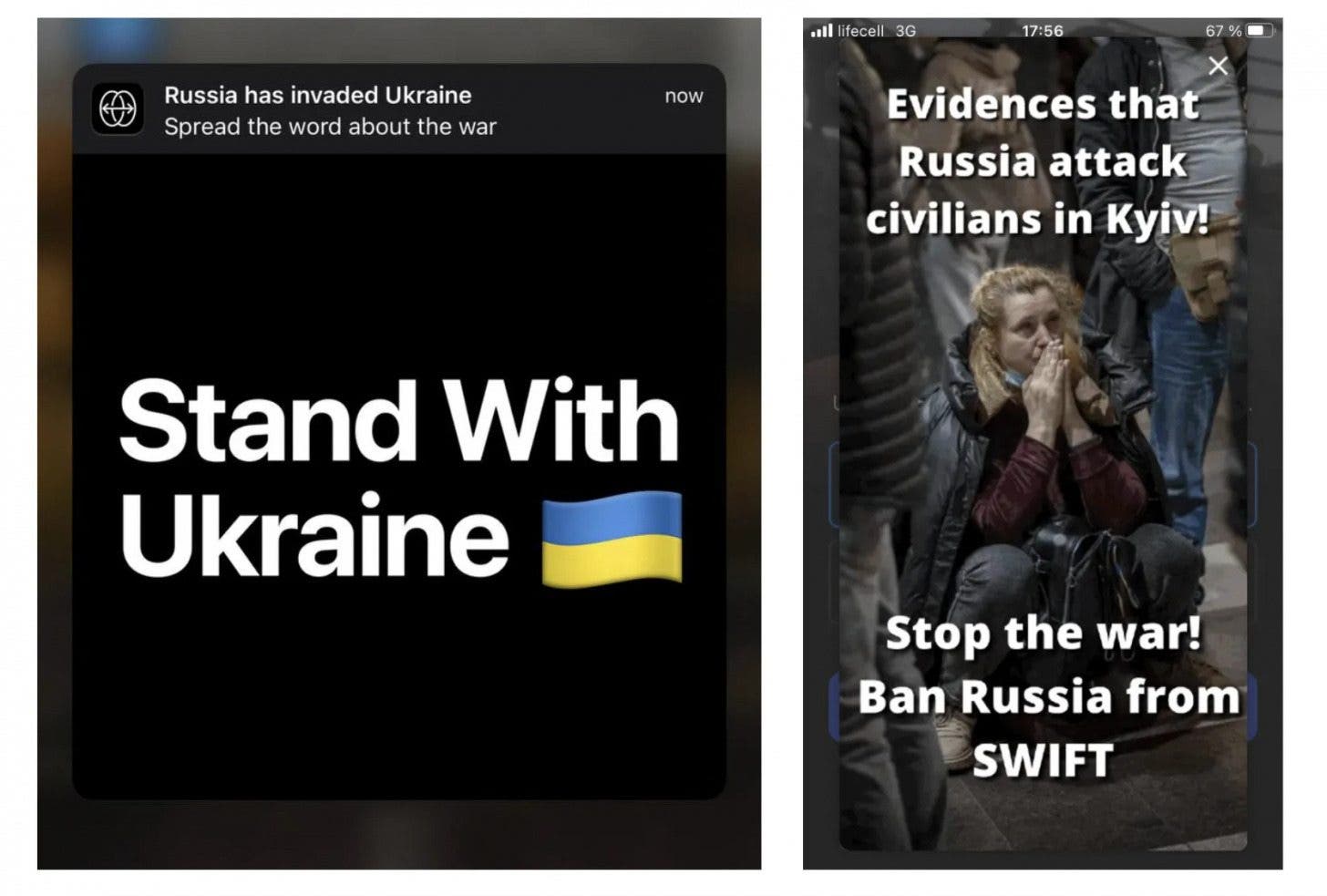 For Reface's comms manager Daria Kravets, a key motivation in this strategy was to reach Russian viewers who have been cut off from other forms of independent and social media like Facebook and Twitter, which have been restricted in Russia in favor of state-controlled news. But push notifications were just the start—the company has given its app a patriotic makeover with a new blue and yellow icon and a banner that reads "Ukraine Needs Your Support" with a link to donations. Additionally, as can only happen in 2022, the app has added a new character to its roster of face-swapping stars: Ukraine's president Volodymyr Zelenskyy, the unexpected hero in Ukraine's fight for freedom. In the app, users can place their face over Zelenskyy's as he walks with Ukrainian troops and addresses the nation, telling viewers "Slava Ukraini"—Ukrainian for "Glory to Ukraine." On Zelenskyy's popularity inside and outside of the app, Shvets said, "Before, the main heroes on the app were Jack Sparrow, Hulk, and Iron Man. But today's heroes are our people, our military forces, and our president Zelenskyy."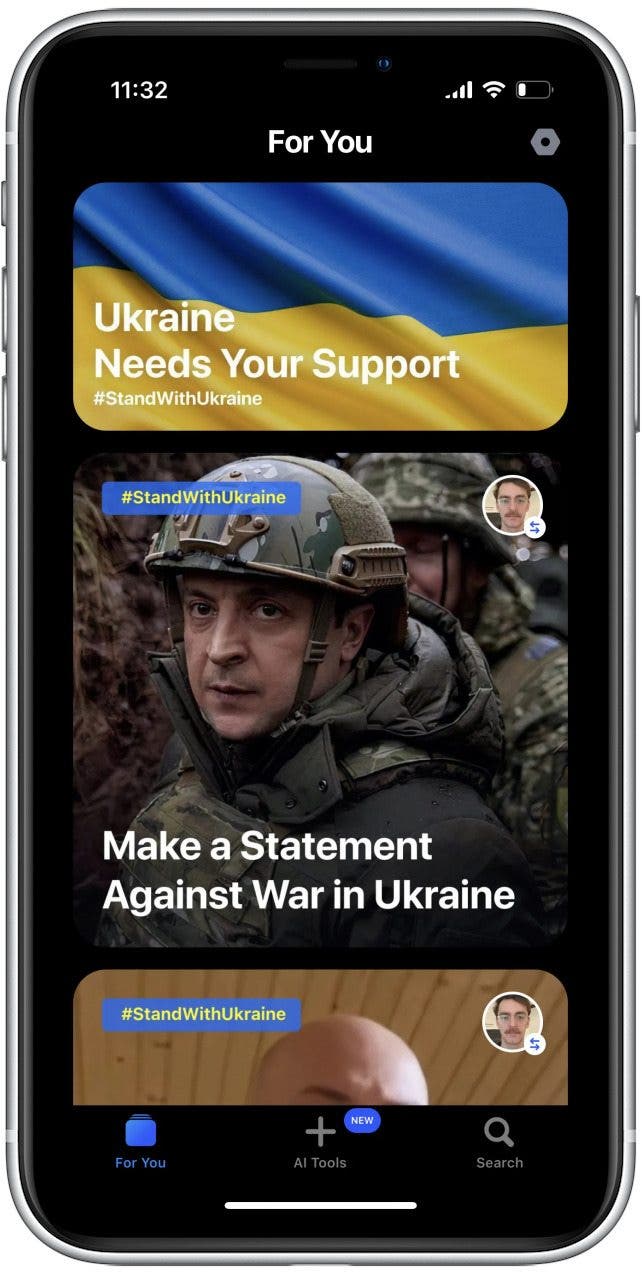 How You Can Help Ukraine
In a show of support for Ukraine and the refugees of Russian violence, we have compiled a list of some of the best local, national, and international aid groups supporting Ukraine. Please consider making a donation.
POLAND
Polish Center for International Aid
SLOVAKIA
People in Need (Človek v ohrození)
UKRAINE
Go Fund Me for the "Kyiv Independent"
ROMANIA
MOLDOVA
CZECH REPUBLIC
INTERNATIONAL GROUPS
UN's refugee agency, UNHCR
International Rescue Committee
International Committee of the Red Cross
Top image credit: StockArtRoom / Shutterstock.com