You may not realize you can actually use Zoom to record a presentation or record yourself on Zoom. Check out this tip to learn how!
By

Rachel Needell
Updated 01/24/2023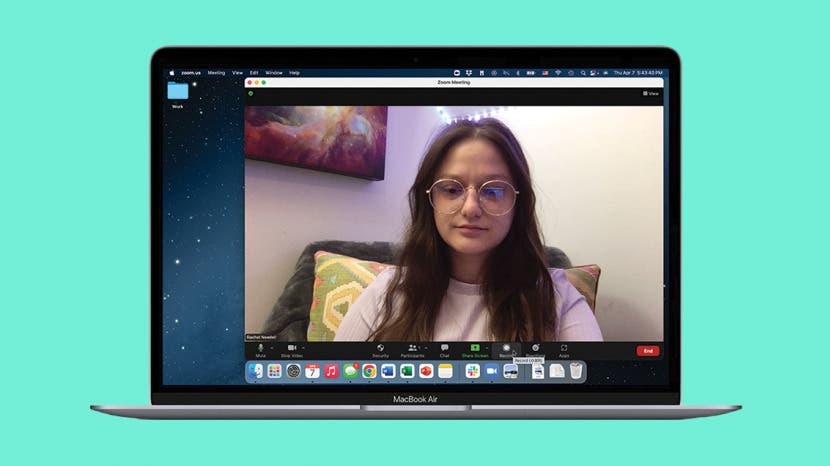 * This post is part of iPhone Life's Tip of the Day newsletter. Sign Up. *
In this time of virtual workspaces and the rise of Zoom, you may find yourself asking, "Can I record myself in Zoom?", "Can I record a Zoom meeting?", or "Can I make a video using Zoom?" The answer is yes, and it's really quite simple! Read on to find out.
Related: Troubleshooting Zoom Issues: Video & Connection Problems
Why You'll Love This Tip
Easily record your Zoom meetings on your Mac and save them to your computer.
You can record yourself giving a presentation or make your own video.
Recording on Zoom with a Mac
In order to use Zoom on your Mac, you need to create a Zoom account and log in. Once you've done that, we can start recording videos and saving them directly to your Mac.
Open the Zoom app.


Start a meeting or join one that's already happening.


Tap the Record button at the bottom of the screen. Now you'll start recording (unless you need the host's permission to record, in which case you'll need to ask).


When you'd like to stop recording, you can press Pause to temporarily stop recording or Stop to end the recording permanently.


A notification will pop up alerting you that your file's audio will be converted to mp4 once you end the meeting.


Click End.


Then, click End Meeting for All.


Once your meeting has ended, Zoom will automatically convert the file. 


Your recording will automatically pop up in your files.


 *Important Note: If you are a paid subscriber to Zoom, either through your company, school, or personal subscription, you will also be given the option of saving your recording to the cloud. This can be very handy for saving lectures and meetings without taking up any space on your personal computer's hardrive! 
And that's all there is to it! Zoom is a great app for video calls, whether you're working or just hanging with friends or loved ones at a distance. For more cool tips about video calls, or how to use your Mac computer, be sure to sign up for our Tip of the Day!