By

Jim Karpen
Fri, 12/28/2012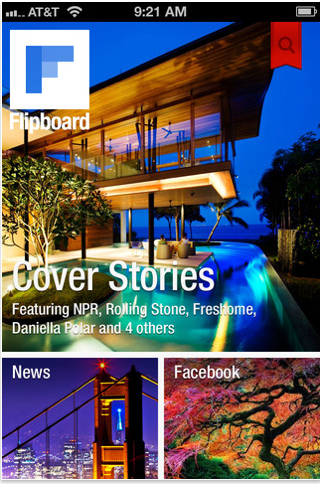 I've seen a number of lists of apps recommended for those lucky individuals who got a new iPhone or iPad from Santa, but CNET's listing strikes me as being the most useful. They include a number of free apps that are my favorites and that I use every day. Let's take a look at some of their recommended apps. 
Flipboard — This is likely the most popular aggregator of news and content ever developed for iOS devices. Its interface is gorgeous and intuitive, and very easy to customize to your interests. Many people find it to be their favorite window onto Facebook or news or entertainment or sports, or whatever your interest is. 

Discover your iPhone's hidden features
Get a daily tip (with screenshots and clear instructions) so you can master your iPhone in just one minute a day.
Google Maps — When Apple dumped Google Maps in favor of its own maps solution, many were disappointed that Apple's effort was missing some of their favorite features, such as transit directions and Google Street View. Fortunately, Google eventually came out with a full-featured version of their app for iOS devices that has almost all the functionality of their highly popular maps app for Android devices. 
Google Search — Siri is great, but it's not the only game in town. Google Search also lets you make voice queries. And in my experience, Google queries are often more responsive. That is, Siri spends a bit more time thinking than Google Search. Google Search also includes Goggles, which lets you do a search for information simply by taking a picture of something.
YouTube — Of course, you'll want to download the YouTube app. This had originally been part of the iOS software, but Apple cut it from the roster of built-in apps with the arrival of iOS 6. (Probably yet another skirmish in Apple's competitive war with Google.) I actually like YouTuibe's app better than the original, which I always found limiting. For one thing, I remember not being able to access YouTube's movies via the old app, but have been able to do so with the new one. The interface is attractive and intuitive.
Find my iPhone — You owe it to yourself to have this app from Apple on your device. If it ever turns up missing, you'll be able to spot it on a map. And if it's in the hands of bad guys, you can lock it, or even wipe it clean.
The Weather Channel — I've tried a number of weather apps but always come back to The Weather Channel. It has a lovely interface, and very intuitively lets you switch among a variety of views, such as current conditions, detailed forecast, 10-day forecast, radar map, and more.
Pandora Radio — You're likely already a user of this free service for streaming your favorite kind of music. The app lets you access your Pandora stations.
Wikipanion and Wikipanion for iPad — While the above apps are univeral, working on both iPhone and iPad, the Wikipanion app has separate versions. There are many apps available that let you access the now-famous Wikipedia encyclopedia, but this has been the one that I tend to use. I really like the way that it organizes and presents each entry, and like the useful in-page search feature.
There are a number of other great apps and games in CNET's listing, but these are the ones that I think every iPhone and iPad owner would want to be sure to download. And they're free!