By

Jim Karpen
Mon, 03/09/2015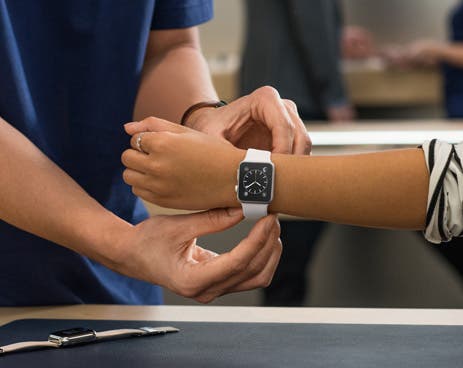 If there was a single theme in today's Apple event, it was the company's extraordinary commitment to be constantly envisioning great products, and then continually refining them. No other company seems to have such a dedicated focus, nor the resources to bring it off. 

Discover your iPhone's hidden features
Get one daily tip each day (with screenshots and clear instructions) so you can master your iPhone in just one minute a day.
Yes, everyone was expecting Apple to highlight a revolutionary new watch today. But Apple's new MacBook was almost every bit as stunning. And their new ResearchKit, which they're releasing as open source, also shows a company that has a vision for improving people's lives. They're the biggest company in the world, yet they act like a startup—always innovating, always moving in new directions. All of this is undergirded by a commitment to a vision that is second to none.
Consider, for example, the aluminum and steel used in the Apple Watch. Apple wasn't satisfied with current materials. They developed a new aluminum alloy that's lighter yet just as strong and sets a new standard both for appearance and performance. Same with their steel, which they've customized to be stronger. How many companies making a smartwatch would go to the trouble of creating new alloys for the materials?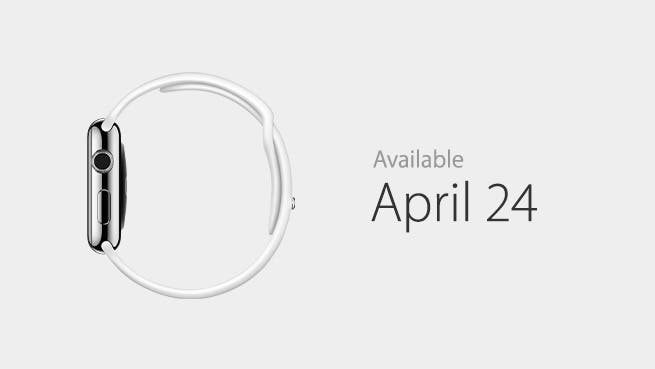 Pricing and Availability
Of course the biggest news was that the Apple Watch will be available for pre-order, and for demos in Apple Stores, on April 10, with availability for purchase on April 24. The price for the Apple Watch Sport, the aluminum model, will start at $349 for the 38 mm version, and $50 more for the 42 mm display. The Apple Watch Collection, made of steel, will have the widest variety of bands, with prices ranging from $549 to $1,049, with the 42 mm version again adding $50 to the price. The Apple Watch Edition, with its 18-carat gold, will start at $10,000. Its availability will be limited, and it will be be sold in select retails stores.
Battery Life
A big question has been battery life, with Apple CEO Tim Cook saying it has an "all-day battery life" of 18 hours. Connecting the magnetic charger is simple: you hold the Apple Watch near the charger and it clicks into place.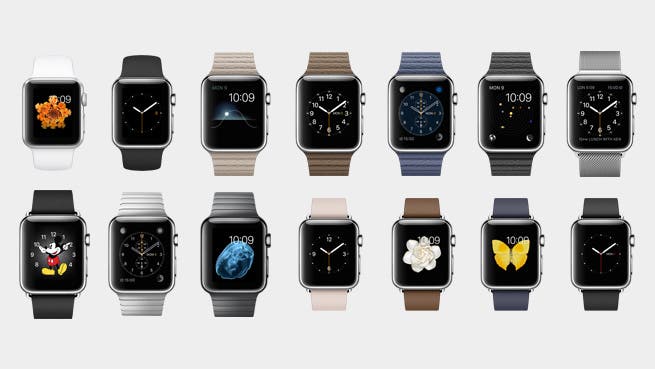 A Timepiece, communication Device, and Health & Fitness Monitor
Tim Cook began by again saying that the Apple Watch is Apple's most personal and intimate product to date—because it's a product you wear. And for that reason, it's also a fashion statement. But he emphasized that in addition to being beautiful, it's highly functional. He focused on three categories of functions: the Apple Watch as a timepiece, as a communication device, and as a health & fitness monitor. Each of these areas was demonstrated. Much was familiar from the first presentation last September, but with some fresh twists. I hadn't realized, for example, the ways in which one will be able to customize the watch faces, such as adding the date, a stop watch, or calendar appointments. 
The demonstration of the communication features included receiving a call and using Siri to send a message, which can be sent either as voice or text. There was again a focus on Apple's new "digital touch" communication features, which include sending a drawing, sending a tap, and sending your heart beat.
The Health and Workout apps were also highlighted. The Health app tracks all your movements and even tells you when you've been sitting too long. Each week you get a detailed report of your activity, including how much time you spent moving, exercising, and standing. It also gives you reminders to be more active and suggests new targets for your activity. Cook said it's like having a "coach on your wrist."
The Workout app gives you detailed metrics for your running or cycling or any other activity, telling you how long you've been engaging in activity, how fast you've been going, how far you've gone, and how many calories you've burned. On hand to help promote the Workout app was the famous model Christy Turlington Burns, who told how she uses her Apple Watch to help her prepare for and run marathons.
Cook also listed all the other things an Apple Watch can do, such as paying with Apple Pay, viewing photos, controlling your music, interacting with Siri, receiving notifications (any iPhone notification can also appear on your Apple Watch), interacting with social media, and reading news headlines.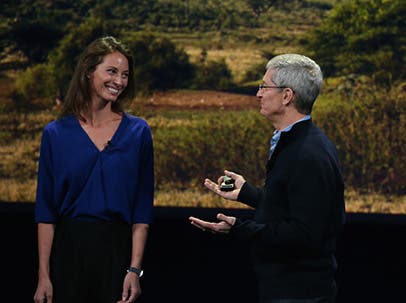 Amazing Third-Party Apps
Then after demoing the time, communication, and health functions, Tim Cook handed off to Kevin Lynch to talk about everything else—the thousands of apps that have been created since the WatchKit was released to developers last November. This was likely the most impressive part of the Apple Watch demonstration. During the demo, Lynch's daughter sent a text message saying she was locked out of the garage. Lynch used Siri to send a text message back saying not to worry, he'd unlock it. He then unlocked the door with his Apple Watch. And then live video appeared on the Apple Watch display that was being fed by a security camera in the garage. The garage door rolled up, and in walked his daughter and her friend with their bikes. That was so cool.
Another interesting example was using an Apple Watch at an airport. You can have your boarding pass on your Apple Watch. You simply wave the bar code in front of the scanner and then board the plane. Similarly, Lynch explained how you can completely bypass the front desk at a hotel. Your Apple Watch gives you all the details you need such as room number and room confirmation, plus you use your watch as the room key.
Lynch emphasized that the Apple Watch is a focal point for many brief interactions throughout the day: stock prices, business info, sports scores, Twitter trends, flight information, etc. All of these come to your attention either via "glances," brief static messages on the display, or interactive notifications similar to those on your iPhone or iPad.
Other applications demoed included Uber, Instagram, and Shazam.
Hey, Siri
He also talked about interacting with the Apple Watch via Siri. Perhaps the biggest surprise to me was that you can not only get Siri's attention by pressing the crown, but also by saying, "Hey, Siri." As with the iPhone and iPad, you can use Siri for a wide range of purposes, from asking about the weather to setting up a reminder.
Apple Pay
The Apple Watch can also be used with Apple Pay, and Lynch had a Whole Foods terminal on stage to show how easy it is. You double-tap the side button and put your watch close to the scanner. And that's it. There will be an audible sound to indicate that the terminal senses the presence of the Apple Watch, and haptic feedback on your wrist indicates that the transaction has been completed. 
Apple Watch App Now Aavailable in iOS 8.2
Lynch also talked about a new Apple Watch app that's in iOS 8.2, which is available for download today. You can use the app to view Apple Watch how-to videos, to download Apple Watch apps, and to specify which notifications you want to receive on your watch.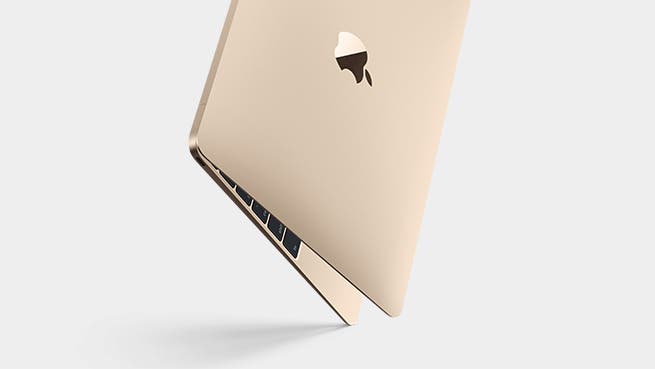 MacBook, Apple TV, HBO Now
Although the iPhone has been driving Apple's bottom line for the past 8 years, the Mac is still selling well, with sales increasing at a time when sales of other computers are declining. Apple's new laptop was itself amazing, with many innovative features not found on any other computer. For example, force touch has now been integrated into the track pad. Plus, the trackpad now has a taptic engine, such that it can give you haptic feedback. The new MacBook has a single connector, called USB-C, that can connect power, an external display, HDMI, USB, and VGA. It weighs just two pounds and is 13.1mm thick at the thickest point, which makes it substantially thinner than the MacBook Air. Apple will continue to sell the MacBook Air and MacBook Pro, with the new entry simply being called MacBook.
The price of  Apple TV was lowered from $99 to $69, but it's still the same device as before. The big news was that HBO will now be available on the Apple TV and other Apple devices as a standalone service called HBO Now beginning in April for $14.99 per month. If you sign up in April, you'll get the first month for free.
ResearchKit
Tim Cook said that as they began working with medical centers and researchers on projects related to Health and Workout, they kept hearing the comment that the iPhone would also be a perfect tool for researchers. He demonstrated five apps that have now been developed that help diagnose and monitor conditions, while at the same time sending a wealth of data back to researchers. It's clear that the research community sees tremendous potential in the possibility of crowdsourcing data for various medical conditions. Overall, this is a very impressive new direction for Apple. And the fact that they're making these development tools open source suggests that their goal isn't to make money but to create a new tool that can help treat disease.
Overall, this event was much much more than I expected. And once again it showed why Apple is such an exciting company.