By

Sarah Kingsbury
Mon, 12/29/2014
Have you always wanted to build an iOS app, but lacked the knowledge and skills? Have you ever signed up for an online course on creating iOS apps, only to feel frustrated because the content was out of date or not comprehensive enough? Are you dying to learn more about Swift and programming for the Apple Watch? It's a story we hear all the time at iPhone Life. And that's why we decided to partner with iPhone app expert, former Apple employee, and adjunct professor at RIT Paul Solt to make his iOS development courses available to iPhone Life readers at a big discount.

Discover your iPhone's hidden features
Get a daily tip (with screenshots and clear instructions) so you can master your iPhone in just one minute a day.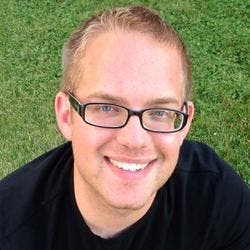 Paul's courses are available as individual courses or as bundles. Students who take the courses will learn how to create iPhone apps from scratch, even if you don't have any programming experience. You will come away from these courses excited and passionate about creating high-quality apps and you will understand the entire process of creation from inception through launch. And iPhone Life will be featuring some of the top apps that get built in these courses on our website!
Check out the course schedule:
January 12: iPhone Games with Sprite Kit in 31 Days
March 2: Real World App Experience
May 2015: Make Apps for Apple Watch
Available today: Make iPhone Apps with Objective-C
Available today: iPhone App Programming with Objective-C
Available today: Swift Primer
Follow the links below to get the iPhone Life discount:
$49 (originally $99)

This course will teach the basics of programming along with the new programming language called Swift. You will walk away with an understanding of how to write code, design interfaces with Xcode 6, and create iPhone apps.
Create your first iPhone app
Write code with Swift, Apple's new programming language
Learn from daily lessons
$99 (originally $199)

These app programming courses will teach you the basics for how to make iPhone apps and iPhone games utilizing Swift. Each course is designed to fit into your daily schedule with short video lessons, code exercises, and Q&A videos.  
20 hours of code tutorials and lectures
40 exercises to practice what you learn
40 Q&A videos to answer your questions
$149(originally $499)

These app programming courses will teach you the basics for how to make iPhone apps, Apple Watch apps, and iPhone games utilizing both Swift and Objective-C. You will also learn vital but often overlooked real world skills, such as how to publish your app on the App store. 
60 hours of code tutorials and lectures
70 exercises to practice what you learn
60 Q&A videos to answer your questions