By

Dig Om
Updated 03/14/2016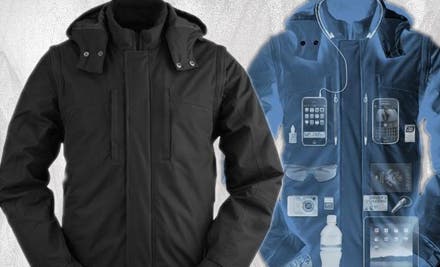 In this day and age it's become commonplace for us to do just about everything with our iDevices, which means that we need gear that can keep up with us on any outlandish escapades, as well as on our day to day grind. The items featured here represent some of the best in their respective categories; built tough and designed with integrity and durability to handle the  adventures that lie ahead. Many of the products featured here have impressive MIL-STD or IP ratings, which you can learn more about by clicking HERE.
Here at iPhone Life we love turning people on to great gear that fits their specific purpose and need and we're hoping that these reviews will make your holiday shopping that much easier. Whether as a present for yourself, or as gift idea for family or friends, this list of exceptional products will help you find the perfect accessories.
Adventure-Proof

iPad and iPhone

 Cases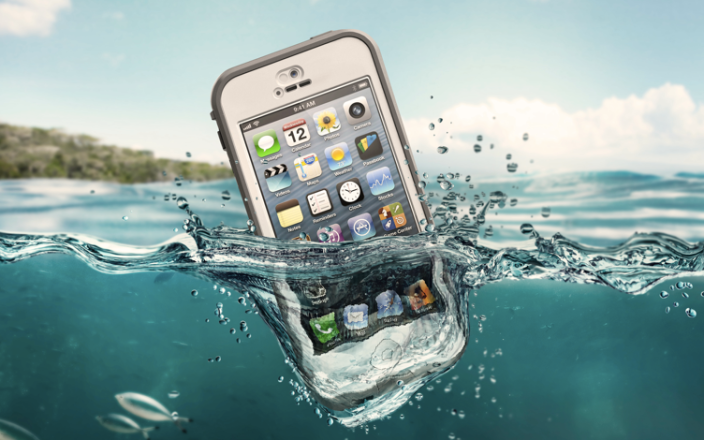 Lifeproof iPhone and iPad Cases (prices start at $69.99)
The Lifeproof cases continue to set a high bar as far as what we can expect a great heavy-duty iPhone case to be, and they do it without the bulk. The form-fitting design of these svelte cases makes them more of an enhancement for your iPhone or iPad than an obstruction. They are waterproof (6.6-ft submersion) and shockproof (from a 6.6-ft drop) and should keep your iDevice safe and sound, even in some of the most extreme circumstances you may encounter.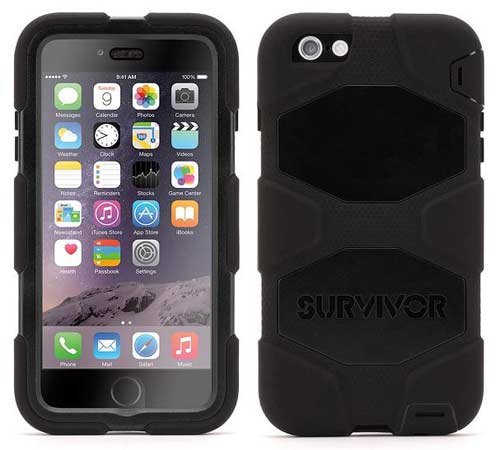 Griffin Survivor All-Terrain (starting at $49.99)
Though this ultra-protective model case has undergone a few name changes over the past few years, it's still the same great product that delivers some of the best and most comprehensive protection you can get for your iPhone and iPad. This splash-proof and shockproof tank of a case is priced very affordably and offers extra grip and shock protection with its extreme-duty design. The All-Terrain is available for the iPhone generation 4 and up, and for the iPad generations 2 and up.
Otterbox Defender (starting at $59.90)
The Defender is still one of the most popular rugged protective cases in the world, despite the competition growing so much over the years since Otterbox first made such a splash with their original iPod rugged protective cases. Whether it's an iPhone or iPad that you are in need of a case for, the Defenders multi-later approach and structurally reinforced design make the Defender one of the best investments for the well-being of your iDevice that you'll ever make. The Otterbox Defender is also available for the new iPhone 6 series.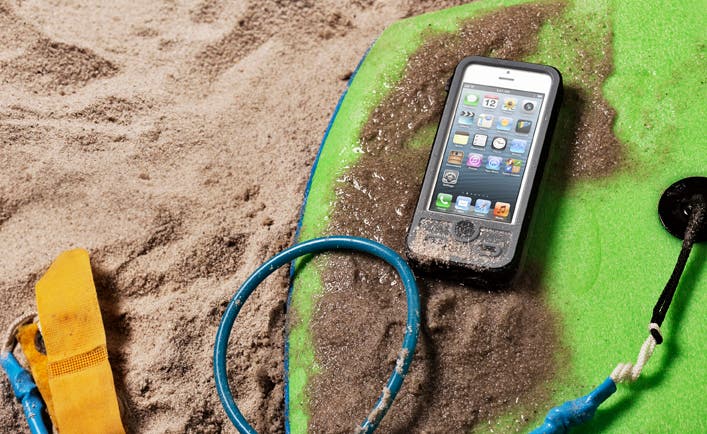 iBattz Aqua Refuel ($119.95)
The Aqua Refuel is the only case that has made it to market that is both waterproof (to seven feet) and shockproof and has an external battery built into the case. This case, as of this writing is available in a 5/5s compatible model, which is actually great since the iPhone 5 and 5s have batteries that are so much smaller and more in need of frequent recharging than the new iPhones 6 and 6 Plus. Here's hoping that those of us who eagerly migrated up to the iPhone 6 or 6 Plus will also have access to the extra back up battery power of this amphibious case before too long.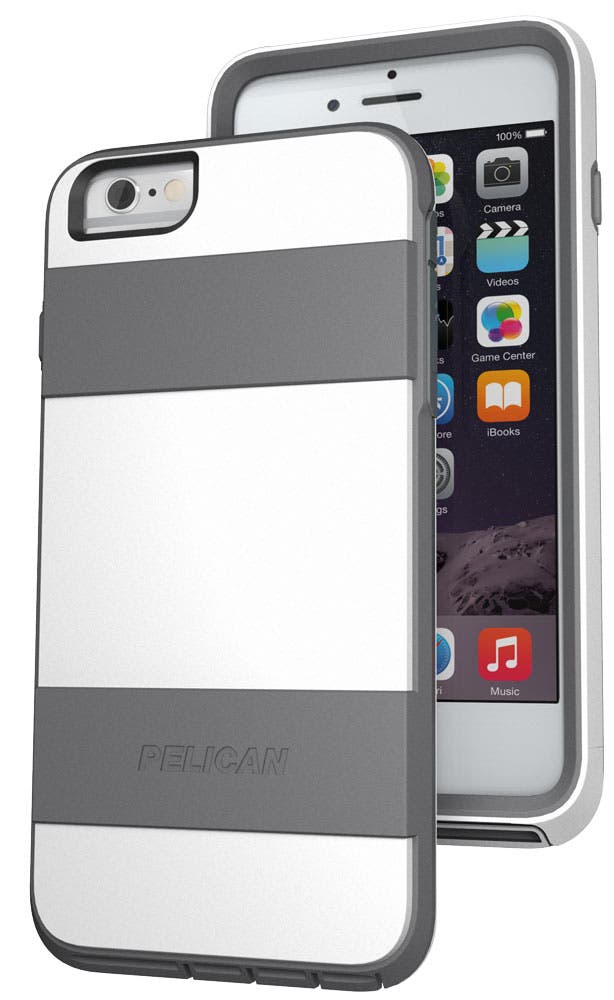 Pelican Voyager (starting at $50)
Pelican has made a name for themselves, providing first responders and military personnel with highly protective gear that is built tough and ready for the field. With its minimalist, design, removable screen protector, and slim profile the Voyager iPhone case has got your iPhone covered and secure. The Pelican Voyager is also available for the newest generation iPhone 6 series.
Gear for Life On The Go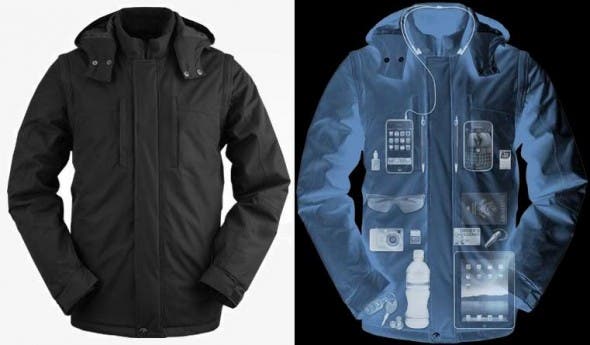 SCOTTeVEST Revolution Plus ($200)
If you are the techie-type you are going to love this one! The Revolution Plus is the ultimate tech-friendly jacket, sporting just about every feature that you could think to ask for, including removable sleeves and a special weight management system. With 26 gadget oriented pockets, including pockets with touch sensitive transparent fabric lining them as well as a megapocket for an iPad Air or mini, the question is less "what can you carry?" in this jacket, but rather, "what can't you carry?" in this classy and stylish cold weather coat.
BioLite CampStove ($129.95)
For the modern adventurer who spends as much time in the wilderness and off-grid as possible, here's a neat little multi-purpose gadget to have handy. The BioLite CampStove is a unique tool that not only lets you have a small, contained fire for preparing warm food and drinks, the BioLite also lets you safely harness the energy generated from the heat of the fire to charge your iDevice. It's a great back up charger when you are far from a wall outlet and battery life is precious!
ReadyAction iDevice Camera Mounting System (starting at $24.95)
ReadyAction offers a solution for all iDevice users who have the desire to turn their iPhone or iPad into the equivalent of a GoPro. The folks at ReadyAction realize that we always have our iDevices with us, so naturally what better way to be prepared to film our adventures on the go than with a mount that transforms our go-everywhere smartphone (or tablet) cameras into something that we can attach to ourselves, or to a filming pole, roll bar, bike handle, helmet etc.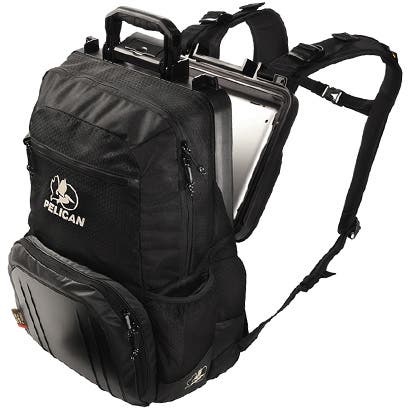 Pelican S140 Sport Elite Backpack ($100.99)
The Pelican S140 backpack is the way to go if you're the type who tends to tote their iDevices around wherever you go, especially if you have a tendency to be rough on your stuff. Like many other gear bags that are designed to protect your delicate techie hardware, the S140 has dense, shock absorbing padding to protect your devices. However, unlike other protective packs Pelican has taken protection to the next level by incorporating a rigid polymer shield into the exterior design of the S140, with a protective plate of armor built over the front pocket of the bag that will keep your smaller-sized collection of accessories safe from any extreme abuse you subject this bag to. What's more, the S140 also has a watertight, crush-proof tablet clamshell storage sleeve to the rear of the pack, which will keep your iPad safe in most imaginable scenarios.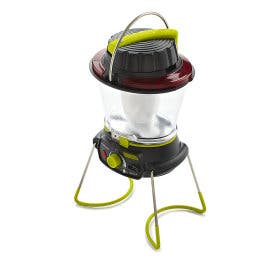 Goal Zero Lighthouse 250 Lantern ($79.99)
This lantern is a truly valuable asset anytime you go off-grid. This purposeful lamp has a hand-crank built into the top, which provides you with the option of charging the lantern's battery via a little good ol' elbow grease. The 250 Lantern can also be charged by connecting it to one of Goal Zero's portable solar panels. Another great feature of this lantern is that it can also charge your iPhone via a USB charging port. The Goal Zero 250 has a wide range of lighting settings that you can dial in, everything from hazard-flashing red blinkers to fully adjustable LEDs for dim to ultra-bright illumination. The 250 Lantern is perfect for camping or anytime you are in a pinch and there's no electricity.
Gomadic SunVolt 10 Watt Solar Panel ($99.95)
With the SunVolt solar panel you'll never be without a charge for your iDevice as long as the sun continues to shine. This solar panel is about the size of a large three-ring binder notebook. When not in use it folds up compactly into its weather resistant, protective shell, and when it's time to put it to work collecting the sun's rays, the Gomadic solar panel can be positioned at varying  angles to harness the maximum solar energy possible. 
Speakers and Headphones for Adventurous Audiophiles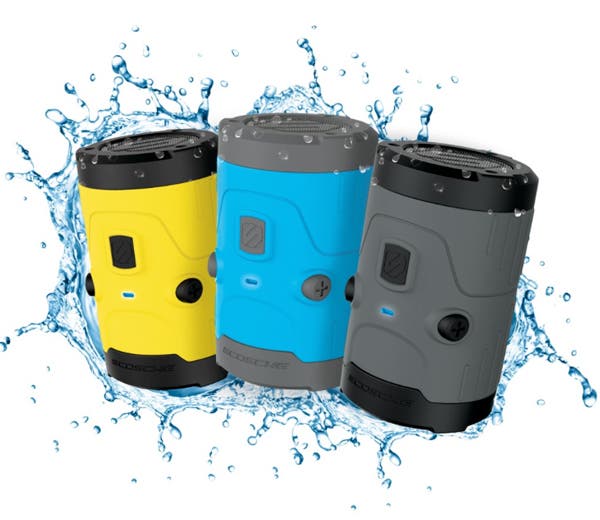 Scosche boomBOTTLE H2O ($99.99)
The diminutive boomBOTTLE H2O is ideally suited to clip on your belt loop or pack. Its small size and light weight make this speaker perfect for anyone who wants to bring crisp and clear music with strong bass wherever they go without the bulk of a larger waterproof speaker. The boomBOTTLE H2O has a mid-range, well-balanced speaker driver facing upwards and a bass radiator on the opposite end for an acoustic signature that is far more impressive than its tiny size would let on.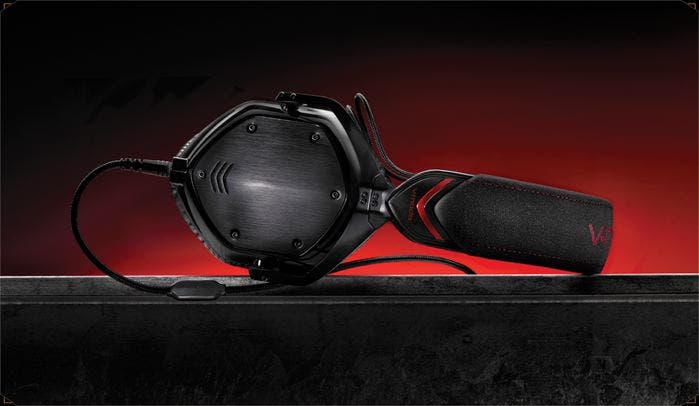 V-Moda Crossfade M-100 ($310)
The Crossfade M-100 are accurately billed as being virtually indestructible and having passed the rigorous Military Standard testing criteria. Additionally, V-Moda offers a warranty on the M-100s that is unparalleled in the headphone industry: a 60-day test-drive period with a no-hassle return policy, a full-coverage, two-year warranty an their "Immortal Life" warranty whereby you can get 50 percent off of a replacement (after the two year warranty expires) if one ever becomes necessary. With a reinforced metal infrastructure, durable leather trim, heavy-duty, Kevlar reinforced headphone cords and environmental protection from the likes of temperature and moisture, the Crossfade M-100s are one of the most hardy, adventure-ready pair of headphones you will find.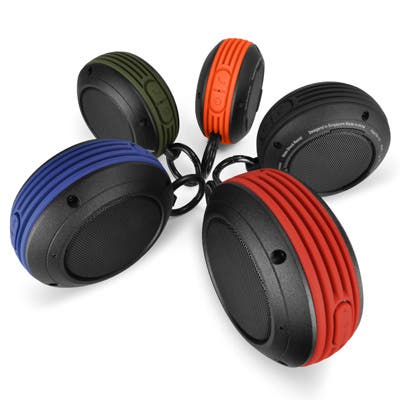 Divoom Voombox Series Bluetooth Speakers (starting at $39.99)
If you are looking for the best value on a ruggedized Bluetooth speaker, be sure to check out Divoom's Bluetooth speaker options. Their Voombox line of rugged speakers boast spectacular sound, with solid bass, all wrapped up in a shell that is splash-proof, shock-resistant and dust-proof. Available in a range of sizes, from an ultra-portable "travel" version ,to the larger and more robust Voombox Outdoor, Divoom has something that should fit anyone's criteria with their versatile and durable Voombox heavy-duty speakers.
Grace Digital Ecostone ($149)
The Grace Digital Ecostone is more than just a rugged, fully waterproof and submersible Bluetooth speaker with awesome sound and powerful bass. This speaker also floats, making it easy to recover if it goes overboard. The Ecostone is perfect for any activities involving close proximity to water, whether that be lounging on a pool float, paddle boarding or even just luxuriating in the tub, you definitely don't need to worry about getting this speaker wet. Another useful feature of this rugged speaker is its ability to serve as a backup battery charger for your iPhone via a USB port. Icing on the cake is the bright, built-in LED flashlight which may come in handy in any number of instances.
Jabra Revo Wireless ($199.99)
As part of the Revo's development process, these headphones have been subjected to some pretty extreme torture testing. I kid you not, I've never witnessed a pair of headphones that have to be able to pass such a high bar before going to market as these. See for yourself in this extreme product testing video, these headphones had to take a serious beating before Jabra said they were good to go. But the Revo Wireless aren't just tough as nails, they also have an amazing sound output and the fancy flair of a touch sensitive pad built into the outer earpiece for controlling your audio playback.
Fugoo Bluetooth Speaker (starting at $199.99)
This fully waterproof Bluetooth speaker boasts an impressive 40-hour battery life, which helps cement this speaker's position as one of the best-suited speakers for going on adventures off-grid. It's also ideal for sporting environments, waterside activities and even fancy, more formal events, thanks to its interchangeable "jackets." The extreme-duty Fugoo Tough Jacket is built tough enough to be run over Bluetooth a truck and survive, while at the other end of the spectrum, the Fugoo Style Jacket is the kind of thing you might use when hosting a party or a get together, or on display on a vanity or desktop. Whichever jacket you opt for, the rugged, waterproof integrity of the Fugoo Bluetooth speaker Core remains unchanged.