By

Mike Riley
Thu, 08/29/2013
For years I have been on a quest to find the perfect wireless headset. I have reviewed a number of very good products that came close to my high standards yet none of them have had long-term staying power. Whether it's their weight, battery life, or sound quality, there's always something that falters. So when I received Jaybird Gear's BlueBuds X Wireless Headphones for review, I had some doubts. How would these compare to past attempts? More importantly, would this be the headset that would finally satisfy my demanding expectations and bring my quest to an end? Read on to find out.
A lot can be said about the quality of a product by its packaging.  BlueBuds X are contained in an attractive, sturdy package that shows the company cares deeply about the product inside. The headphones and accompanying cables are strapped tightly within the plastic molding and it takes a few minutes to cautiously remove all the tape supports. Once free, it is striking is how light these headphones are. Considering that it houses a battery and all the Bluetooth wireless communication electronics within the headset itself (no dangling pendants or attached pack-of-gum-sized controllers here), Jaybird has pulled off an incredible feat of hardware engineering.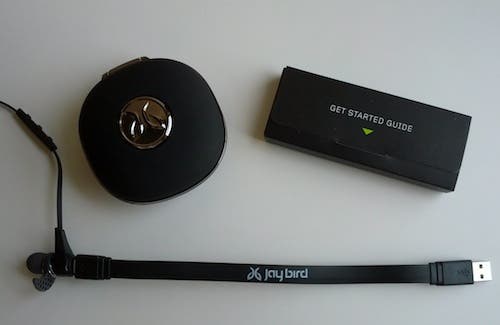 Duly impressed by the lightweight, self-contained nature of the headset, I was eager to pair them to my phone and see how they would perform with a variety of audio sources. The pairing process took just a few seconds thanks to
BlueBuds
' built-in voice (what Jaybird calls their Jenna voice prompts). These helpful voice announcements occur whenever a Bluetooth connection is made or lost as well as when powering on or off. It's a nice touch that shows how
BlueBud
X's designers expended extra effort to polish the initial customer experience.
With the headset paired and the earbuds attached and positioned in my ears, I cranked up the audio, and listened to everything from podcasts and audio books to rock, classical, and electronic musics. How did the BlueBuds X perform?  In a word, remarkably. I don't know how the Jaybird audio engineers pulled this off, but the BlueBuds X headset doesn't sound like a Bluetooth headset at all. Indeed, they sounded better than many of the premium wired headsets I have tested. This feat has something to do with Jaybird's Shift Premium Bluetooth Audio technology. Combined with the iPhone's equalizer, these headphones are unstoppable.
How about battery life?  How is it possible that such great-sounding audio can last for hours with such a tiny battery embedded in the earbud assembly? Well somehow the geniuses at Jaybird came through again, delivering up to eight hours of continuous operation. I listened to a marathon of podcasts and music, and my phone ran out of juice before the BlueBuds X headset did. (And thanks to the BlueBuds X battery status icon on the top right corner of the iPhone's screen, I had instant access to the headset's battery strength and remaining playtime). Had I reached the 20 minute to loss of charge, Jenna would have let me know in advance before powering down. And recharging the headset didn't take long at all, thanks to its easily accessible micro-USB power coupling.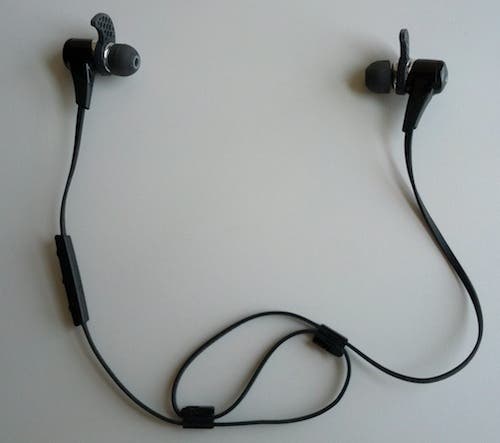 By the way, while listening to all that audio, I didn't zone out nearly as much as I usually do with less sophisticated headsets. Jaybird employs PureSound, an
 audio filter strips out the white noise, leaving a truly clear audio rendering. It made a huge difference in my attention span and listening pleasure.
With
BlueBuds
X being slightly longer than the average headphone set, you might think they would have a tendency to fall out of your ears frequently. Jaybird thought of that too and included three different-sized earbuds and clips to ensure an ideal fit. It took some tweaking to get the placement and size just right, but once locked in, I had no trouble with the headset slipping even when bending over or quickly swiveling my head from side to side. Wearing the headphones does give the slight appearance of Frankenstein bolts sticking out of your ears due to the length of the headphones themselves. But this might be advantageous by advertising that you're busy listening to something.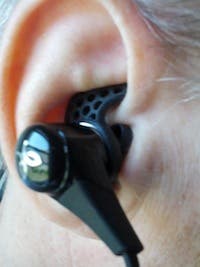 Jaybird also offers a lifetime warranty against sweat, as they protect the assembly from corrosive body salts via a layer of
Liquipel
Sweat Repellant
Nano
Technology. So have at it, athletes!
BlueBuds X Bluetooth wireless headset is the wireless headset I've been looking for, and is the best Bluetooth wireless headset on the market today. The only nitpicking critique I can think of is that the package doesn't include some kind of clip that can be used to affix the headphone cables to a shirt collar. Given how expensive this beautiful piece of audio engineering is, it would be nice to have that extra level of security when removing the headphones from the ears (by the way, a quality hard shell carrying case is included in the package). Either way, this is a headset you don't want to lose and any added measure of protection to keep it on your person would be advantageous. Nitpicking aside, if you have been looking for the ideal Bluetooth wireless headset, look no further than the BlueBuds X. Nothing else I've seen to date comes close to what they have to offer.
Product:
BlueBuds X Bluetooth Headphones
Manufacturer:
Jaybird Gear
Price:
$169.95
Rating:
5 out of 5 stars