By

Leanne Hays
Updated 09/05/2018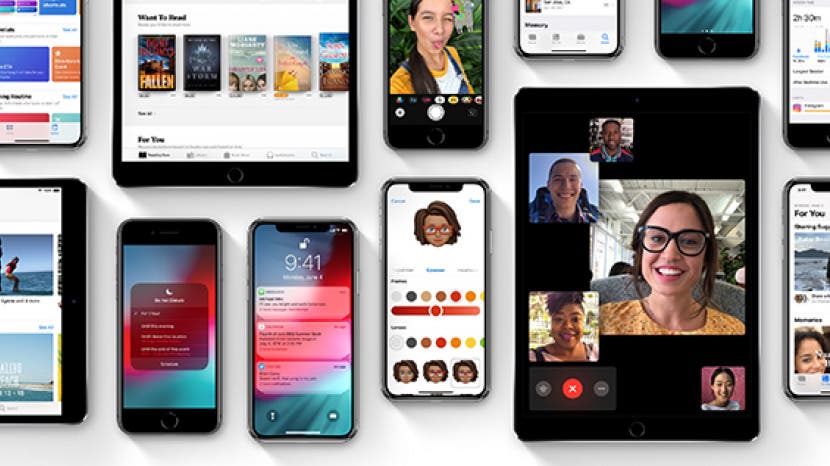 Apple unveiled iOS 12 today at the WWDC 2018 Keynote, and we can expect exciting improvements and features when the iOS update is released in the fall. From overall upgrades to performance, privacy, and security, to app overhauls for the News and Stocks apps, to fun additional Animoji choices, as well as the brand-new Memoji option, Apple engineers have put together a well-balanced crowd-pleaser of an operating system that we can't wait to upload to our devices! Let's go over which devices are compatible with iOS 12, discuss all the new iOS features, and learn how to sign up for the Apple Beta Software Program to try out iOS 12 before the official release date. 
Related: iOS 12 Wish List: 15 Features We're Crossing Our Fingers For 
iOS 12 Compatibility
The first thing on a lot of people's minds when it comes to iOS 12 is which devices will support the new operating system? If you have an older iPhone, iPad, or iPod, it's inevitable that your vintage device will be phased out sooner or later, and it's always wonderful to find out that you can go one more year without an upgrade. This year, at least, Apple hasn't phased out any devices, and everything that is able to run iOS 11 can also do so with iOS 12.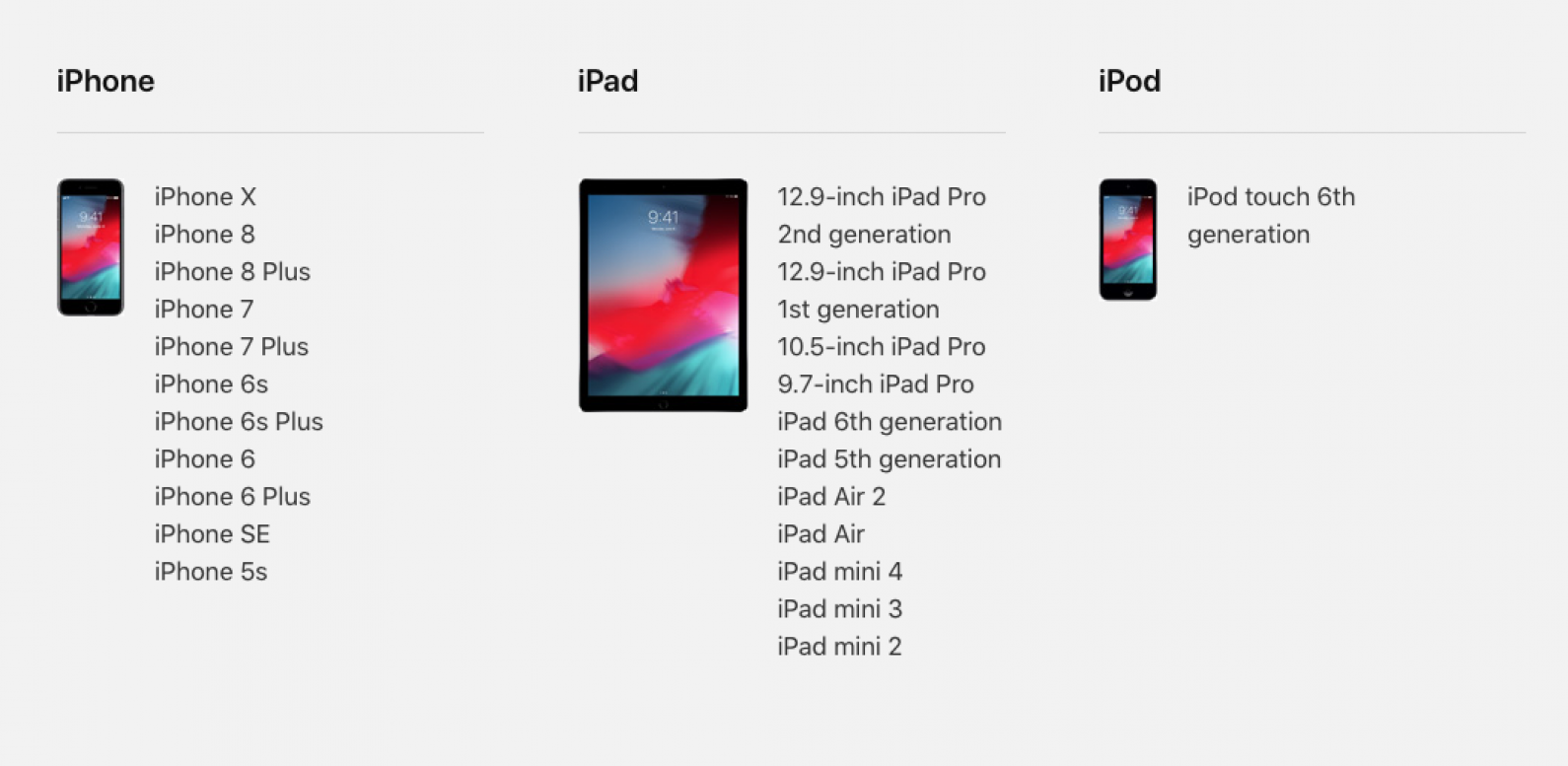 Performance
iOS 12 represents a doubling down on performance, and Apple engineers have achieved several upgrades in speed for things like opening the Camera app, typing on the keyboard, and launching apps. Animations are more fluid than in previous operating systems as well, so scrolling in apps, bringing up the Control Center, or pulling up a Share sheet are all more smooth and responsive than ever before. One of the main points of focus for Apple this year was to maintain speed and functionality even under peak load, and they've succeeded. Functions like app switching are up to two times faster than with previous operating systems, even under heavy workload. All this is accomplished with a change to how the central processing unit responds to the demands of the user. In previous operating systems, the CPU would gradually ramp up as a performance boost was needed. With iOS 12, the CPU ramps up instantly and then ramps down just as fast to offer the exact amount of power needed, and no more, thus preserving battery and improving overall performance.       
Improved Privacy & Security Features
Digital privacy and security have been in the news quite a bit this year, and Apple has made sure that iOS 12 can respond to customer concerns about data safety in a meaningful way. This year, the software update builds on previous features like on-device intelligence and built-in encryption with new features designed to keep advertisers and hackers from collecting personal data and preferences, as well as tracking device activity across the web. 
Enhanced Tracking Protection
Did you know that Comment widgets and Share buttons can track your online activity in the Safari browser? iOS 12 will put a stop to this sneaky data collection, and will also mask your device's unique digital signatures, keeping you more anonymous to advertisers and preventing retargeted ads from following you from site to site as you browse the web.
Improved Password Protections
iOS 12 will help Apple customers by creating, storing, and autofilling strong passwords in iOS apps and Safari. These passwords will be stored in iCloud Keychain, and therefore available to all Apple devices signed in under the same iCloud account, Siri can even help you access these passwords! In addition to these improvements, a new feature called Password Reuse Auditing enables reused passwords to be flagged, so customers can protect their data and devices by replacing them with unique, stronger passwords instead. A new, time-saving iOS 12 feature will allow one-time SMS passwords to appear as AutoFill suggestions, so there will be no further need to jot them down or memorize them. Password sharing between iOS devices will see improvements with iOS 12, as well.   
Digital Health & Device Addiction
Medical professionals, journalists, and even Apple shareholders have been sounding the alarm about the dangers of too much screen time, and this year Apple is rolling out several features to address this issue. From Do Not Disturb upgrades, to improved Notifications, to new Parental Controls, and more, iOS 12 will bring us more comprehensive knowledge about and control over how we use our devices every day.
Do Not Disturb
 
Do Not Disturb is an excellent feature for silencing Notifications during a set time each day, but up until iOS 12, it hasn't been versatile enough to address the variety of places and times where it's needed. With Apple's latest operating system, Do Not Disturb has a new Good Morning View, where you'll be able to see Notifications that accumulated overnight when you're ready for them. You'll also be able to turn on Do Not Disturb mode and have it automatically turn off at a set time of day, the end of an event, or even when you leave a specific location. Excellent!
New Notifications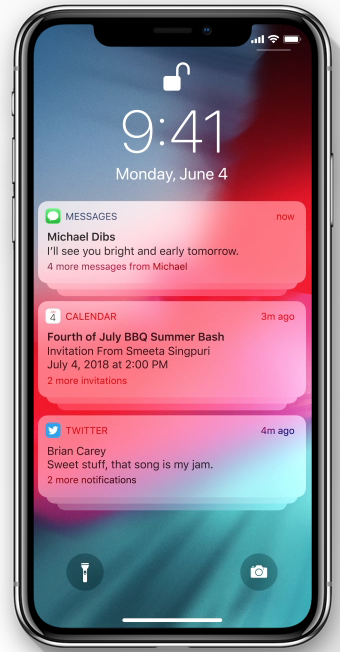 Notifications can be a great way to learn up-to-the-minute information, but they can be overwhelming and intrusive, as well. A new setting called Instant Tuning will allow for Notifications to be delivered silently, while Grouped Notifications will deliver information in categorized batches by app, topic, and thread, allowing for a quiet and uncluttered Lock Screen. Siri will also be able to make suggestions about your Notifications based on your interactions with them as well.
Screen Time App
It's easy to get sucked into our devices and fail to realize how much time we're frittering away on social media and other apps. The new Screen Time feature will help with that issue, as it has the ability to track how much time you spend on apps, websites, and on your devices overall. Once this knowledge is collected, the app allows users to set self-imposed limits on how long they'd like to spend on their devices, and how much of that time they'll allow for specific apps and websites, as well. 
Parental Controls
iOS 12 will allow parents to use the Screen Time feature to monitor the amount of time their kids spend on their devices, as well as how much of that time is spent on specific apps and websites. Parents can also use Downtime to set a time such as bedtime or school hours when apps and Notifications are blocked on their children's devices. Parents can choose specific apps they'd like to remain active, such as those that are needed for school work or reminders. Downtime can be used 24 hours a day, if desired, meaning that these new settings allow parents to restrict access to certain websites and apps, and set the time allowed on each. Kids can request more time, and parents can approve the increase if they feel it's warranted.  
New Siri Shortcuts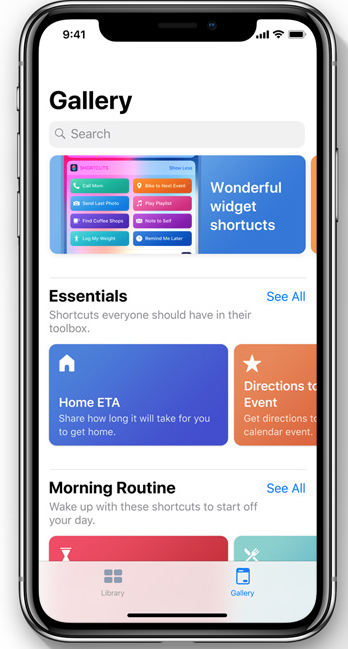 Siri receives over ten billion requests per month, and with iOS 12 those requests can be more personalized and fulfilled more quickly with a new app called Shortcuts. The Shortcuts app will allow Siri to suggest, or users to create customized sets of tasks and actions that will automatically provide information, alerts, suggestions, and interaction with any app. For example, I might set up a morning routine Shortcut triggered by the phrase, "Good Morning, Siri." Siri would then play an upbeat playlist from Apple music to wake up my kids, remind me to put out the dogs and feed the chickens and ducks, and let me know about any meetings and appointments happening that day. 
Multi-User Augmented Reality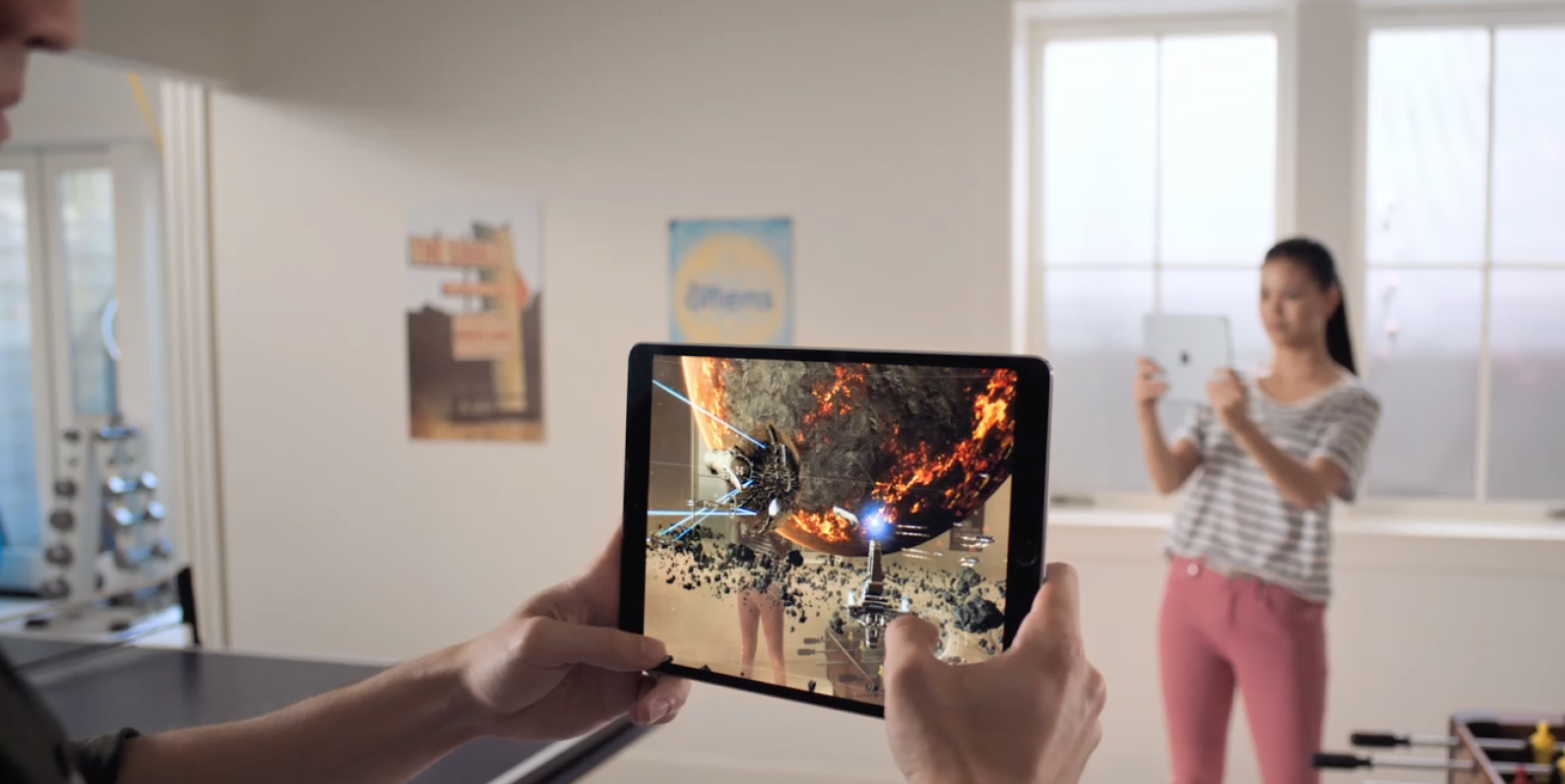 ARKit 2 arrives with iOS 12 this Fall, bringing with it multiple new features. One of the most significant breakthroughs for Apple's AR platform comes from its partnership with Pixar; the creation of a new, 3D file format called USDZ. This format allows the sharing of Augmented Reality files over Messages, Mail, Safari, and the Files and News apps, and optimizes that content for mobile devices. In addition to the new file format, ARKit 2 features the Measure app, which can draw lines across flat surfaces and take measurements from them, as well as 3D object recognition, which triggers AR experiences based on the orientation of Apple devices to specific objects. The most long-awaited ARKit feature that will finally be realized, though, is shared-experience AR, where multiple users can now work on projects and play games together. 
The highlight of ARKit 2's reveal was the demonstration of LEGO's integration with Apple's platform. An iPad was used to identify, augment, and interact with a Lego kit by adding additional buildings, animated people, vehicles, and interactive tools. Up to four players could interact in this reality-based digital world, then save their creation for another day. 
New Animojis 
Apple's popular animated iMessage feature includes four new characters in iOS 12, and I can't wait to try them out! A fierce little tiger, cute-as-a-button koala, fierce T-Rex, and a wonky ghost will soon be among your options for Animoji messages if you have the iPhone X. What's more, Animojis comes with improved facial recognition that allows users to, yes, incorporate their tongues and winks into their Animoji messages. 
Brand New for iOS 12: Memojis
Here's a feature I didn't see coming, although I probably should have! Memojis use the same facial-recognition technology that Animojis do, but applied to human rather than animal cartoons. Users will be able to design and send messages with Memoji that look like themselves or any avatar they choose, with a huge variety of customizable features incorporated. Skin, hair, and eye color, eyebrow shape, facial hair, hairdo, headwear, glasses, and the list goes on. These Memoji can be used in iMessages, just like Animoji, but also, get this, in FaceTime. And, oh yeah, you'll be able to use Animoji in FaceTime as well!
FaceTime Upgrades
As I just mentioned, FaceTime will now include the ability to use Animoji, as well as the new Memoji, but the improvements don't end there. At long last FaceTime will support video conversations with more than one person at a time, in fact, we'll be able to FaceTime up to 32 people at a time with iOS 12! The conversation will be kept coherent by a roster of participants at the bottom of the screen, as well as a visual function that allows the tile of the person talking to enlarge, then shrink again when someone else speaks. Users can even double-tap on another person's tile to highlight them and join an active group FaceTime call or start a new group FaceTime call right from a group thread in Messages.   
New Camera Effects

Messages and FaceTime get an upgrade with iOS 12, as well, with the ability to create and share photos and videos augmented with Animoji, Memoji, stickers, animated text, and filters, and all from the in-app camera!
Photos App Upgrades 
Apple designers have worked hard this year to create streamlined features that will make the native Photos app easier and more versatile for taking, finding, and sharing pictures and videos.  
More Versatile Photo Sharing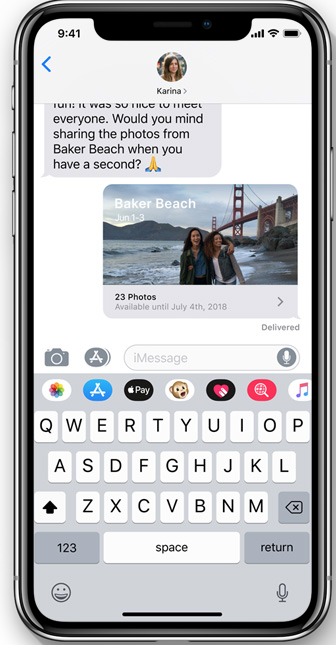 iOS 12 includes a new tab in the Photos app. The For You tab not only selects your best photos, but also recommends you share them with the people and events featured in those shots. If the recipients have also upgraded to iOS 12, they'll receive a suggestion to share their pictures of you, so that you both have all the best photos from events and locations you've visited together.
Improved Photo Search 

The Search function in your Photos app will soon be able to offer help in finding just the picture you're looking for. With predictive suggestions, plus the ability to hone your search with multiple keywords, you'll be able to locate your best shots quicker than ever before. 
Redesigned Apps
Apple Books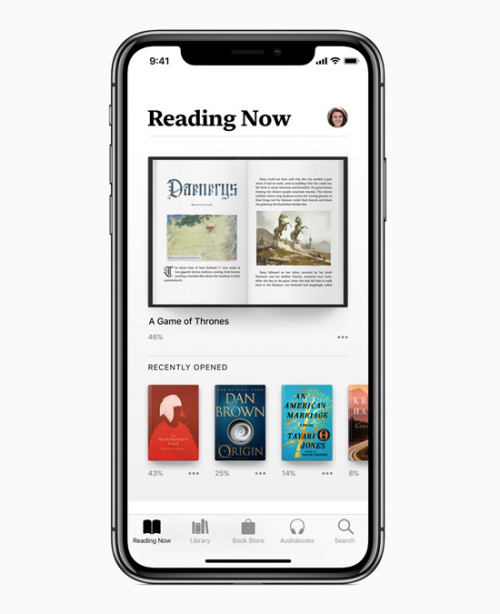 iBooks is being rebooted as Apple Books, and includes a new, streamlined storefront with tabs like Reading Now, Bookstore, and Library. Discovering new content, revisiting old favorites, organizing your library, and purchasing new audio and e-books is about to get a whole lot easier!
News App
Apple news will soon be easier to navigate with a Browse tab to go directly to favorite topics and channels or discover new ones.  
Stocks App
The Stocks app combines an at-a-glance view of quotes and performance, plus the ability to tap on any stock and see a more detailed view, including after hours pricing. Business news is incorporated at the bottom of the display, with the ability to tap a headline and read a full article, all without leaving the Stocks app.
Voice Memos
Voice Memos will be available on iPad for the first time, and recordings and edits will be synced across Apple devices with iCloud support. These features will make it easier than ever to capture, share, and edit recordings.
Want to Be an Early Bird?
If you like the sound of all these new features and would like to start using them before the official iOS 12 release date in the Fall, why not become a Beta tester? Follow this link to Join the Apple Beta Software Program!