By

Erin MacPherson
Updated 01/25/2021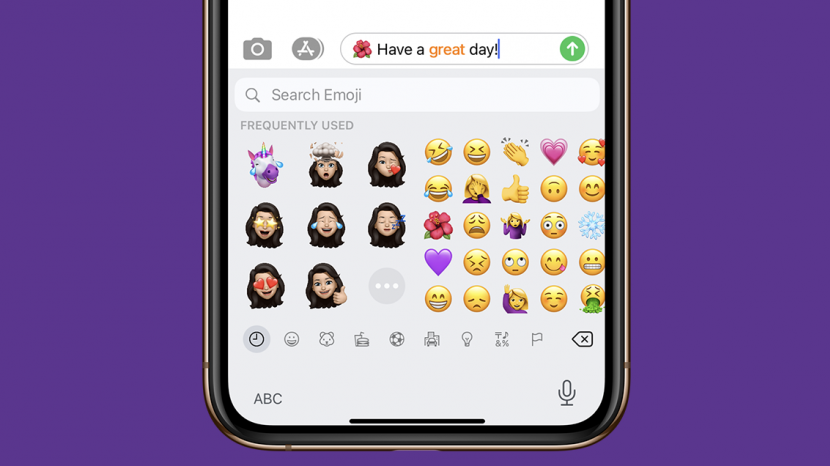 The emoji keyboard has become another way for us to communicate using our mobile devices. There is an emoji for just about every object, emotion, flag, and even food. Knowing how to navigate the emoji keyboard and its search features is an important part of using your iPhone effectively, especially if your emoji keyboard gets stuck mid-text! We'll show you a few tips to make things right again. In this article we will help you search for the right emoji, and get out of the emoji keyboard and back into your text keyboard.
Jump to:
Why Is My Emoji Keyboard Stuck?
We all know the frustrations of our Apple keyboards not doing what we want, like hide the predictive text feature, but sometimes your keyboard actually can get stuck. Say you are trying to send your aunt an emoji of a flower in the Messages app. You search for the flower emoji in the emoji search bar instead of swiping through the columns and columns of options. You then select the flower emoji, which now displays in your text. You now continue typing the rest of the text to your beloved aunt. However, when you type, you are still typing in the emoji search bar, not the text message bar. You're stuck, and your aunt is patiently waiting to receive her text.  Luckily, this issue can easily be resolved by understanding how to navigate the emoji keyboard and search bar.
Related: How to Quickly Find the Right Emoji for Your iPhone Messages

Discover your iPhone's hidden features
Get a daily tip (with screenshots and clear instructions) so you can master your iPhone in just one minute a day.
How to Get Back to the Text Keyboard From the Emoji Keyboard
Here's how to search for an emoji, add it to a text, and get back to the text keyboard with a few simple steps:
Open the Messages app and begin composing a text message.
To search for an emoji, select the emoji icon on the bottom-left corner below the keyboard.


 

Tap into the Search Emoji bar.
Search for the emoji you're looking for by typing a search term, such as "flower."

Tap an emoji that appears below the search bar to insert the emoji in your text.


 
To get back to the text keyboard, tap back into the text message itself, above the Search Emoji bar.

In some cases, this may not work and you can simply tap the globe or ABC icon in the bottom-left corner, and you'll get back to the text keyboard.


 
The Search Emoji bar should disappear, and your cursor will be blinking in the text message, ready for you to continue typing.

Finish composing your text, and send it when you're ready.


This solution is simple, but many people have been confused by the emoji keyboard search bar! We hope this helps make your testing and emoji use much easier going forward.