By

Erin MacPherson
Thu, 08/27/2020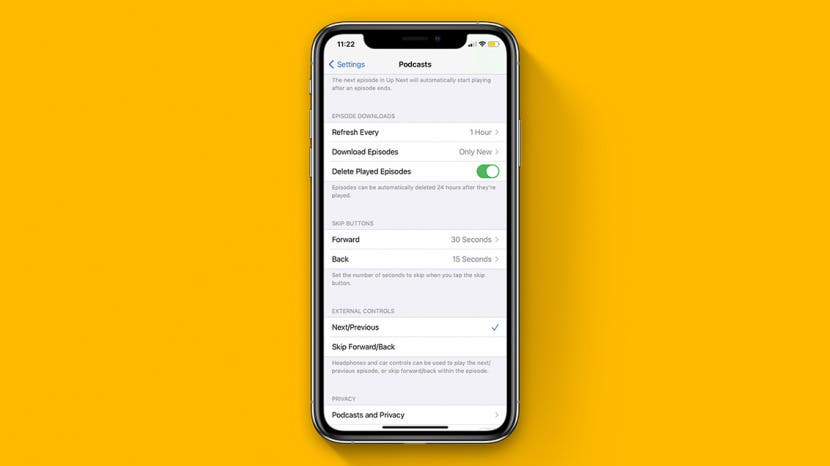 Learn how to keep your podcasts from deleting themselves from your iPhone. If you're wondering why your podcasts keep getting randomly deleted from the Podcasts app, you're in the right place! What you're likely dealing with is a setting that was designed to help keep your iPhone storage from getting too full. You can keep your podcasts from being deleted with a quick change to your settings, and the steps to get back deleted podcast episodes are pretty simple as well.
Why Podcasts Delete Themselves & How to Stop It
To help save space on your iPhone, podcast episodes that have been listened to are set to be deleted automatically 24 hours after they are played. This is logical to keep your iPhone free of old files, but it isn't ideal for people like me who want to keep old podcast episodes for later listening. You can change this easily by following these steps:
Open the Settings app.
Scroll down until you see Podcasts, and tap on it.


 
Look for the Delete Played Episodes toggle. With that switched on, your played podcast episodes will automatically delete after 24 hours.
Tap the toggle to disable this function.


If you would like to learn more about these kinds of settings on your iPhone or other devices, you'll probably enjoy our free Tip of the Day newsletter. We deliver it to your inbox to help you get to know your devices with short, simple tips.
How to Get Back Deleted Podcast Episodes
The best way to recover deleted episodes of a podcast is to visit the Podcasts app and re-download them.
Open the Podcasts app and tap Library at the bottom of your screen.


 
Tap Shows, then touch the title of the podcast in question.


 
Got to the bottom of the episode list and tap Previously Played.


 
Tap the plus symbol (+) next to the episode you want to re-download.
If you see a cloud symbol, you'll need to tap that symbol to download the episode.


Go ahead and check your episodes list, and you should see that the episode has returned to its rightful place! This step can be repeated for as many episodes as you'd like to add back into your episodes list.