By

Elisabeth Garry
Updated 08/30/2022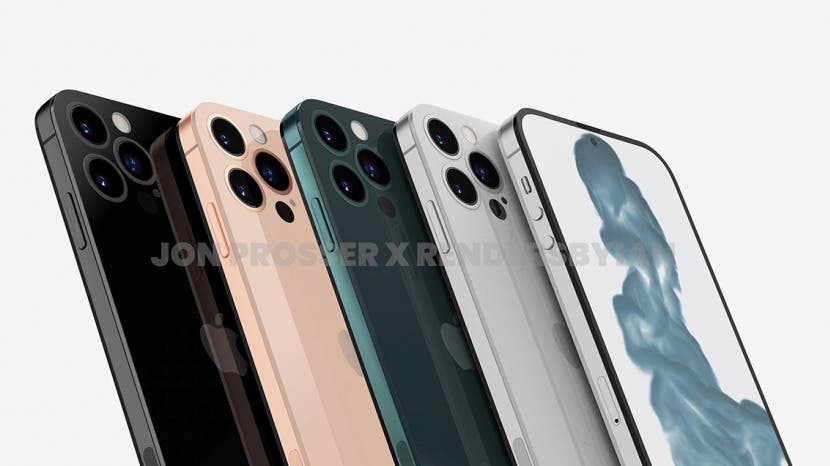 When is the iPhone 14 coming out? While it might seem hard to believe, it's already time for Apple to debut its new iPhone lineup. Apple's "Far Out" event on September 7, 2022 will unveil the new iPhone 14 models, and here's what the rumors say we should expect from them.
Related: iPad Rumors: What to Expect With the 2022 iPad Pro & Air
iPhone 14 Release Date & Pricing Rumors
Based on Apple's past patterns, the new iPhone 14 models will almost certainly be unveiled at Apple's fall event. This year the event, called "Far Out," will take place on Wednesday, September 7. We can expect the new iPhone models to be available for preorder by the Friday of the same week, with the actual release date coming shortly after that. Apple may release different models of the iPhone 14 at different times, so we could see the iPhone 14 base model released before the iPhone 14 Pro, or vice versa.

Discover your iPhone's hidden features
Get one daily tip each day (with screenshots and clear instructions) so you can master your iPhone in just one minute a day.
A less exciting rumor for all of us hoping to snag a new iPhone 14 is that prices are expected to increase from the prices at release for the iPhone 13 line. Bloomberg reports that Japanese chemicals supplier Showa Denko K.K., which supplies materials used in Apple's iPhone chips, will be increasing prices due to ongoing supply chain issues and higher energy costs resulting from the war in Ukraine, among other economic issues. We can expect issues such as this to contribute to higher price points for iPhone 14 models.
Rumors say that we could see a $100 price jump for Pro models, with the iPhone 14 Pro being priced at $1,099 at launch, compared to the $999 price tag for the iPhone 13 Pro. The iPhone 14 Pro Max may be $1,199 instead of $1,099.
Goodbye to the Mini, Hello to the Max?
We can still expect to get four new iPhone models in 2022, but the lineup may change a bit from the standard model, mini, Pro, and Pro Max array we've come to expect. According to MacRumors, the iPhone mini will be discontinued because of lackluster sales. Instead, we may see a new model of iPhone debut: the iPhone 14 Max. The Max will be a bigger version of the entry-level iPhone 14, said to come with a 6.7-inch screen, compared to the standard model iPhone 14's 6.1-inch display. The iPhone 14 Pro is likely to stick with a 6.1-inch display as well, with the Pro Max clocking in at 6.7 inches.
With the Max, we can expect the complete lineup to comprise the iPhone 14, iPhone 14 Max, iPhone 14 Pro, and iPhone 14 Pro Max. If you're a fan of smaller iPhones, you might want to hold onto your iPhone 13 mini or check out the upcoming iPhone SE 3.
No to the Notch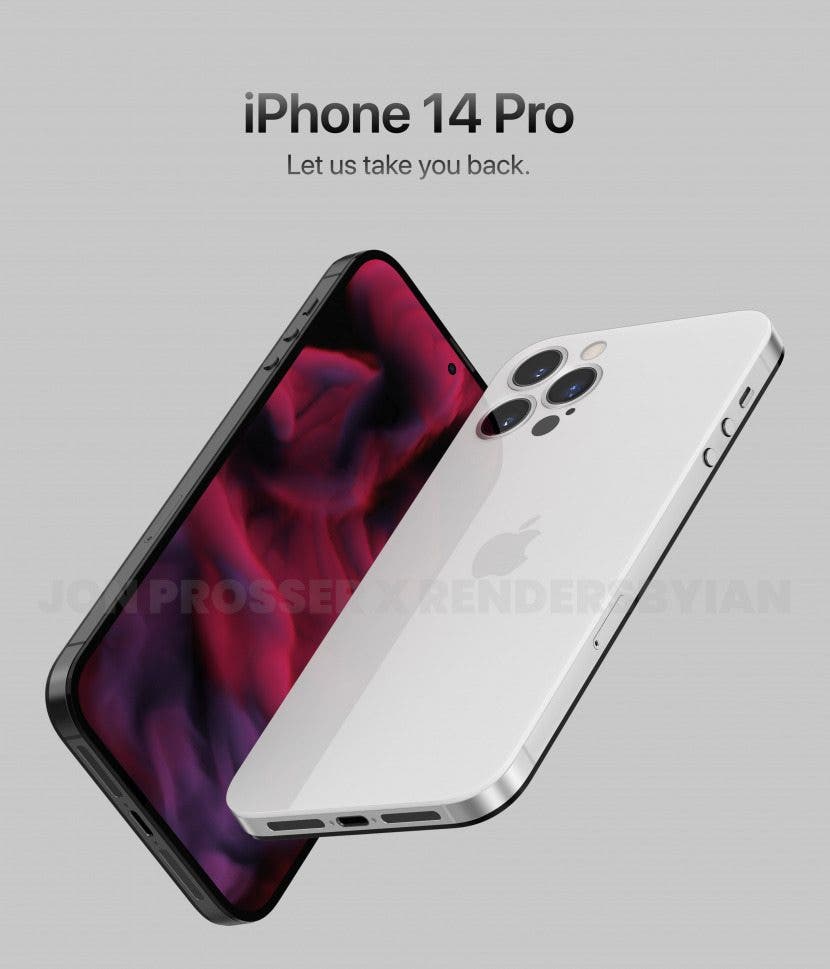 Speculative iPhone 14 Pro render via @RendersbyIan on Twitter, in collaboration with Apple leaker Jon Prosser
The notch—that sliver of screen at the top of your iPhone that is blacked out to accommodate the front-facing camera—has been a thorn in the side of a certain subset of iPhone users for years. The iPhone 14 may change that. In a report obtained by MacRumors, Apple analyst Ming-Chi Kuo alleges that at least some of the iPhone 14 models will eschew the familiar notch design in favor of a "punch-hole display design." Rumors suggest that this design could include two cutouts to replace the notch: a "punch-hole" cutout to accommodate the Face ID dot projector and a pill-shaped cutout that will house the front-facing camera and other Face ID elements. This new design may only be available for the higher-end iPhone 14 models, leaving the iPhone 14 and rumored iPhone 14 Max with the old notch design.
Under-Display Face & Touch ID
Apple may be working on technology that allows Face ID and even Touch ID to work under the display of your phone. Display analyst Ross Young says that Apple is planning to deploy under-display Face ID on the iPhone 14 Pro and Pro Max models so that less of these models' screen space needs to be given over to space for Face ID components. Yes, this too is related to reducing the space needed for the notch discussed above. Young stresses that under-display Face ID has not been finalized yet, so we can't bank on seeing it in 2022, but Apple is invested in making the technology work. Ming-Chi Kuo speculates that we might need to wait quite a while longer to see this technology realized, offering up 2024 as the year and the iPhone 16 Pro as the first phone that might see this under-screen Face ID technology. (For a little bonus future rumor, he also thinks this is when we'll see the first "real full-screen iPhone.")
The future of under-display Touch ID, which was rumored to be in development for the iPhone 13 lineup but failed to materialize, is still uncertain. Bloomberg's Mark Gurman says that Apple will continue to focus on under-display Face ID rather than exploring the return of Touch ID.
Camera Upgrades

Speculative iPhone 14 Pro render via @RendersbyIan on Twitter, in collaboration with Apple leaker Jon Prosser
In another research note obtained by MacRumors, Kuo claims that the new iPhone Pro models will include a 48-megapixel camera in 2022, followed by a periscope lens in 2023. The jump to a 48-megapixel camera is a significant one, considering that current iPhone models feature a 12-megapixel camera, a number that hasn't changed since the iPhone 6S. This fourfold increase sounds mighty impressive, but it's unlikely that every picture you snap with your iPhone will take advantage: Apple Insider suggests you could see 48 MP images in ideal, brightly lit circumstances, while pictures taken in low-light would continue to use 12 MP.
In addition to these technical upgrades, the camera layout and design may change for the iPhone 14 series. MacRumors suggests that Apple is planning on a thicker body for new iPhones so that the cameras will lie flat against the body of the iPhone, which will be a welcome change for those worried about the vulnerability of their camera lenses. However, these rumors have been called into question by subsequent parts leaks and rumors. Another render from the Indian site 91Mobiles suggests the iPhone 14 will feature the same camera bump as iPhone 13 models.
Kuo also speculates that autofocus will come to the iPhone's front-facing camera and that the iPhone 14 Pro models will be capable of recording video in 8K, up from the current 4K max.
Always-On Technology
WWDC 2022 saw the announcement of Lock Screen updates coming to iOS 16. According to Mark Gurman, these new Lock Screen features pave the way for the introduction of an always-on display, which might debut in the iPhone 14 Pro and Pro Max models. As Gurman says in his Power On newsletter, "This would allow the iPhone to turn down the frame rate significantly on the lock screen [sic] and display quickly glanceable information—similar to newer Apple Watches."
Colors
If you, like apparently seventy-five percent of my coworkers, are clamoring for a purple iPhone 14 to be released at launch, you may be in luck. But then again, you may not. AppleTrack sourced this rumor from a since-deleted Weibo post by Oivo sauce ovo that claimed Apple was working on a new purple color that would change tones based on differences in lighting. This new color would allegedly be available for all iPhone 14 models, which is a refreshing rumor in a leak landscape that suggests the gulf between standard and Pro iPhone models is widening more than ever.
According to this rumor, colors for the standard iPhone 14 and Max would be black, white, blue, red, and purple, while the Pro and Pro Max models would be available in graphite, gold, silver, and purple. But again, you might want to take this rumor with a grain of salt, as it appears to be sourced entirely from one now-deleted Weibo post.
Want a Chip?
As usual, we should get an upgraded chip in the new iPhone models. iPhone 13 models use the A15 Bionic chip, and the iPhone 14 lineup will likely include the next-generation Apple chip, probably the A16 Bionic. Per DigiTimes, this chip will be based on a four-nanometer process, down in size from the five-nanometer process used for the A15 chip. However, this may be another area in which Apple seeks to differentiate the iPhone Pro models from its more affordable versions. According to Ming-Chi Kuo, only the pricier iPhone 14 Pro and Pro Max will include the upgraded A16 chip, while the standard and Max models will retain the Apple A15 chip currently used in the iPhone 13 lineup.
For its modem, the iPhone 14 models will probably employ the Qualcomm Snapdragon X65 5G chip, an improvement over the Snapdragon X60 chips used in iPhone 13 models.