By

Leanne Hays
Updated 06/22/2020
Apple announced the new iPhone operating system, iOS 14, at the first all-virtual Worldwide Developers Conference today, and we got all the information about iOS 14 features we've been looking for, but without the audience's reactions or the familiar pace of an Apple keynote. The theme of iOS 14 was an overall improvement in organization and functionality, with an experience that's "more beautiful and data rich." Some exciting features include new ways to organize and customize the iPhone Home screen with the App Library and Widgets, the ability to sample apps with App Clips, and some exciting improvements to group messages. Let's go over everything we learned about iOS 14, including new and improved features, when we can download the iOS 14 public beta, and when we can expect the rollout of the shipping version of the new iOS.
Related: Everything Apple Announced at the WWDC 2020 Keynote

Discover your iPhone's hidden features
Get a daily tip (with screenshots and clear instructions) so you can master your iPhone in just one minute a day.
When Is the Next iOS Update Coming?
The official public release of iOS 14 will take place in September. For early adopters, Apple will release a beta version of iOS 14 to the public in July. 
iOS 14 Compatibility
iOS 14 will be compatible with the same devices that can run iOS 13. This is great for iPhone owners who don't want to purchase a newer iPhone in order to benefit from the new software.
iPhone 11, iPhone 11 Pro, and iPhone 11 Pro Max
iPhone XS and iPhone XS Max
iPhone XR
iPhone X
iPhone 8 and iPhone 8 Plus
iPhone 7 and iPhone 7 Plus
iPhone 6s and iPhone 6s Plus
iPhone SE
iPod Touch (7th generation)
iOS 14 Features
Each new iOS version offers security updates and performance improvements, but also cool new features. Sometimes we hear rumors about Apple's operating systems ahead of time, but sometimes we're completely surprised, which is always fun! 
So, what changes did we see this time around?

App Library Offers Easier App Management on Your iPhone
Most people have dozens, if not hundreds, of apps on their iPhones, and scrolling through page after page of apps searching for one is time consuming. Apple is making things easier for iPhone owners with the App Library, located at the end of the Home screen pages. This space will organize your iPhone apps into categories like Suggestions and Recently Used, as well as categories like Social, Entertainment, Apple Arcade, and more. Whereas before you'd need to organize your Home screen by moving apps and making folders, iPhone users can now choose which pages of apps to display, hide entire pages of apps, and use the search bar at the top of the App Library to find any of their downloaded applications. 
Widgets on the Home Screen Make Organizing Easier than Ever
I've never used widgets with much enthusiasm; it always seems easier to just open whichever app they're related to, rather than navigating to the Today View and tracking down a small part of the information I might need. Now, though, I might have to give widgets a chance. With iOS 14, we'll be able to use dynamic widgets that come in different sizes and can be moved around the display. What's more, you'll be able to arrange widgets in a Smart Stack to save space, and your iPhone will bring the most useful widget to the top of the pile based on the time of day, your location, and your activity. 
Siri & Call Notifications Get Less Intrusive
Calls and Siri notifications will now take up part of the screen, rather than the whole display. Most members of the iPhone Life team are thrilled that phone calls will no longer take over our iPhone screens every time the phone rings. Many reported that if they don't want to answer a phone call (and most of us don't), they wait until the call goes through to Voicemail rather than letting the caller know they're ignoring them by sending them straight to voicemail. This means that, whatever they were doing on their phone, it's suspended until the call stops ringing. Users will now be able to continue what they were doing when a call comes in. This holds true when summoning Siri, as well.
Picture in Picture
Video apps like YouTube and Netflix, as well as FaceTime calls, will now have Picture in Picture, a feature formerly available for the iPad, but not the iPhone. Now you'll be free to watch videos uninterrupted, while using another app. 
Siri Improvements?
Speaking of Siri, we've been promised that our digital assistant will see some improvements with iOS 14. Siri will search for answers to our questions from a broader range of reputable sources, we'll be able to send audio messages, and keyboard dictation in the Messages, Notes, and Mail apps will run on-device, which means it can be done offline. I don't have a ton of faith in Siri, as she seems to screw up as often as she's helpful, but maybe this is the year that changes.
App Clips 
Here's a new feature that's going to change the way we use apps. Rather than reading App Store reviews, then downloading each and every app we need, App Clips will allow us to launch and use apps without downloading them. If you're at a restaurant or store that offers app-based ordering, for example, you'll be able to scan an NFC tag, then immediately open and use the app just for that part of the app's capabilities. If the App Clip requires payment, you can cover that with Apple Pay, and if you choose to download the app later, you'll follow the usual procedure. In addition to real-world signage, iPhone users will be able to launch App Clips from the web, as well as Maps and Messages apps, among other places. 
Between the App Library and App Clips, we should all be able to reduce Home screen clutter and make our devices easier to navigate.
Messages App Improvements

There are several exciting improvements coming to Messages. We'd been hoping for the ability to mark messages as unread, so we could remember to go back and respond to them later. Apple didn't deliver on that wish, but it did make it possible to pin message threads to the top of your Messages list where they'll be easy to see. There are lots of Memoji additions, too, including more head coverings and hairstyle options. There are even masks for your Memoji, so they don't give each other Covid-19, of course. 
The most popular of Messages upgrade will probably be the group messages improvements. You'll soon be able to customize your Messages group with a photo or Memoji, so you can keep track of which group is which more easily. You'll also be able to use mentions within group messages, directly commenting to an individual within a group mgessage, and even turn off notifications for everything but your mentions. 
Apple Maps Evolves

New Map features include curated Guides that give users top recommendations for places to eat and visit in a range of cities. Guides you save will automatically update. Cycling enthusiasts in select cities will be able to check out the best bike routes based on elevation, distance, and whether there are stairs. People with EV cars will no longer have to worry about their vehicle's range thanks to routes based on vehicle charge and compatible charging stations. Unfortunately, the cycling and EV features will be limited to major cities, for now. 
New Privacy Features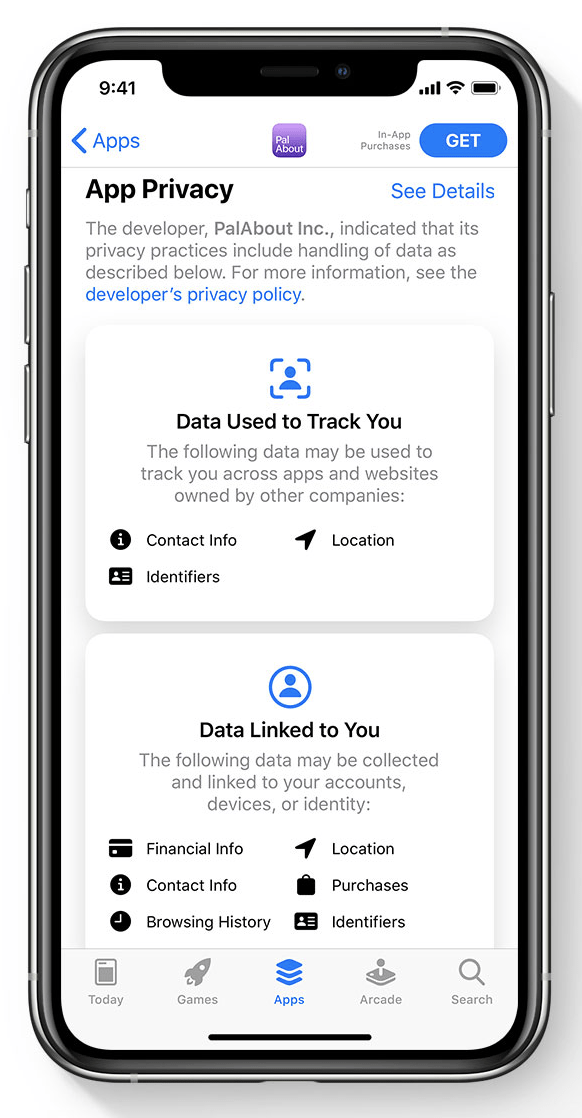 Apple is making it easier than ever to know what, if any, personal data apps will use when you're considering downloading them from the App Store. This will make it easier to make informed choices about what apps you use. If you've ever wondered if your iPhone is listening to you or if an app is accessing your camera, you'll now be able to know for sure thanks to an indicator that will appear at the top of your screen where you currently can find the location tracking icon.  
You'll also be able to choose to share your approximate, rather than exact location with apps that don't need that information. Weather and news apps, for example, don't need your exact location to give you the information you need, so why share it with them?
Finally, you'll be able to switch previously existing accounts to Sign in with Apple. This will allow users to replace individual account logins with Apple's more private account sign in features. 
What Do You Think of iOS 14?
Were you impressed by the features revealed today, and if so, which was your favorite? Are you planning to download the beta version, or wait for the fully-formed incarnation of iOS 14 before updating?