By

Rheanne Taylor
Thu, 03/16/2017
I used to devote a lot of time and energy to my creativity. I would craft my own jewelry, take pictures daily, draw and paint, and write lengthy novels (which, in retrospect, were quite ridiculous)—but I tried! And I used to find so much joy in all my little creative efforts. 
Fast-forward to now, and I can barely make time for any of those things that once brought me so much joy. My days all feel the same: I go to work, I come home, I cook dinner, I go to bed. I just don't feel inspired like I used to. When I do finally feel that familiar urge to create, it's usually at the most inconvenient time, such as while I'm sitting in traffic, taking a shower, or grabbing lunch with a friend. And when I actually devote time to my once-favorite hobbies, I create stumbling blocks for myself by overthinking everything and clinging to unrealistic ideas of perfection. 
Recently, I decided to make a change by dedicating more time to my creative endeavors. At first, I thought that might mean using technology less, but I've learned that technology itself isn't solely to blame for my lack of motivation—in fact, technology makes more tools available to me now that can help me inspire creativity rather than stifle it. Here, I'll share some of my favorite creativity apps.
Creative Thinking Apps for Getting Inspired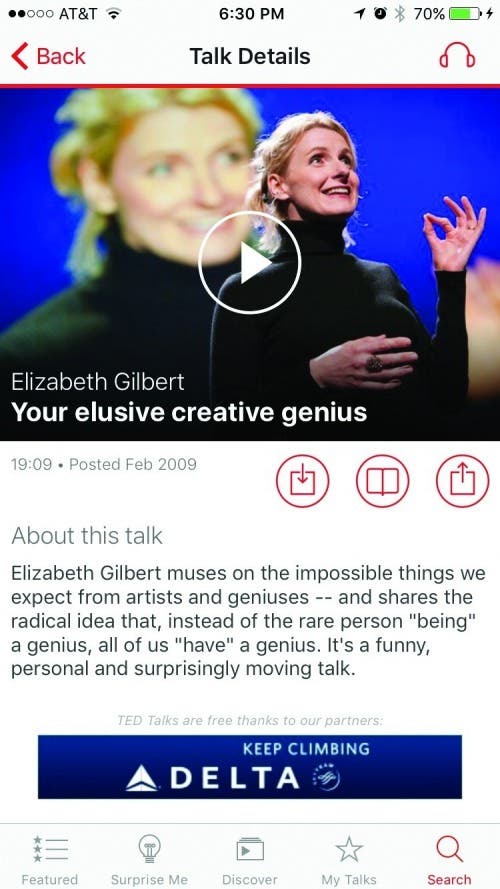 If you're anything like me, then you've been doing this day-in-day-out 9-to-5 thing for quite some time and may be wondering if you've lost your creative edge. The last thing you want is for your creative projects to turn into a job too, so spend some time getting into the right mindset to inspire creativity. 
Obviously, each person's recipe for inspiration is going to look a little different. Strangely enough, an essential ingredient for me is the ambient sound of my favorite coffee shop—and I'm not alone! According to a University of Illinois study, background noises like those found in your local cafe are perfect for stimulating creativity. One of my favorite apps to use when I'm working on a project at home is Tide (free). This app, which is based on the Pomodoro Technique, breaks your work into intervals and helps you stay in the zone with a variety of different background sounds to choose from—including the soothing sounds of rain, singing birds, and yes, even the ambient sounds of a café, complete with indistinct chatter and the hum of machines and clattering dishes. It might seem like a strange idea, but trust me here, you may find those background noises more helpful than you realize. I also love listening to music, and Spotify (free) has some of the best curated playlists around. It even has a selection of playlists completely dedicated to writing and studying!
There's also nothing more nourishing to your creative soul than listening to fellow artists, which is where the TED app (free) comes in. Just try listening to Elizabeth Gilbert's TED talk Your Elusive Creative Genius and tell me you don't feel indescribably inspired afterwards. I dare you. I've also found that meditating really helps get me in the right mindset, and Headspace ($12.95/month) has been one of my favorite methods for motivating me to do that, featuring spoken-word meditation exercises and reminders to meditate daily. You can also use coloring book apps such as Recolor (free) or Pigment (free) to pass time when you're bored, or play word-guessing games such as Blackbar ($2.99). Creativity apps like these don't require a ton of concentration, yet they are much more nourishing to your creativity than browsing Facebook.
Apps for Crafting and DIY Apps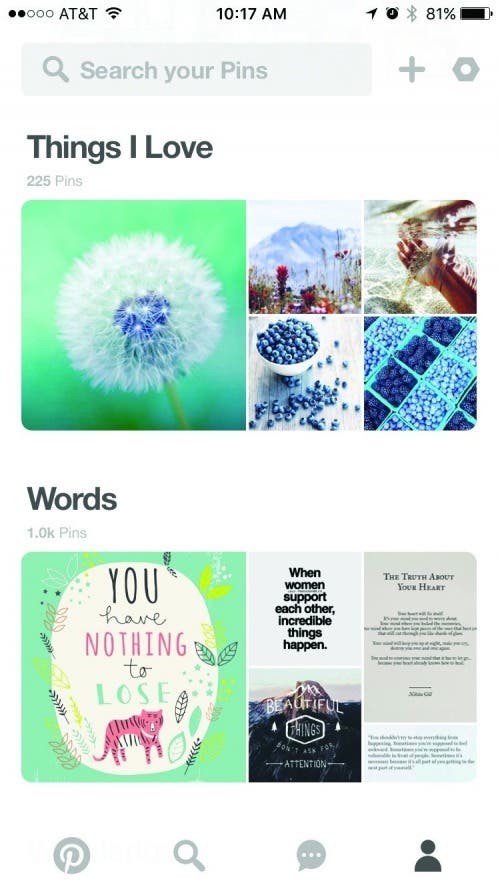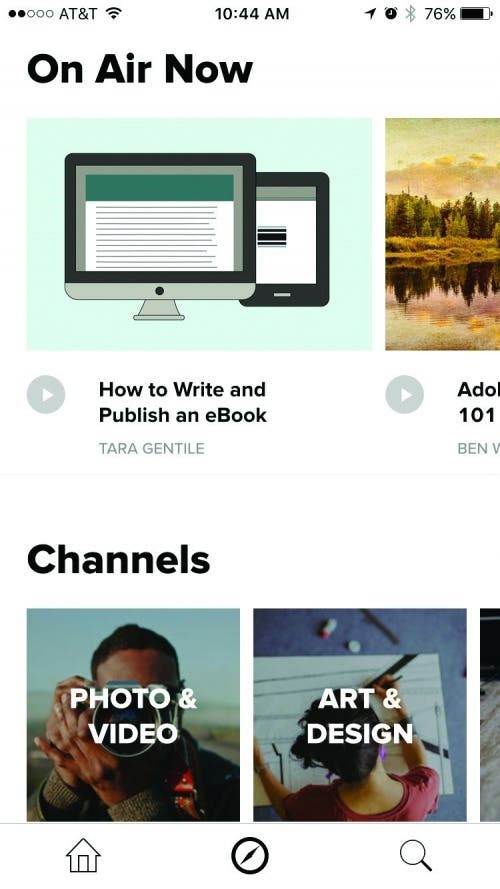 I like to make things. I'm not always the best at it, but I enjoy it, and I guess that's all that really matters, right? Lately, I've been into creating my own costumes for conventions and shows (geek status here). Unsurprisingly, one of my greatest artistic resources has been Pinterest (free) and apps like Pinterest, which I use to save all of my ideas to boards that I can reference later. Although saving inspiring photos is great, sometimes I need a little more guidance, which is where crafting apps like Craftsy (free) or CreativeLive (free) come in. Both offer a variety of in-depth craft tutorials on everything from sewing your own wallet to learning how to use Photoshop and Lightroom, but I prefer CreativeLive as it allows me to watch one lesson a day for free. 
If you want to support small businesses, sell your own crafts, or simply love the unique quality of handmade items, then Etsy (free) is your answer. I've purchased countless products from Etsy sellers—everything from personalized jewelry to handwritten cards—and have yet to be disappointed.
Best Photography Apps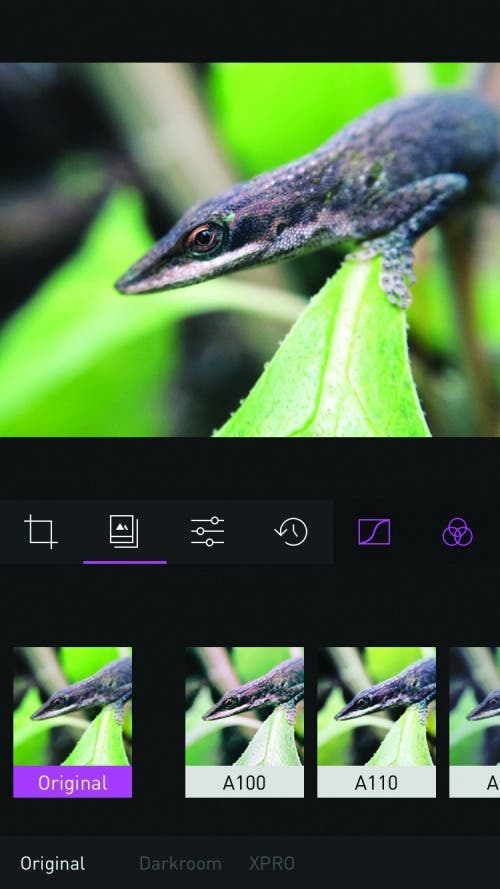 One of the best things I've ever done for myself was take part in the Project 365 challenge, which involved me taking a creative picture every day for a year. Taking a single photo a day may not seem like much, but it kept me in a creative mindset that greatly improved my photography skills. During this project, the Collect app ($1.99) was invaluable, as it allowed me to add my photos to a calendar and add whatever details about the day I wanted to remember, which was super fun to look back on. I've also tried a bunch of photo editing apps over the years, but lately I continue to come back to the same photo editor: Darkroom (free). I love this photography app's simple design and how easy its filters are to adjust. But for those moments when I want to give my images a little more attention, I use Enlight ($3.99), a photo editing app that provides all the basic tools to edit pictures as well as the ability to add text, doodle on images, and add special effects.
Seriously, the artistic possibilities for your iPhone photography are endless. You can create artist-inspired paintings with Prisma (free), fun GIFs with GIPHY Cam (free), and use Social Print Studio's app Print Studio (free) to quickly turn your favorite photos into posters, magnets, and books (FYI, I'm obsessed with Social Print Studio). I also really enjoy using iPhone collage apps. My personal favorite is Diptic ($0.99), which makes it easy to choose a collage format, add text, adjust borders, and apply filters. 
Day 1 of Project 365
Day 365 of Project 365 

Over the course of the year, I watched my photography skills dramatically increase simply by devoting a few minutes a day to snapping a photo. In order to help me stay motivated, I often shared my photos to Instagram using the hashtag #365photochallenge and #photooftheday. This was helpful as it allowed me to get inspiration from other people completing the challenge.
Best Writing and Journal Apps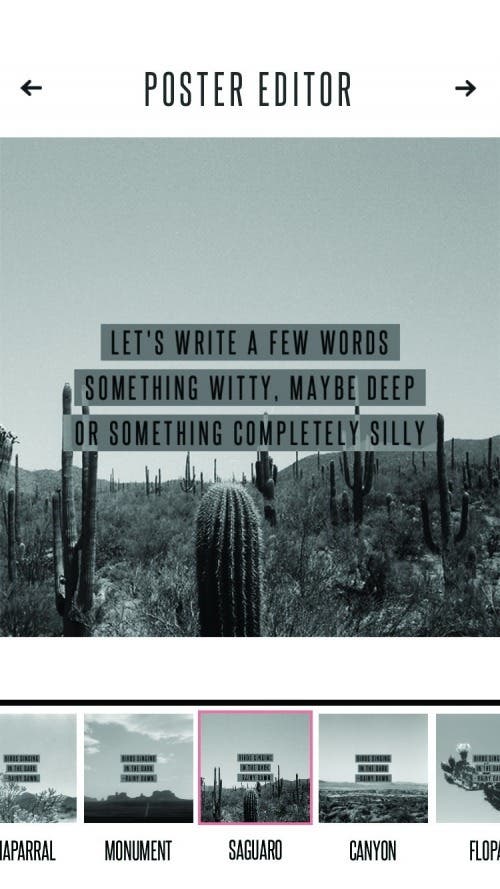 Journaling is important to me as a writer. In fact, I've been keeping a journal since I was 7 years old. I'm 28 now. That means I have a lot of journals, people. With time I've evolved, and now I use my iPhone as my primary journal with the Day One journal app ($4.99). I've tried a lot of diary apps, and none of them can compare with this one. The best part of this journal app is that I can add multiple journals and easily switch between them (I currently have one for basic journaling, one for creative writing, and one for composing lists), and I can add photos to my entries too. Although I try to write daily, motivating myself to do so isn't always easy, especially when my day has been pretty dull. Askt ($2.99) is an older diary app, but it continues to be a favorite, providing thought-provoking questions when I'm feeling stuck. 
I'm convinced that the best writers are often those who love to read. I used to read constantly, but it's hard to find time these days, which is why I got an Audible subscription ($14.95 per month) and downloaded the Audible app (free). This app has allowed me to listen to books while I'm cooking, showering, or driving, which has seriously boosted my creativity. As a result, I've been toying with the idea of starting to write again, but I'm not yet ready for the commitment of a full-time blog. That's where I've thoroughly enjoyed using Medium (free), a publishing platform that allows everyday people to publish articles online. I haven't used it to write an article yet, but I love reading others' work, and I hope to contribute to it myself one of these days. BONUS: If you and your friends love haikus, then I also recommend trying Foldpass (free), a collaborative writing app geared solely to writing haikus together. 
Finally, Stay Commited to Your Creative Pursuits
A couple of years ago, I decided I would start waking up each day and writing 750 words (an idea inspired by Julia Cameron's The Artist's Way). Most of what I created was utter nonsense. Most of it wasn't pretty. But over time, writing became easier and I felt motivated to write more throughout the day. I tell you this story, because I've learned that the most important thing when it comes to your creativity is making a commitment and sticking to it. When it's all said and done, you can't escape the responsibilities of daily life, but you can still find time for yourself amid the chaos, even if it's just 15 minutes. With your iPhone, you already have access to the tools you need wherever you go, so get out there and use them!