By

Conner Carey
Thu, 10/06/2016
* This post is part of iPhone Life's Tip of the Day newsletter. Sign Up. *
iOS 10 added lots of new 3D Touch functions, especially from Home screen. Apps such as Photos, Weather, Maps, Phone, Activity, Camera, Find iPhone, Music, and iCloud Drive all got brand new options. When you 3D Touch one of these icons from Home screen, options pop up that allow you to jump directly to the place within an app you're trying to access. We'll go over my favorite new options from the most popular, necessary stock apps your Home screen holds. Here's how to use the new 3D Touch functions for Home screen apps.
We'll cover my top favorites below, but I recommend you try to 3D Touch all your app icons as you go to use them. Some that I wouldn't expect to have new functions do, such as the Voice Memos app, which shows you the three most recent recordings you've made and the option to start a new one. This tips works for iPhones running iOS 10 that have 3D Touch, such as the iPhone 6s and iPhone 7.
Weather App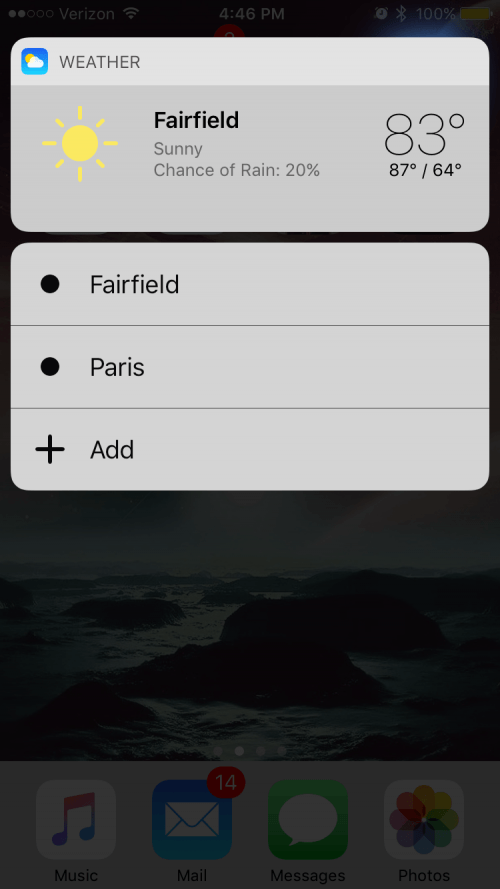 3D Touch the Weather app icon to see a snapshot of your local weather and quick access to your favorite weather locations.
Maps App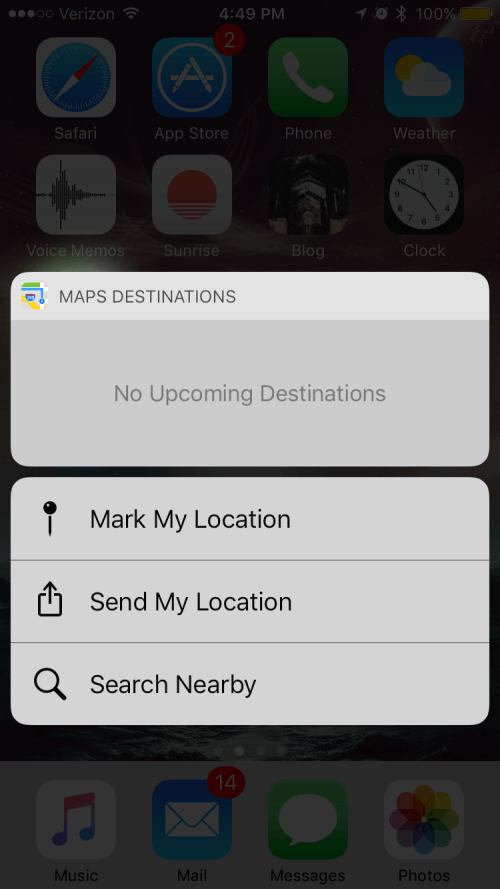 When you 3D Touch the Maps icon you can now see your current destination on the map and be able to select Mark My Location, Send My Location, or Search Nearby.
Activity App
See your day's progress with one 3D Touch on the Activity app icon. Get a snapshot of your activity rings and goals. You can also choose to view your History, Workouts, Achievements, or share your activity rings with a friend to motivate them.
Camera App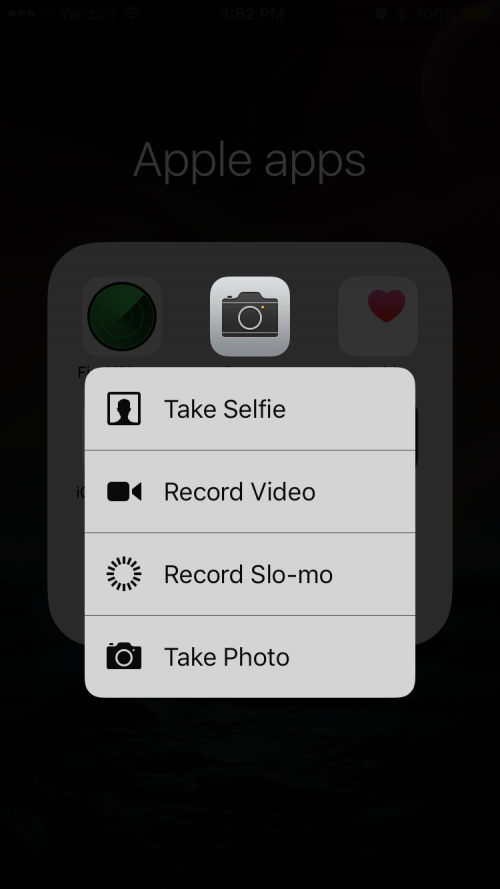 3D Touch the Camera app icon to jump right into taking a selfie, recording video, recording slo-mo, or taking a photo.
iCloud Drive App
Access your most recent documents when you 3D Touch the iCloud Drive app icon. You can also jump to Search iCloud Drive from Home screen.
Photos App
See your photo collections by location and date when you 3D Touch the Photos app icon. You can also jump to the photo you took one year ago today, search your photos, view your favorites, or see your Most Recent photo.