By

Olena Kagui
Tue, 12/15/2020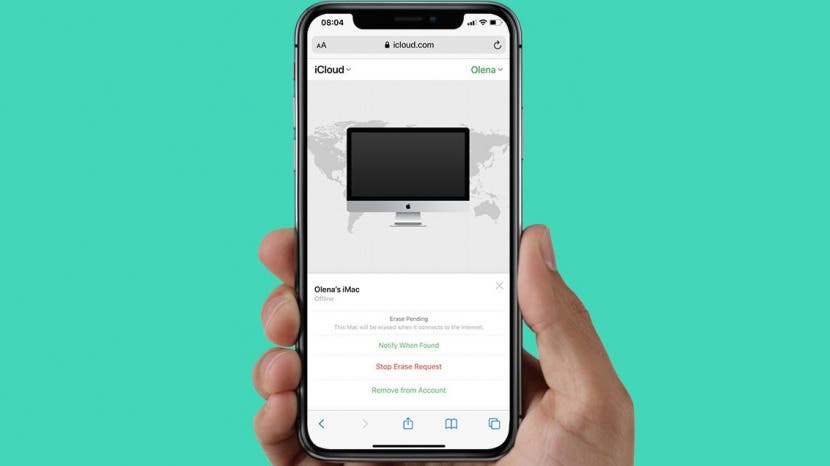 It's important to turn off Activation Lock when you give away or sell your iPhone, iPod, or other Apple device so that the person who now owns your device can use it. Activation Lock turns on automatically when Find My is activated, so you may not even realize it's enabled, which is why many users don't realize until it's too late that they haven't disabled the lock. Don't worry: even if you have already given away or sold the device, it is still possible to turn off Activation Lock remotely. We'll show you how.
Related: What to Do If Your iPhone Is Stolen or Permanently Lost
How Do I Turn Off Activation Lock?
Activation Lock is intended to prevent other people from dishonestly using your iPhone, iPad, or other Apple device if it's ever lost or stolen. However, if you've intentionally given your device away or sold it, you'll want to remove Activation Lock so that they recipient won't have any issues. Here's how:

Discover your iPhone's hidden features
Get a daily tip (with screenshots and clear instructions) so you can master your iPhone in just one minute a day.
Sign in to iCloud.com with your Apple ID. This can be done remotely on any browser and from any device, including non-Apple devices.
Go to Find iPhone.

Find the device that you are trying to remove Activation Lock from. This means you're removing it from iCloud under your Apple ID. 


 
Select the device and choose Erase [Device].

The device will show up again for you to confirm. Select Continue.


 
For some devices, such as Macs, you may be asked to create a lock code for when the device is ready to be reactivated.

You will be asked to leave an optional message that will be shown on the device when it is turned on.


 
Choose Done in the top-right corner.

Finally, Select Remove from Account.


Activation Lock exists to help protect the data on your Apple device. If you sell an iPhone or another device, make sure to go through this process. The new owner will not be able to add the device to their Apple account until the Activation Lock is disabled. If you buy a used device that wasn't properly cleared, the previous owner will have to turn off Activation Lock remotely.