By

Conner Carey
Updated 08/31/2017
* This post is part of iPhone Life's Tip of the Day newsletter. Sign Up. *
If you have an Instagram account, you've surely seen reposted photos with credit given to the account it originated from. But there is no option to repost a photo within the Instagram app, so how do they do it? With a third-party app! Being able to repost photos is crucial for businesses and fun for individuals. There are multiple third-party apps you can use to repost photos to Instagram, but I'm going to show you my favorite and how I use it along with the Instagram app to repost a photo.
Related: How to Save a Post in Instagram on Your iPhone
First, we need to find a third-party app to help us repost a photo. You can do a search in the App Store to find your options. Or just download the same app that I use, which is simply called Repost for Instagram. It's my personal favorite because it adds a small watermark in the corner of the picture giving credit to the account it originated from. I recommend tagging the person whose photo you're reposting as well; but if you're in a hurry and forget, using this app keeps you from accidentally taking credit for a photo that isn't yours.
How to Repost a Photo to Instagram
Open the App Store on iPhone and download the repost app of your choice; Repost for Instagram is what I use.

Once it's downloaded, open the Instagram app.

Find the photo you want to repost.

Tap the three dots in the upper right corner of the post.
Tap Copy Share URL.

Now, open the app you got for reposting.

If you're using Repost for Instagram, when you open the app you'll see the post you just copied. Tap on it.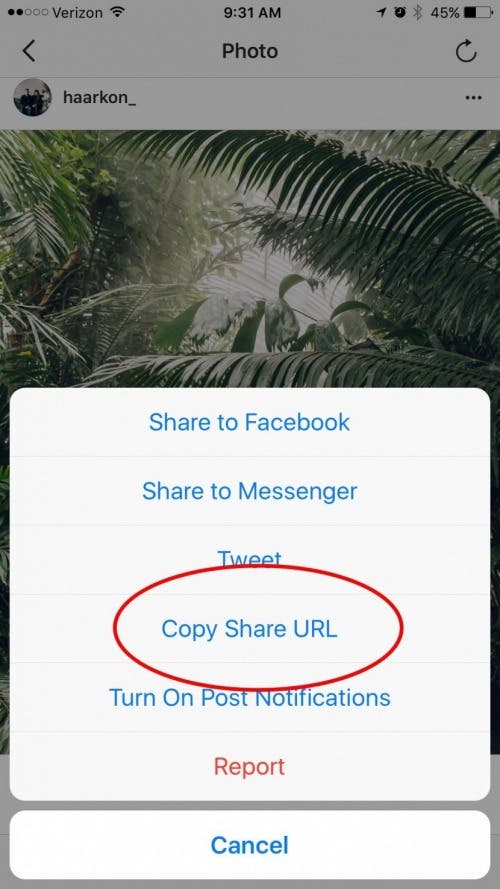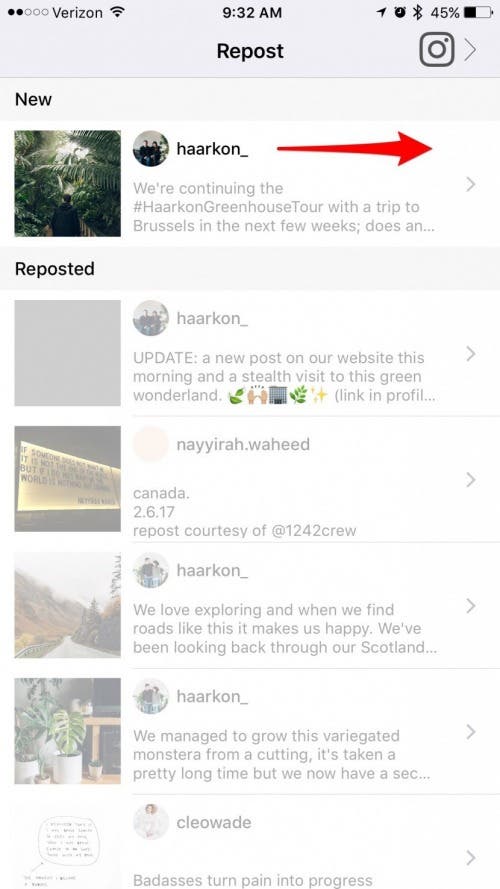 At the bottom, you'll see options to move the watermark to a different corner. You can pay to unlock the option to remove it, but why pay when you should give credit anyway?

You can also select Light or Dark; which one you select will depend on how it looks over your photo.

When you're ready, tap Repost.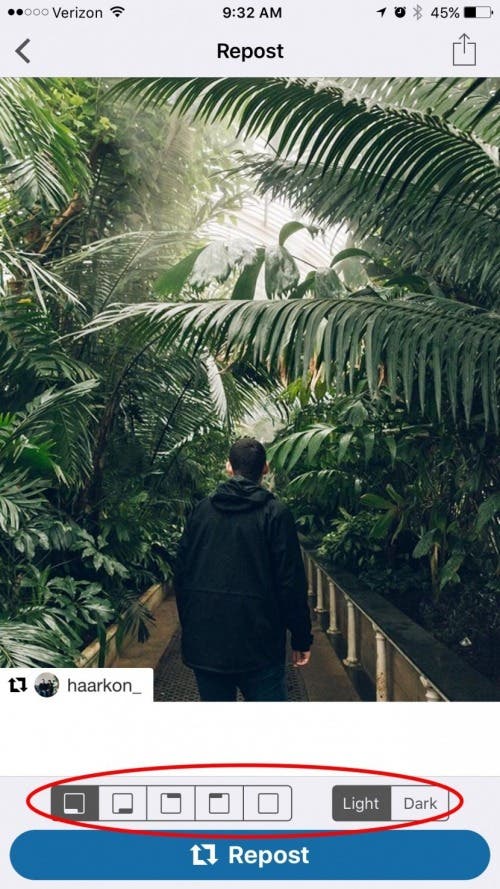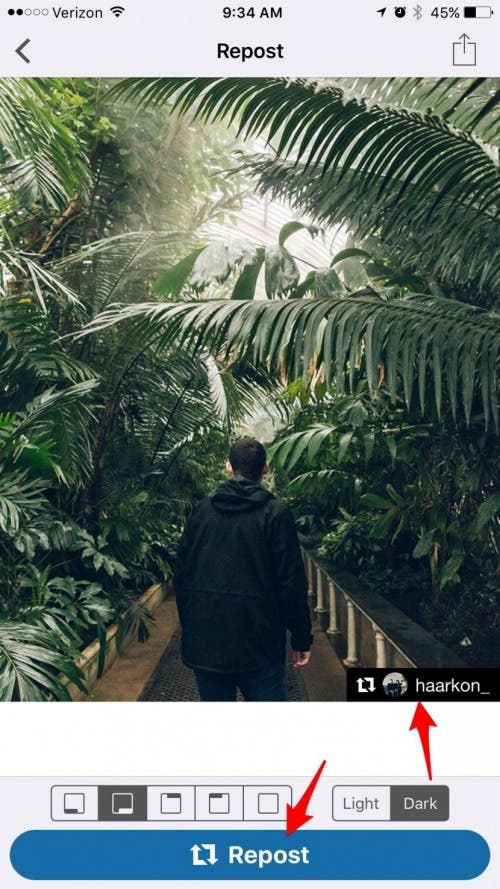 Tap Copy to Instagram.

Now you're back in Instagram and can continue as you usually would when posting a photo.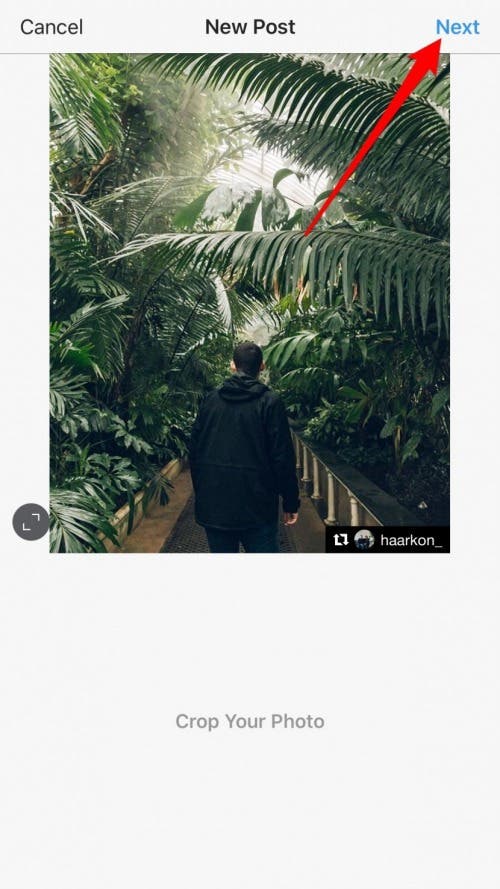 I recommend giving credit in your caption too; sometimes the person you've tagged will see it and appreciate the repost.

Tap Share when you're ready, and ta-da. You've reposted a photo to Instagram.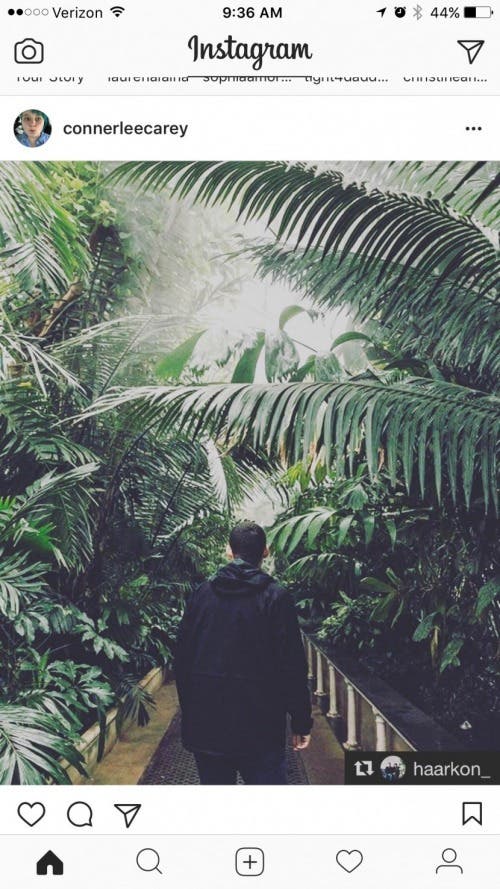 Pro Tip: If you have two or more Instagram accounts, you can repost photos from one account on another.