Have you ever gotten an iMessage on your iPhone and wondered how your friend got such a cool contact icon? Here's how to customize your iMessage icon with a photo, initials, Memoji, or Animoji.
By

Cullen Thomas
Updated 11/05/2020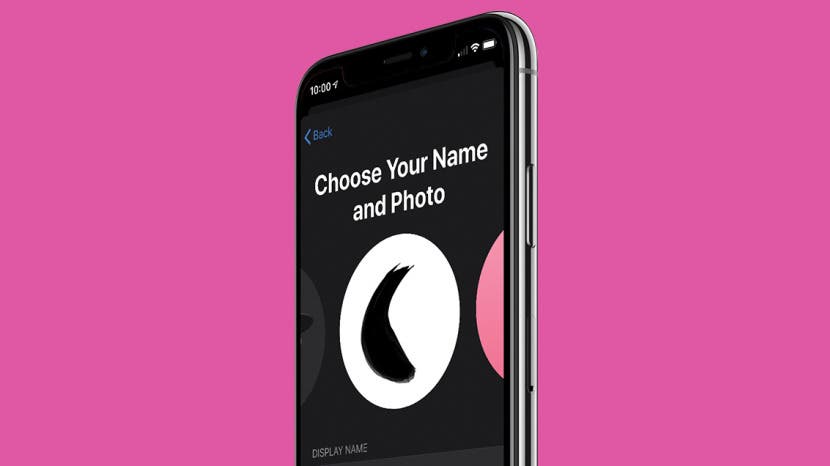 * This post is part of iPhone Life's Tip of the Day newsletter. Sign Up. *
Customize your contact icon in the Messages app, and you'll be able to share any picture on your iPhone, including a Memoji, Animoji, or emoji or initials with a custom color with anyone you message. You can also edit your iMessage profile picture and name. Once it's set, you can choose whether to make your profile name and image visible to everyone in your contacts list or only to select contacts. Let's get started.
Related: How to Hide Text Messages on iPhone by Hiding iMessages or Using Secret Texting Apps
How to Create & Edit a Custom Contact Icon on Your iPhone
If you've been wondering how to create a custom profile picture for the contact card on your iPhone, we'll show you how. We'll also go over how to edit your contact icon if you want to update your picture, Memoji, Animoji, or initials. We've already gone over how to create a Facebook profile video, and how to take the best selfie with your iPhone. For more great tutorials on how to navigate your iPhone, check out our free Tip of the Day. 
How to Create A New Contact Icon in iMessages on Your iPhone & iPad
If you've never set up a Messages profile before, it's super easy! If you've set up your photo and name but want to change it, skip down to How to Edit Your Contact Icon in iMessages on Your iPhone & iPad.
Open the Messages app.

Tap the three dots in the top right of the screen (the "more options" icon).



Tap Choose Name and Photo in the pop-up.

Tap the Memoji, Photo, Initials, or More Options icon, then tap Continue.



Now you have lots of options! Tap one of the photos, sets of initials, Memojis, or icons on screen to select it, or tap the camera, photo, smiley face, or pencil icon to take a new photo or choose a picture in your Camera Roll, select an emoji, or change your initials. You can also tap See More next to Memoji to find even more Memoji choices.

Once you've chosen your icon, you can tap Edit if you want to adjust a photo filter and more before saving it.



Tap to select your filter, Memoji pose, background color, or initials, then tap Done or Continue.

Tap Use if you want this icon used for your Apple ID and your card in Contacts.



Enter the name you want to display, and whether or not you want to share your name and icon with Contacts Only or have the option to share each time, with Always Ask, then tap Done.


You've set up your Messages profile! Now you can present your personal brand with style. 
How to Edit Your Contact Icon in iMessages on Your iPhone & iPad
You can always update your contact icon later, and change your contact card to a different picture, a Memoji, an Animoji, or your initials. 
If you want to Edit your Messages profile, then as you did the first time, open the Messages app and click the More Options icon, which is three dots in the top right corner of the screen, then select Edit Name and Photo again.

This time you'll see your whole profile on one screen, including all the decisions you made during the initial setup. Tap your name to type in a new one or edit it. To change your photo, tap Edit.

Tap the camera icon to take a new photo, the photos icon to choose a picture already stored in your iPhone, the smiley face icon to choose an emoji, or the pencil icon to use your initials. Choose a Memoji or Animoji in the sections below, or an emoji with a custom color background from the options at the bottom.


 

Once you've made your changes, tap Done to finish.


And there you go! Now you know how to set up and update your profile on the Messages!