By

Conner Carey
Updated 08/02/2021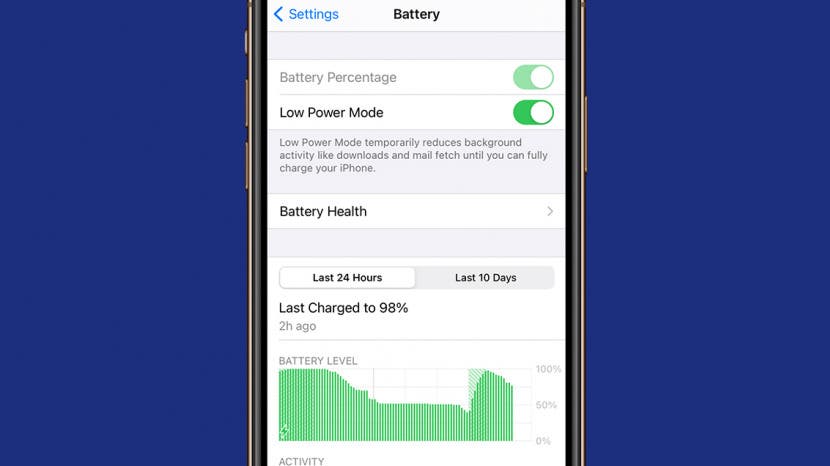 * This post is part of iPhone Life's Tip of the Day newsletter. Sign Up. *
Low Power Mode is one of my absolute favorite iPhone features. I don't just turn it on when my battery is low; I keep it on the vast majority of the time. However, whenever I go to charge my phone, eventually it's charged enough for Low Power Mode to turn itself off. Luckily, you can easily re-enable Low Power Mode from your Lock screen. 
Jump To:

Discover your iPhone's hidden features
Get a daily tip (with screenshots and clear instructions) so you can master your iPhone in just one minute a day.
Manually Enable Low Power Mode
When charging your phone, after the battery reaches 80 percent, a notification will pop up letting you know your battery is sufficiently charged and Low Power Mode is now off, because you don't need it. To quickly turn Lower Power Mode back on, all you need to do is swipe right on the notification and tap Enable Again.
Swipe right on the Low Power Mode Turned Off notification.


 
Toggle Low Power Mode on. The toggle will be green when Low Power Mode is enabled.


 
That's all there is to it! Now you can save battery all the time! You can learn more about saving power and prolonging your battery life, as well as other iPhone tricks by signing up for our free Tip of the Day.
Related: iPhone Battery Yellow? How to Turn Low Power Mode Off & On
Keep Low Power Mode On All the Time
If swiping on this notification to keep Low Power Mode on becomes an annoyance, there is a way you can turn on this function permanently. Here's how:
Open the Shortcuts app.


 
Tap the Automation tab at the bottom.


 

Tap the + icon in the top-right corner.


 
Tap Create Personal Automation.


 

Scroll down and tap on Low Power Mode.


 
Select Is Turned Off and make sure Is Turned On is not selected, then tap Next.


 

Tap Add Action.


 
Search for "low power."


 

Tap Set Low Power Mode.


 
The next screen should show an action that reads: "Turn Lower Power Mode On."

This is what you want, so simply tap Next.


 
Toggle the Ask Before Running switch off. This will prevent you from getting notifications about running Low Power Mode.


 

On the pop-up message, tap Don't Ask.


 
Tap Done.


 
There you have it! Now Low Power Mode will be enabled by default and remain on until you turn this automation off.
Turn Permanent Low Power Mode Off
Now that you've created an automation that will keep Low Power Mode on indefinitely, you might be wondering how to turn it back off and regain full use of your iPhone's capabilities. Luckily, this is a simple process as well.
Open Shortcuts.


 
Tap on the Automation tab.


 

Tap When Low Power Mode is turned off.


 
Toggle the Enable This Automation switch to off. The toggle will be gray when the automation is disabled.


 

Tap Done.
Turning your automation back on is just as easy; all you have to do is follow those same steps and turn the toggle back on. To figure out which setting you are most comfortable with, try playing around in Low Power Mode to see if it works for you. If you like, you can use your iPhone with that yellow battery symbol all the time.