By

Mike Riley
Updated 07/24/2019
Most professional videographers agree that high-quality audio capture is just as important, if not more so than, high-quality video capture. Watching a low resolution YouTube video with superb audio reproduction is far more tolerable than watching a high resolution video with poor audio quality. That is why I find it so surprising that Apple has focused so much of its iPhone feature attention on camera and video capture quality while still utilizing a run of the mill embedded mono microphone for audio. The founders of Hooke Audio saw this subpar configuration in not just the iPhone but other smartphones and video capture devices like GoPro's, and built a product to address this discrepancy. Read on to find out if the Hooke Verse wireless binaural 3D audio microphone system ($159.99) succeeds at eliminating this mobile audio capture fidelity problem.
The Hooke Verse looks like a standard Bluetooth wireless headset, albeit quite a bit bulkier in order to house the electronics and large battery required to help the headset achieve its impressive 9-hour recording and 10-plus hour audio playback times. It takes a bit of practice to not only situate the headset with its ear buds attached to memory wire cables to rest comfortably across the top ridge of the outer ear while the ear buds maintain a tight seal in the ear canal. Without this setup, audio playback tends to lose the low end bass making for a tinny lackluster listening experience. It took several attempts for me to position the headset just right, and even with the memory wire saving its bend configuration, it still takes me several seconds and focused attention to attach the headset to my ears. So if you are looking for a headset you can quickly throw on, this isn't it. But that's not what this headset's primary objective is, as the unique small microphones on the outside of the earbuds clearly show.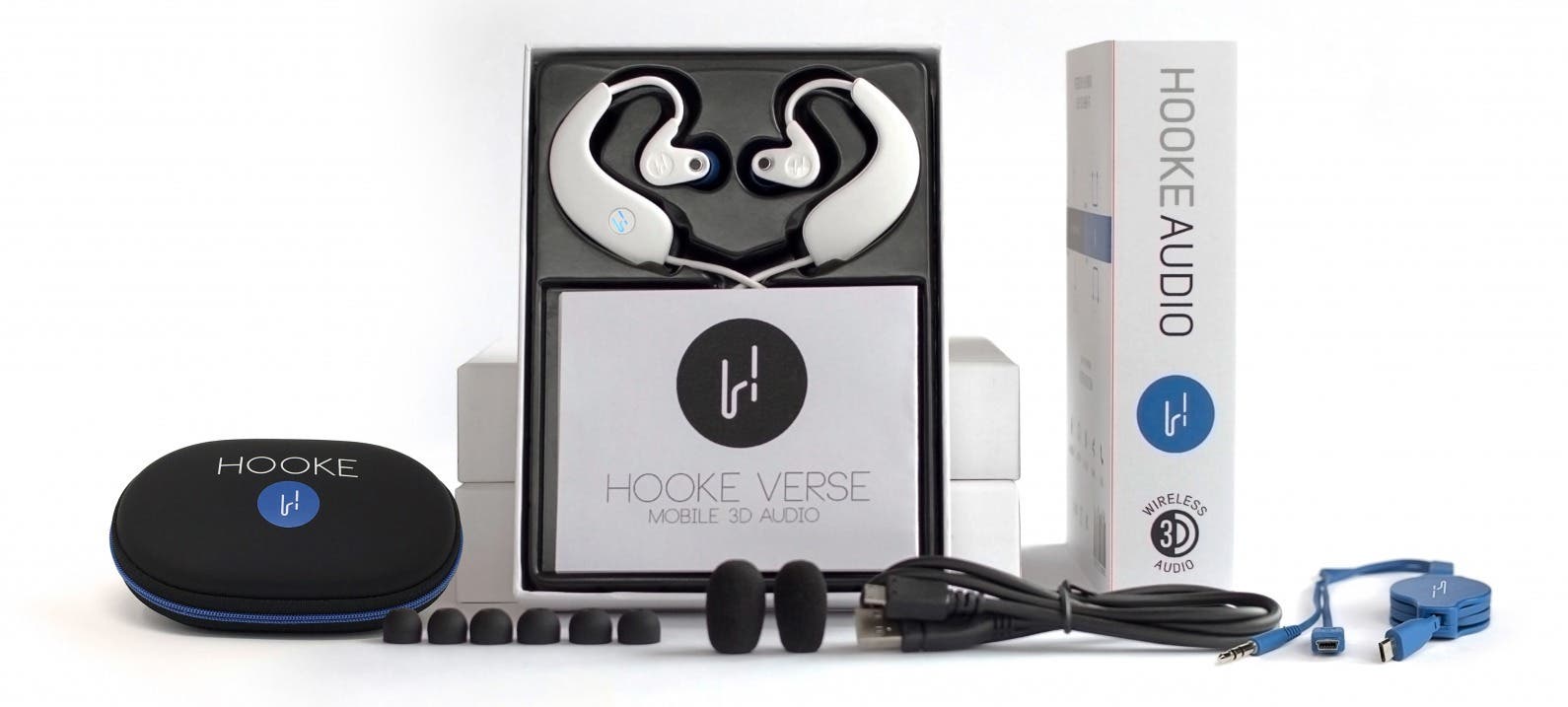 Once powered on and paired with an iPhone, the headset can be used just like any other Bluetooth headset, minus hands-free calling. That feature is expected to arrive in a firmware update later this year. But that's not what this headset was primarily built for. Instead, it's essentially a binaural audio capture rig that happens to be built into a simple portable headphone monitoring unit. And when used effectively, it will permanently alter your expectations for capturing quality audio with your iPhone.
Using the Hooke Verse audio recording capability is done via Hooke Audio's free Binaural 3D Audio app. Now I understand why Hooke Audio is pushing the 3D audio angle in its product names, as it catches your attention faster than simply saying binaural audio. If it were true 3D audio capture, there would be more than two microphones and the playback would require a surround sound headset with discrete five or more channel separation. The headset records in binaural, and the app captures this signal input. Doing so also allows anyone with a stereo headset to listen to audio or playback video in full stereo sound. And the sound capture quality is impressive, especially in light of the diminutive microphones dotting the outside of the earbuds.
I captured several scenarios of activities using my iPhone, the Hooke Verse headset, and the accompanying app, and they all erased my skepticism of the current state of iPhone audiovisual capture. Audio playback was crystal clear with virtually no latency or lag between the video and audio being captured. Hooke Audio has done its homework when it comes to its proprietary audio capture codec. With this being the company's inaugural product, I am very much looking forward to hearing the kinds of improvements Hooke Audio will make in successive product and software releases. While the headset may not be my daily driver, it will be in my gadget bag whenever I travel or attend a special event so I can have them ready whenever a once-in-a-lifetime opportunity needs to be recorded.
Pros
Excellent audiovisual capture
Long battery life for recording and playback
Most economic choice for high quality binaural audio capture on the iPhone
Cons
Bulky headset assembly that requires extra effort to properly wear
Earbud audio playback quality is simply adequate
Standard Bluetooth headset features such as hands-free calling not yet available
Final Verdict
The Hooke Verse succeeds at finally bringing high quality binaural audio capture to iPhone-recorded videos without having to spend hundreds of dollars and be a professional audio engineer to configure and use it. If you simply want a quality Bluetooth audio playback headset, there are other options that supersede Hooke Audio's first attempt. But there are no other Bluetooth headsets for the iPhone that I am aware of that can both playback and record high quality audio in real-time and in sync, especially at the price that Hooke Audio is currently selling this headset. So if you want to capture that next priceless single moment in time concert, party or adventure with the audio quality that will bring the reproduction of that moment back to the present, the Hooke Verse headset is currently the best way to do so. Perhaps one day Apple will address its current audio shortcoming in a future iPhone model. But considering all the important moments in your life that will be permanently recorded with only half of the audio information possible in today's iPhone, investing in a Hooke Verse delivers the future of audiovisual capture to you today.