By

Dig Om
Thu, 07/23/2015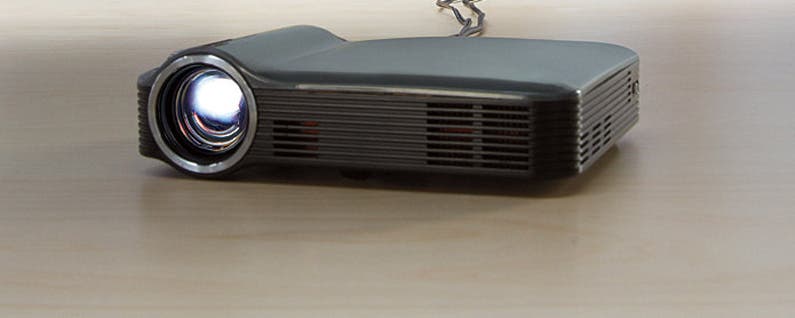 The Brookstone HDMI Pocket Projector Pro ($249.99) was a wonderful surprise for me; an extremely functional, portable, and practical creation that is well worth the extra $49 investment for the required Apple A/V adapter — if you don't already have one that is. Once you've got the Apple A/V adaptor, connecting your iPad or iPhone to the projector is as simple as plugging it in and turning it on. With this projector you can instantly view your iDevice's high-definition videos and images, games, and even native iOS apps like Keynote or FaceTime, all on a variable sized viewing screen the can enlarge the image to a 115-inch diagonal size.
Now, let's put things in perspective, most TV sets these days average between 32 and 60 inches diagonally, so a projector that can mirror your iPad at a size of over 100 inches across diagonally is pretty significant, especially when you take into consideration the fact that the projector itself is so tiny, measuring only 4.7" x 4.1" x 1".
In terms of image projection quality, I can't overemphasize how blown away I was by the crisp and clear image quality of the Pocket Projector Pro. The ability to have the equivalent of a massive TV that is totally portable and capable of showing your iDevice's movies, games, photos, and more is, to me, quite amazing and definitely worth considering as an investment.
The Brookstone Pocket Projector Pro has two small speakers built into it, with a touch-sensitive panel on the projector's top side which allows you to adjust volume settings. When I use the projector, I typically bypass the projector's in-built speakers in favor of a larger, more powerful Bluetooth speaker—any model with a 3.5 mm jack port will do—but it can sure make a difference. Not that the projector's speakers are bad, because they are not. But they aren't significantly more impressive than the iPad's speakers, so for a richer audio experience I simply plug the speaker into the projector's audio-out and that's all it takes to have booming audio to go along with a big screen presentation.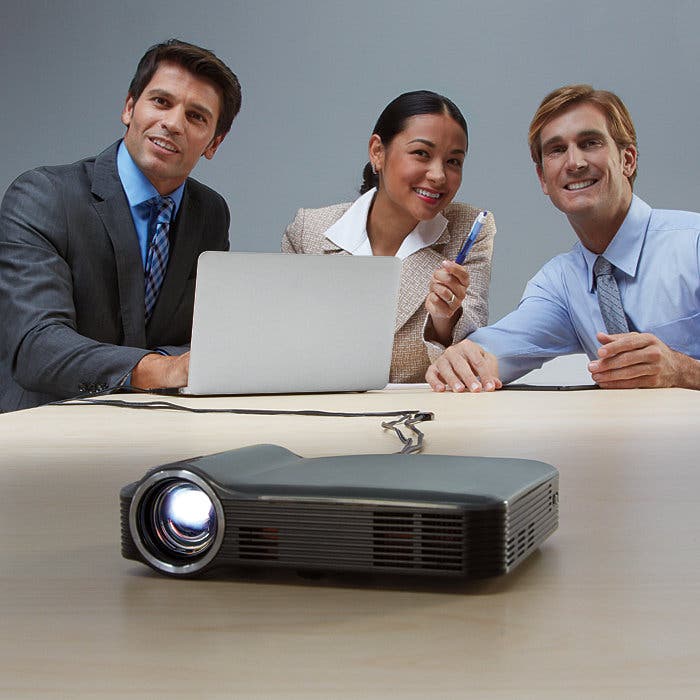 To really get the most out of the Pocket Projector Pro, I even built a roll-up movie screen out of a white sheet, two bamboo poles to keep the makeshift screen flat and taut, and some rope on either end to hang it from our ceiling. In fact, any flat, light-colored surface will do, and if no light colored wall is available, you can simply get some poster board, or your own white sheet and hang it on your wall, in effect creating your own personal movie theater.
The Pocket Projector isn't just great for entertainment purposes and social gatherings, it's also perfect for any kind of visual media presentation to a large group of people, such as a business meeting or a college classroom.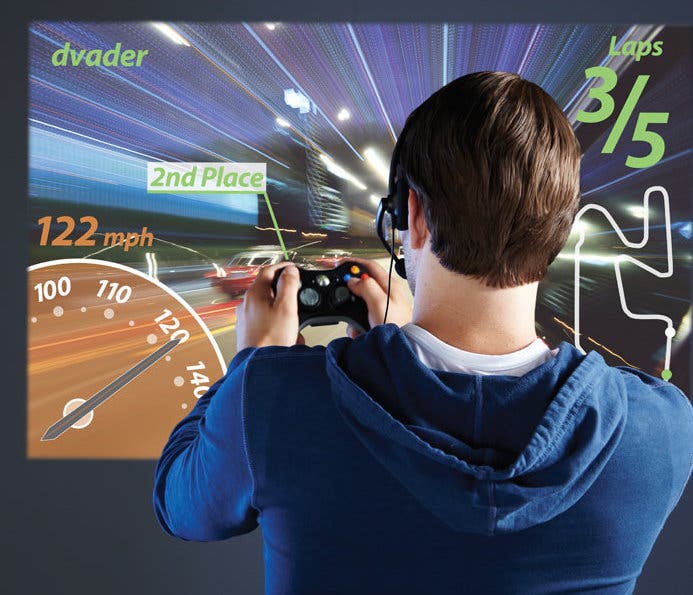 Pros:
Extremely portable and compact. With the included microfiber pouch, the Brookstone projector can easily go anywhere with you.
Brilliant 1280 x 800 image resolution.
Two built-in, one-watt speakers that are a definite improvement over any iPhone's native speakers.
Projects a crisp image, up to a remarkable 115 inches diagonally.
Easy set up and connection, no apps needed.
1080p HDMI graphic support.
Features touch-panel Automatic Keystone Correction, which is a function that allows projectors that are not placed perpendicular to the horizontal centerline of the screen (too high or too low) to adjust and adapt the output image to make it as uniformly rectangular as possible on the projection surface.
Includes a fine-tuning focus dial to help you get the clearest picture possible.
Volume can be adjusted via the touch sensitive panel on top of the projector.
At 100 lumens, this gizmo is bright! With lowered shades I had no problem getting hi-res projections in the daytime.
Can be mounted on a tripod for optimal positional adjustments.
Cons:
Perhaps the biggest drawback of the Pocket Projector Pro is that it has limited effectiveness in a brightly lit room. It works best in a dim to dark room.
The only thing that would make this projector more enticing would be if Brookstone opted to include an MFi HDMI-to-Lightning adaptor so that iOS users could start using the projector right out of the box.
Final Verdict:
Even though I was introduced to the Brookstone Pocket Projector Pro a while ago by my PR friends at Blue Wolf Den; because I never got around to purchasing the Apple A/V adaptor until a couple of weeks ago, I was never able to try the projector out. I'm so glad that I finally got the A/V adaptor, as I now have access to the biggest screened home-viewing experience I've ever had. The projector's extreme portability, thoughtful design and functionality, and brilliant image rendering all combine to make this one of the most unique and useful iOS accessories I've come across lately. I'd highly recommend it for college and business presentations, or for anyone who'd like to enjoy their iDevice's media content on a much larger screen.