By

Chris Vasques
Tue, 05/23/2017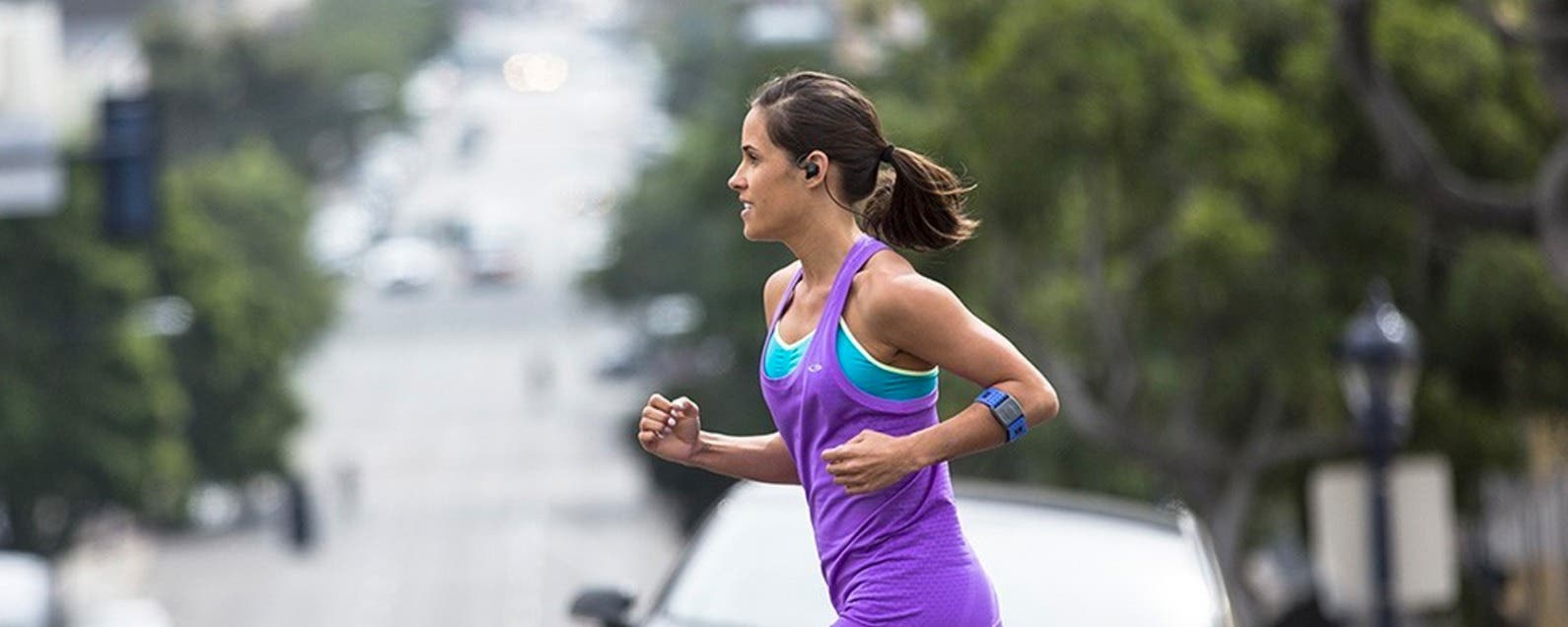 With such an infinite array of wired and Bluetooth headphones for running and working out, how do we know our money will buy an investment and not another piece of temporary tech? Headphones are a very competitive electronics category with players ranging from obscure to household name. As a complete and total music nerd, I have owned many a headphone pair. Studio monitors, wired and wireless earbuds of every gimmick and design, Bluetooth on-ears, in-ears, and over-ears, and countless random sets from disposable to decadent. Headphones have been an emotional receptor for me throughout my life, and a mirror for my artistic expression as a musician. Just over three months ago, I began a rigorous workout schedule, and I knew I would need the best sport headphones I could find. I played with a few wired and Bluetooth headphones for working out before I had the opportunity to write this article, and saw it as the perfect way to test these workout headphones in the field. Well, actually I tested them in the gym, in the field, on the trail, on a bike, and on a skateboard, but I think I covered some solid ground during the tests.
Related: 10 Best Wireless Bluetooth Speakers & Headphones for iPhone 7 & iPhone 7 Plus
My testing was rather straightforward. My playlist was a mix of metal, EDM, jazz, rock, rap and prog. I was aiming for maximum dynamics. I tested indoors and outdoors for a minimum 30 minutes each. I did a lot of cross-training style workouts, but also worked with weights, running, and biking. I focused on how the headphones fit into my life, as well as how they fit into my ears. Convenience, comfort, style, battery, and connectivity were all considered alongside sound. For each headphone make and model, I have provided a "Feature Highlight," which is a feature I thought stood out from the others. With six headphone sets in all, I cover a fair range of the affordability spectrum. My tastes with music may seem eclectic or specific to some (status: audiophile) but one thing I have learned after doing this sport headphone review is how much of a difference the right headphones can make. I hope this review brings a new perspective for what you may or may not be looking for in a new audio companion for your workouts in 2017. 
Best Bluetooth Headphones for Working Out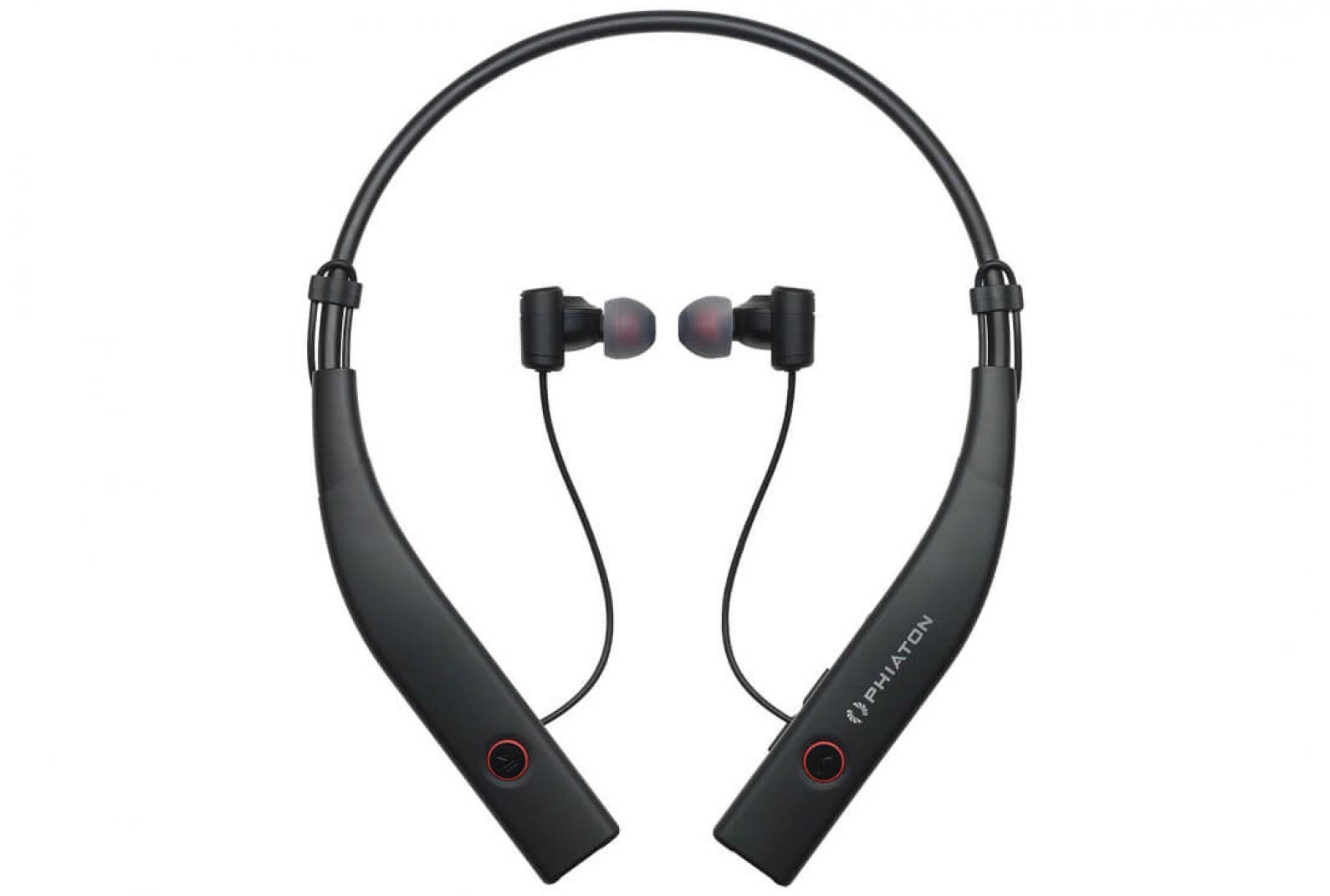 Feature Highlight: Noise Cancellation
The Phiaton BT 100 NC Wireless Headphones have noise cancellation that comes in handy at the gym. While better noise cancellation Bluetooth earbuds do exist, such as the Bose QuietControl 30, the Phiatons deliver the feature for a third of the price. I wouldn't try to use them in a busy cafe for the noise cancelling purpose but for light background noise at the gym, they did a great job.
I have never exercised with a set of headphones that was built around wearing something around my neck. For the most part, this design didn't bother me. However during more intense workouts I found that the left side would slip down my toward my chest a bit more. It reminded me that I was wearing something, and made its presence a bit more distracting than I would have liked. I enjoyed the simplicity of the buttons on the neckpiece however. With the play/pause button alone on the right side, and the noise-cancel, volume rocker, and call button on the left,  I was able to quickly memorize what was where. I also found the slots for storing the earbuds unnecessary and awkward to use. I really didn't find a need to tuck them away. I think it would have been a nice touch to receive some kind of case with these, since the wires are just kind of loose and apt to get caught on gym bag contents, or something like a seatbelt (it happened to me). Most earbuds, Bluetooth or not, come with some kind of case. The built in storage bays simply didn't do the job well enough, in my opinion.
The sound was clear and loud without any crazy exaggerated bass response. I generally listen to heavier music when I work out, and these headphones really stood up to my selection of metal. Mids and highs were very clean. Normal usage without noise cancellation allowed for about two weeks of battery life, but using the noise cancellation resulted in significant drain during the next charge cycle. The battery is officially rated for 7-12 hours. The Phiatons are water-resistant rated at IPX4, feel well-made, and come with four sets of silicone eartip sizes. The also include a wire for wired mode - very rare for Bluetooth earbuds. In terms of value, if you aren't attached to the noise-cancellation feature, you can likely find better sounding headphones at this price point.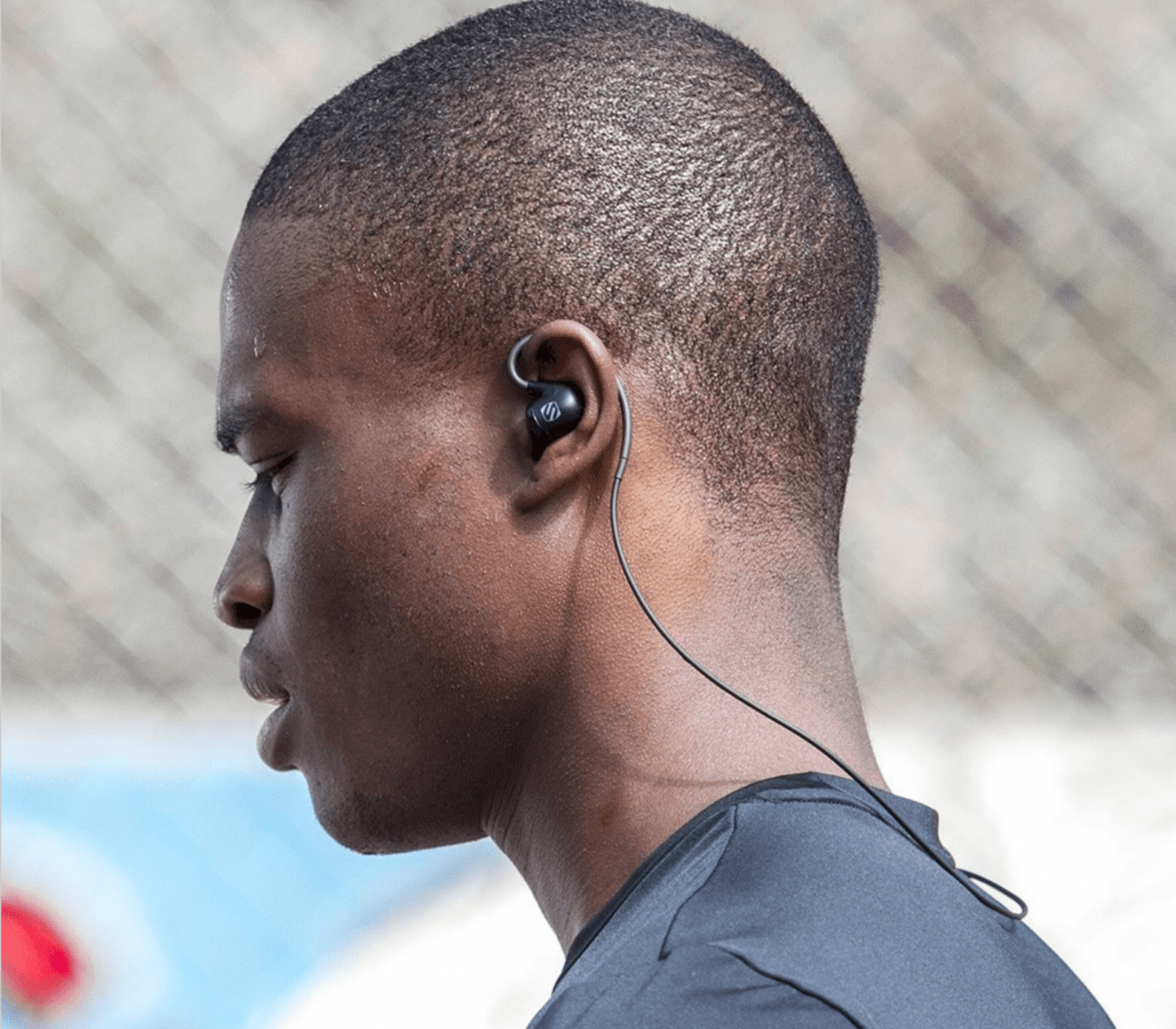 Feature Highlight: Lightweight
My favorite aspect of these headphones was how light they were. As I tested through the headphones in this article, I became more sensitive to the weight and fit of the headphones. I began to enjoy the sensation of feeling like I wasn't wearing anything on my ears at all. The Scosche SportFlex AIR headphones were the most impressive in delivering the weightless sensation. With such a light and simple design, they were also really easy to tuck away in a pocket or wear on my neck. Scosche includes a really luxe feeling mesh bag for storage to round out the convenience of its winning minimalist product.
The earhook design is part of what helps these headphones so much. Scosche made the hooks bendable, and paired with the contour of the earbuds, this allows for a very snug fit. Like most of the headphones on this list, I had to upgrade the eartip size to "Large" to get a good sound. I made the mistake of working out with the medium size on first and the sound was terrible, so be sure to get the right eartip fit. Scosche includes four eartip sizes. The final adjustment I made for a lightweight, barely noticeable headphone experience was to use the cord clip. I clipped the cord to hug the back of my head, and this prevented the cord slack from bouncing around. The only trouble with this was that it moved the control unit, and microphone, further away from my reach. My voice was barely audible when in this configuration, so that should be seriously considered. In fact, even when the cord is slack, the microphone is not very close to my mouth at all. Any phone call is going to require a hand to bring it closer to your mouth.

Feature Highlight: Sound
Beyond having an extremely comfortable fit and an impressively compact and convenient size, these headphones had my favorite sound profile. As I mentioned earlier, I generally listen to heavy music when I work out. The Victories handled the heavy drums with lots of crashes, loud and distorted guitars, and a significant amount of screaming really well. I also love heavy electronic music as well, such as Daft Punk or Glitch Mob. I didn't notice any distortion, even at maximum volume. These headphones handled my standard workout playlist so well, I decided to venture out into other music styles a bit more. I tried softer music, such as Bjork and Radiohead, and the dynamics held up.
I was very pleased with the sonic response for all of it. I've been a bass guitarist for 20 years, and sometimes I like a little more low in the mix, but I don't want the bass to overpower everything else.These headphones had enough of the PUNCH bass response that is fairly uncommon in headphones, but not so much that it was obnoxious. The mix was nuanced and clear, allowing highs and mids to mix well with some space between everything. I was literally disappointed when I had to take them off after the workouts. On top of having great sound, they also deliver that sound while blocking nearly all ambient noise without noise cancellation.
The fit on these was absolutely excellent too. It reminded me of the V-Moda Forzas, only with a larger profile. The exterior of the earbud sticks out a bit, away from the head, so that was something that would rub my hood or hit my arms when I raised them over my head. The cable is rubber, but like the Scosche headphones it allowed for behind the head clipping. Unlike the Scosche headphones however, I could use the microphone and controller without feeling like it was too far away. Between the heavier weight though, and the rubber cord, I could definitely notice them on my head.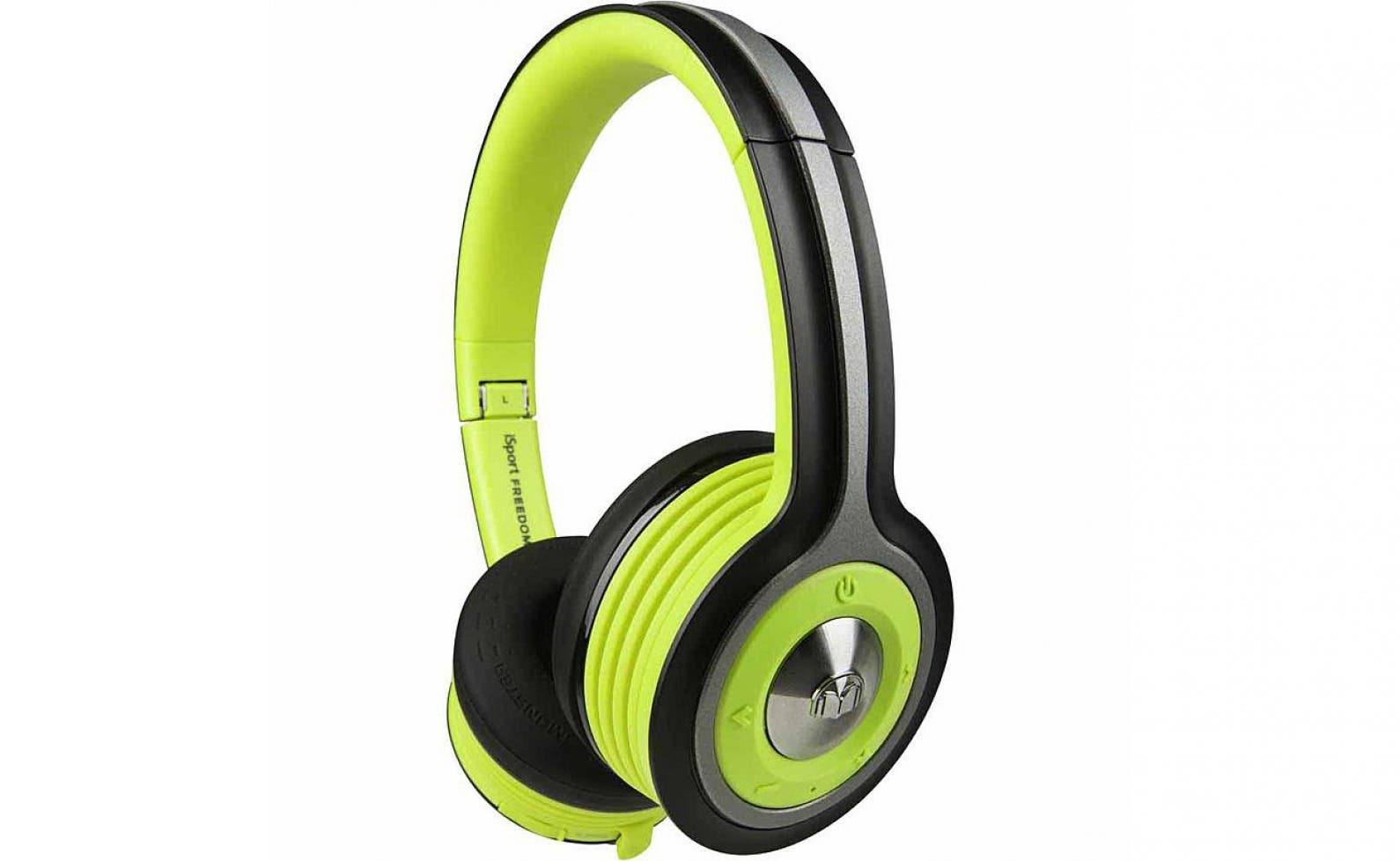 Feature Highlight: Innovation
The iSport Freedom Wireless Bluetooth On-Ear Sport Headphones by Monster are the only headphones of their kind. The touch responsive headband control panel works well, and feels like something out of the movie Minority Report. The water- and sweat-resistant construction is rubberized, and allows for rinsing under a faucet. The neon green has reflective strips so you glow in daytime or night. Currently, there are no other on-ear headphones that are so well designed to handle the conditions of a fierce workout. If you're into working out and you're into on-ear headphones, this build is best in class.
Other features such as compact folding for convenient carry, and an included audio cord for direct hookup to a device are expected by those familiar with this class of headphones. For general workouts, these stayed in place without much trouble. They are very light for on-ear headphones, but still have a solid build quality. However if you're doing fierce cross-training with jerky motions, you may find these bouncing around a little. Sweat wasn't much of an issue in workouts up to about 30 minutes, but after that the sweat started to make the earcups a bit slippery.
The one category I wish was just a little better on these was the sound. For $200, there is a massive selection of headphones that sound better than these do. For the casual listener who is a lover of on-ear headphones and exercise, these might be just fine. I really felt they could have done more for the sound profile. The bass response is underwhelming. The mids stand out a bit too much without adding clarity of the highs. I listened to my standard playlist of metal, prog-rock, classical, jazz, and deep house music. This list contains nearly every dynamic on the spectrums of human and audiophile hearing alike. Unfortunately, the Freedoms fell just short of delivering for me. Particularly when outdoors, the sound quality took a significant hit. Ambient noise was a noticeable problem both indoors and outdoors, but especially outdoors. For some, this could be considered a preference, but for me it is worth mentioning.
I am definitely not the market for these headphones, personally. As I stated earlier in this article, I am not a fan of being hyper-aware of my headphones. I don't mind when I'm gaming or editing music, but when I'm exercising, distractions really seem to get to me. For the price tag, I'd sooner get Monster's in-ear iSport Victory at half the price.
Feature Highlight: Heart Rate Monitor
The marriage of an innovative set of earbuds with the functionality of a FitBit is a leap into the future for wireless headphones. Once I was able to get the right fit using the eartips and earwings, the heart rate monitor in the Jabra Elites didn't miss a beat. Finding the right size did take a little extra time, since Jabra includes eartips in both silicone and foam, in three sizes, along with the rubber earwings in three sizes, but it was worth it. As skeptical as I was about these staying in my ears, they were as snug as any other pair I tested. Also, the fit is very important to the heart rate monitor functionality as well as the sound; so again, zero in on what creates a tight seal for your ears before anything else.
When I first opened the box, I wasn't careful enough and some of the eartips fell out. You may want to take it extra slow when opening the box for this reason. I was pleased when I found a small black box that seemed like just a carrying case and would have been sleek on its own. But on closer inspection, I realized it also charged the earbuds themselves. This case is COOL. With the buds docked in place, they light up happily as they're charged. This is also where the buds are going to receive their first firmware update, which I highly recommend doing right away as it improves heart rate monitor functionality. The box itself holds enough juice to charge the buds two to three times, which is nice because the Jabra Elites are only rated for about three hours of play time. The connection stayed stable with these; however, there were a few instances where the left earbud didn't have any sound. I had to shut them off and reset the Bluetooth connection. Beyond that though, I didn't experience any connection problems.
The Jabra Elites connect with a variety of apps to feed your heart rate data into for use. However, Jabra has developed a rather advanced app of its own to work specifically with the Elites. You can find the app listed under Jabra Sport Life in the App Store. Without turning this into an app review, I just want to highlight some of what I really liked about this app. First, there are fitness assessments you can use to get a baseline for where you're starting. One is called the V02 Max assessment, and measures you at a run for 15 minutes to gauge your general health. Another test has to do with High-Intensity Interval Training, which has been proven as one of the best exercises known to improve actual health. 
Beyond the innovative functionality of the Jabra Elites as a worthy competitor to the AirPods, the sound is very impressive. Bass response was punchy and nuanced, mids and highs mixed well without much distance, and it felt like the kind of rich audio experience I would get from a set of studio monitor headphones. I was very happy with the sound. Since the AirPods have been available, a number of competitors to follow the zero-wire trend set by Apple in Fall 2016. Motorola released the VerveOnes, Samsung came forward with the Galaxy Gear IconX, and Erato followed with the Apollo 7. The Jabra Elites are the heaviest hitters in the weigh-in for our wallets at $249. But for a zero-wire set of earbuds that are guaranteed sealed against water under a three-year warranty while also providing top-notch sound and custom fit with an exclusive app that even tracks your reps, these are the high-end pick without a doubt.
Best Wired Workout Headphones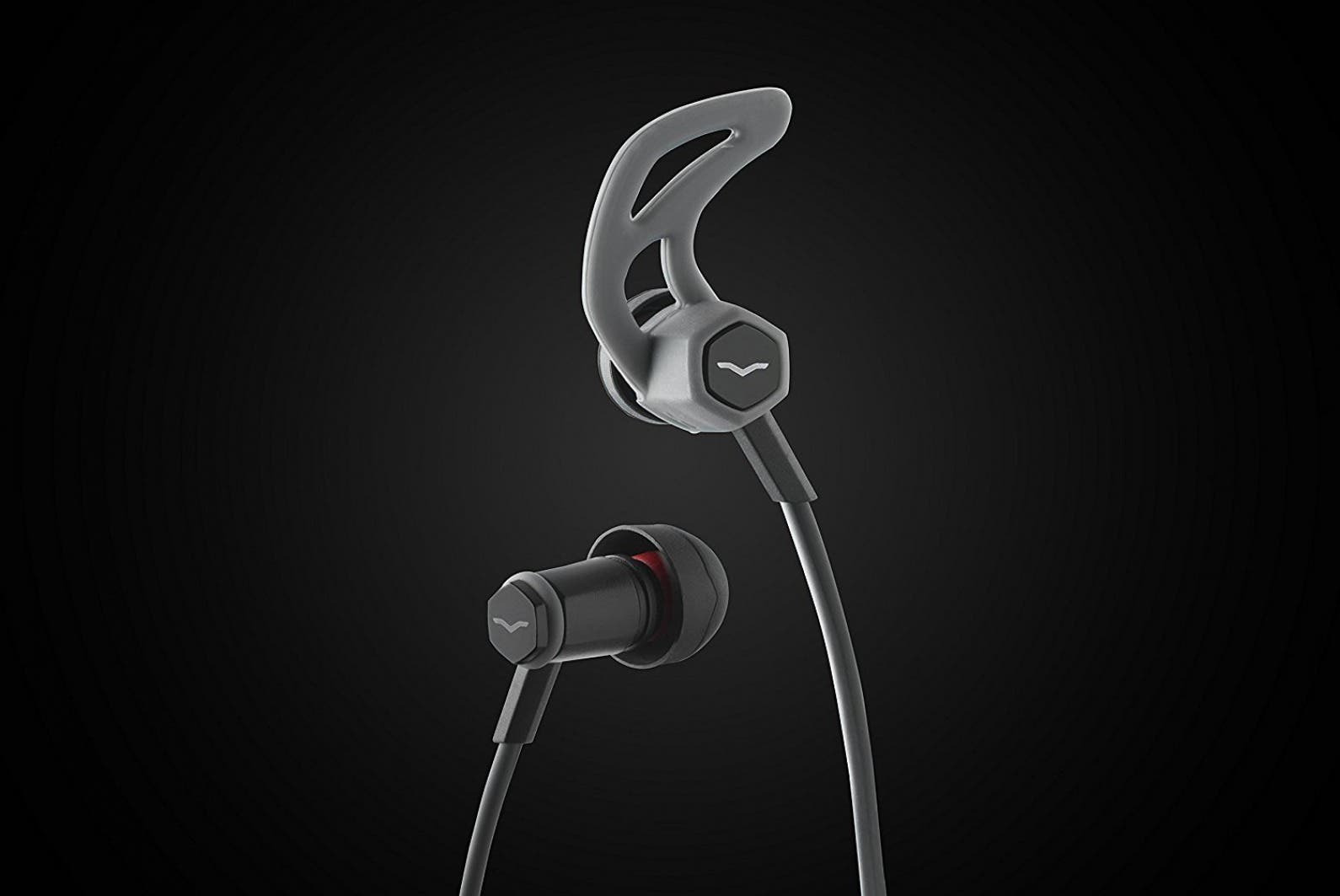 Feature Highlight: Comfort
The V-Moda Forza In-Ear Headphones feel like wearing nothing at all. They are incredibly light, and with the three included sizes (small, medium, and large) for silicon ear buds and silicon wings, it is quite easy to find a custom configuration. Another attachment, the ear hook, allows for another level of custom fit. Both the wings and the hooks are extremely well made and comfortable. I ran with these, a lot. And while they're wired, I'm used to running a wire under my shirt, so it didn't get in my way much. I've always used both wired and wireless, depending on the activity. It's important to note that these do not come with a lightning connector for those who have an iPhone 7 or 7 Plus.
Beyond being supremely comfortable, these sport headphones scream style. Everything about them from their packaging to the options for custom 3D printed earbud caps (available through V-Moda's website) makes these headphones the most customizable I've ever seen. The sound quality also stands up very well for headphones in the $100 price range. 5.8 mm micro drivers have a frequency range that extends beyond 40kHz. As with other V-moda models, the Forza are engineered and tested beyond Military-Level Quality MIL-STD-105 test standards. Bass response was excellent, but not overbearing. Clarity was clean and direct. The only trouble I had with the sound was the wires rubbing against my clothes creating a kind of "scuffing" sound. I tried over, under, and through my clothes but couldn't find a position for them to quiet down completely. I ultimately found a way to prop them up in my track collar, and that was the most quiet. The Forza In-Ears are also mechanically sealed against sweat and moisture, making them very much a sports-ready headphone.
V-Moda is known worldwide by DJs as a standard of quality. The company is based in Milano, the style capital of the world, and it has built a reputation for being more than just a basic headphone maker. V-Moda has established a dedicated following that continues to expand due to moves like its cross-generation customization options. In a world where making attachments and add ons that fit only one or two generations, V-Moda has openly stated its commitment to cross-generation support. This unconventional approach to design is especially important when you have the option to add gold and platinum caps to these headphones at up to $1000. For me, dedication to design that gives me confidence that I won't be tossing out my customized add-ons, whether they're etched gold or not.