By

Leanne Hays
Tue, 09/15/2020
When I wrote my iPad rumor roundup last month, I included the idea that Apple had a 10.8-inch edge-to-edge display iPad or iPad Air ready to reveal. That rumor proves to have been a little right and a little wrong! Today Apple unveiled the fourth-generation iPad Air, and it includes a 10.9-inch, Liquid Retina edge-to-edge display, a first for the iPad Air family. Besides this all-screen display, what's new about the fourth-gen iPad Air? In a word, lots. Let's go over all the improvements Apple has made to the iPad Air, including its A14 Bionic Chip with Neural Engine, removal of the Home button, new display upgrades, camera and audio upgrades, and more.   
Related: Apple Announces the 8th-Generation iPad: Faster, More Powerful, Still Affordable 
How Much Does the 4-Gen iPad Air Cost & When Can I Buy It?
Availability:

Discover your iPhone's hidden features
Get one daily tip each day (with screenshots and clear instructions) so you can master your iPhone in just one minute a day.
Available in October 2020
Price:
iPad Air (Wi-Fi) starts at $599
iPad Air (Wi-Fi + Cellular) starts at $729
Includes a free year of Apple TV+ 
Find out if you qualify for the Apple Store education discount.
What's the Difference between the 3rd-Gen iPad Air & 4th-Gen iPad Air?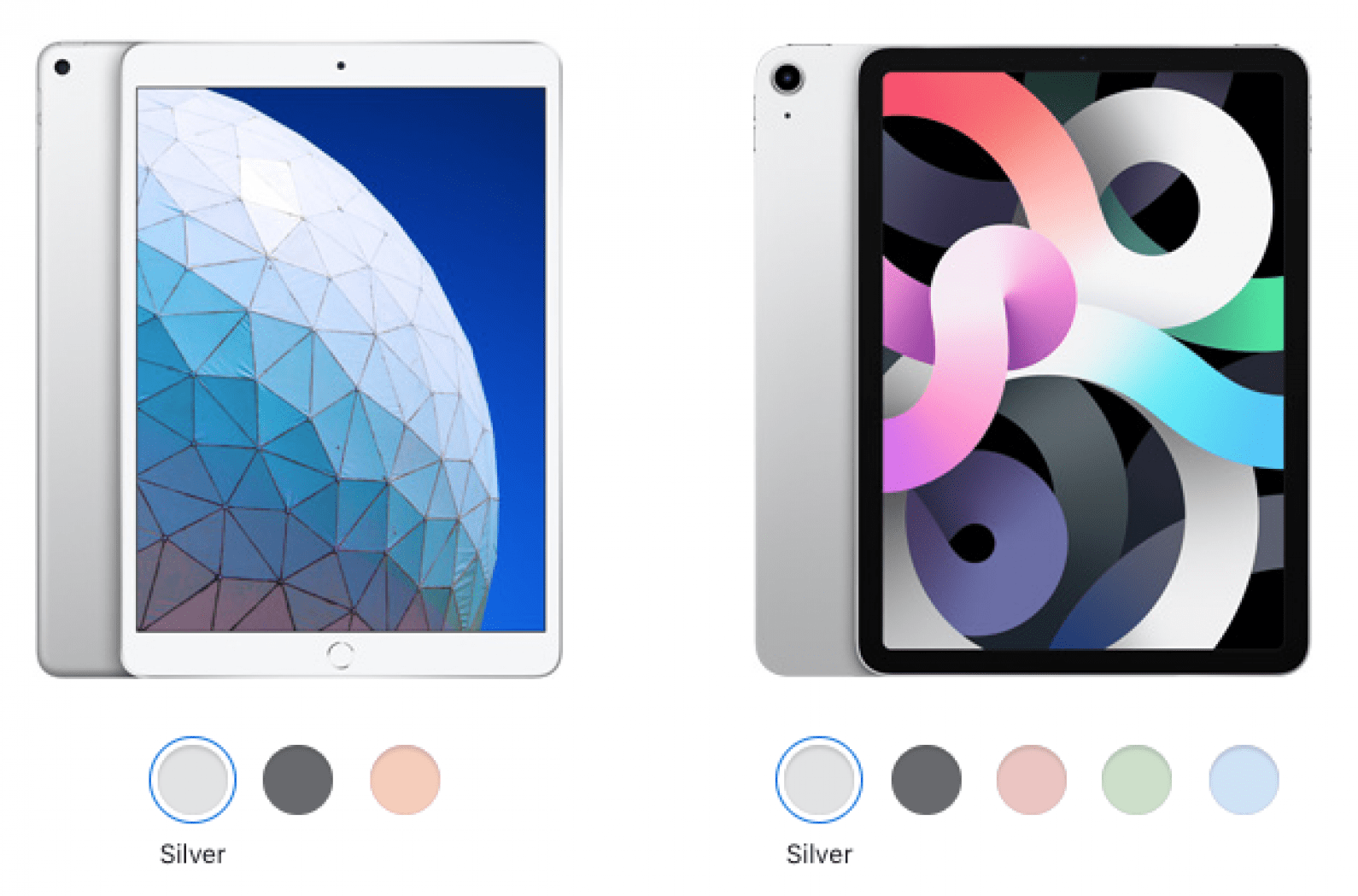 First, let's go over what these two iPad generations have in common. The third- and fourth-generation iPad Air models are almost indistinguishable in size and weight, can both be purchased in 64 or 256 GB configurations, and are priced the same. That's where the similarities end, though, because Apple has completely redesigned the iPad Air this time around. 
New Colors for the 4th-Generation iPad Air
I'll mention this early on, because lots of people seem really excited about it. The new iPad Air comes in the standard silver, space gray, and rose gold that we're used to, but also a few Easter egg colors. If you're so inclined, you can purchase a Green or Sky Blue iPad Air this time around (although you'll probably put it in a case and not see the color, anyway). 
No More Home Button, Yet No Face ID
The fourth-gen Air has stretched from a 10.5-inch to a 10.9-inch display without an increase in chassis size due to the elimination of the Home button. In spite of the lack of a Home button, the new iPad Air uses Touch ID (a major boon in the era of face masks). Rather than including the rumored on-screen Touch ID feature, Apple revealed a surprise; the company calls it next-generation Touch ID. New iPad Air owners can simply press their finger to the button on the top of their iPad and, narrow though it is, their fingerprint is detected, allowing them to log into apps, unlock their tablet, or make Apple Pay purchases.  
It remains to be seen whether or not Apple will extend this upgrade to future iPads and iPhones. I hope they will, at least until a reliable COVID-19 vaccine is developed and distributed. After all, for those of us with Face ID devices, wearing a mask means we have to enter our passwords every time we need to access our devices!
Display Upgrades
In addition to increasing screen size, Apple has improved display quality from the already crisp and clear True Tone Retina Display featured in the third-generation iPad Air. The fourth-generation Air has a display quality formerly limited to the iPad Pro line; a Multi Touch, True Tone, Liquid Retina Display with 3.8 million pixels, PS wide color gamut, full lamination, and anti-reflective coating. 
Camera, Audio & Wi-Fi Upgrades
The iPad Air includes a 7MP front-facing FaceTime HD camera, and now also offers a 12MP rear camera, just like the iPad Pro! This allows for 4K video capture and higher-resolution still photos. The fourth-generation Air even offers stereo speakers when held in landscape mode, which should make for some enjoyable times while playing games and watching videos. You'll have a top-of-the-line Wi-Fi experience too, because the latest Air offers Wi-Fi 6 performance, and 60 percent faster LTE connectivity, as well.
iPad Air 4th-Generation Compatibility
The new iPad Air is compatible with the second-generation Apple Pencil, the Magic Keyboard, the Smart Keyboard Folio, and new Smart Folio covers. Interestingly, the new Air also features a USB-C port capable of up to 5 Gbps data transfer. This means users can connect their iPad to hard drives, cameras, and external monitors up to 4K without any adapters. 
A14 Bionic Chip with Neural Engine
The other big difference between these two iPad generations is in processing speed and power. The third-generation iPad Air featured the A12 Bionic Fusion Chip with Neural Engine, whereas the fourth-gen includes the A14 Bionic Chip with Neural Engine. The A12 Chip is already quite impressive, but the A14 offers a massive performance boost beyond even the A12's impressive capabilities. Apple reports that the A14 is the first in the industry constructed using five nanometer process technology on a scale so small its dimensions are measured in atoms. 11.8 billion transistors are packed into the A14, part of a 16-core Neural Engine that is twice as fast, with more powerful machine learning, capable of performing 11 trillion operations per second. This means the iPad Air fourth generation offers 30 percent faster graphics, and up to two times faster graphics performance for complicated tasks like editing 4k videos.
Who Should Buy the 4th-Generation iPad Air? 
There are iPad apps available for every kind of art and editing you can imagine, but not every iPad has the speed or power to make the most of them. The fourth-generation iPad Air can handle image recognition, photo editing, motion analysis, natural language learning, and more. Anyone who loves playing immersive video games or making art will be thrilled by this latest iPad Air, which offers console-level graphics and can handle up to a six-player multiplayer game.
The fourth-generation iPad Air offers great performance at a middle of the road price. With the newest iPad Pros ringing in at over $1k, it's great to see a lower-priced option with high-end features.