By

Leanne Hays
Updated 03/27/2023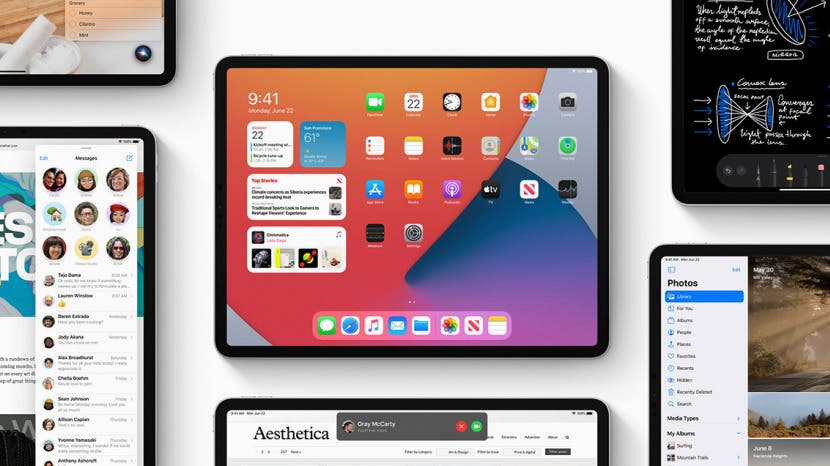 The annual fall Apple event is on the way, and we're looking forward to the announcement of a new iPad or two, maybe even three or four! This year leaves us with more questions than an Apple announcement would usually generate, since there's Covid-19 to consider. We've gotten used to Apple announcing its new iPhone and iPad lineup in the second week of September, and they're sticking to this trend; this year's announcement is scheduled for September 15, and will be live, but most likely another all-virtual event. Now, let's get to the hardware. It's a given that Apple will release at least one new iPad, but we've heard that it could be an iPad, an iPad Pro, an iPad Air, an iPad mini, or even all four! Let's go over the iPad rumors we've collected about the upcoming Apple announcement, and what we can expect from the iPad(s) that will make their debut. Also, be sure to catch our fall announcement coverage, we'll be commenting live in our Facebook group, and record a special podcast episode right afterward!
Related: Apple Announces New iPad Pro & Magic Keyboard with Trackpad
When Is the Fall Apple Event Happening?
In an earnings call with investors on July 30, Apple CFO Luca Maestri revealed that "Last year we started selling new iPhones in late September, this year we expect supply to be available a few weeks later". New iPhones usually ship a few weeks after their announcement at the fall Apple event, but, regardless of when the phones ship, the announcement will take place on Tuesday, September 15.  
Apple leaker John Prosser assured us via Twitter that the fall announcement would be pushed back until October, and that the new iPhones won't ship until as late as November. He's been proven wrong about the announcement, but we still don't know about those ship dates!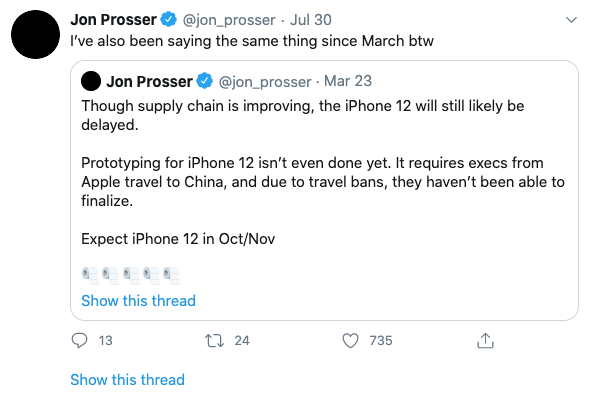 iPad Rumors: What Can We Expect from the New iPad, iPad Pro & More?
What can we expect from any fall 2020 iPads when they finally arrive? There's lots of ground to cover, so let's begin with Apple's most-discussed upcoming iPad, the new iPad Pro. 
New iPad Pro 2020?
Apple announced a new iPad Pro in March, complete with a 3D scanning camera, the A12Z Bionic Processor, 6GB of RAM, edge-to-edge Liquid Retina display, dual camera, Pro Audio system, and compatibility with the new Magic Keyboard with trackpad. Despite this recent iPad Pro release, China's Economic Daily reports that the iPad Pro 12.9-inch 5th generation was set to be announced this fall. Unfortunately, signs are pointing to a delay in that release. Due to supply chain problems brought on by Covid-19, Economic Daily reports that Apple has pushed back the 5th-gen release date to spring 2021.
Let's go over a few features of the iPad Pro 5th generation, despite the rumored delay. After all, Apple may surprise everyone and debut the tablet on time.
An iPad with 5G?  
5G promises mobile speeds more than 25 times faster than 4G, along with less latency, and the ability to connect more devices. Apple customers have been anticipating iPhones with 5G capability, and, why should iPads be left behind? The iPad Pro 12.9-inch 5th generation is rumored to be 5G capable, although, as stated above, it may be released next year rather than this fall. 
iPad Pro Display
According to 9to5 Mac, TF Securities' Ming-Chi Kuo has revealed that the new iPad Pro, as well as upcoming MacBook models, may feature mini-LED displays. These tiny LEDs, measuring less than 0.2 mm each, will be packed in at a density of around 10,000 per screen. Though expensive, mini-LED screens will offer a comparable color-range to OLED displays, while avoiding ghost image, or screen burn-in issues. Kuo feels that this update may not make it into the iPad Pro 5th generation, but will definitely be included by the 6th generation iPad Pro. 
New iPad mini
The iPad mini 5th generation made its debut in 2019, but as with the iPad Pro, that's not going to stop Apple from offering the 6th-generation mini right on its heels. The iPad mini has long been a favorite among those who enjoy a compact tablet, and the 5th generation mini packs a lot of value into a small package. Starting at just $399, the 5th-generation mini offers a Retina display, A12 Bionic chip, and first-generation Apple Pencil support, among other features. 
According to Apple Insider, prognosticator Ming-Chi Kuo reported in May that the 6th-generation iPad mini is on the way. The latest in the mini line may be announced at the Fall Apple event, but it's also likely that we'll have to wait for Spring or even Summer of 2021 if supply-chain issues persist. In any case, what improvements can we expect to see from the new mini?
Ming-Chi Kuo expects an edge-to-edge display for this iteration of the iPad mini, which should bring the display size up from 7.9 inches to between 8.5 and 9 inches without an increase in chassis size. This, of course, will mean the removal of the Home button, which will require either Face ID, or an on-screen Touch ID feature as a substitute. If Apple goes with Face ID, that will require an upgrade to a TruDepth camera system. I'm hoping to see a chip upgrade and second-generation Apple Pencil support, as well. 
New iPad Air for 2020
Another iPad is slated for 2020, although it's not yet clear whether it will be an iPad or an iPad Air. Once again, this prediction comes from Ming-Chi Kuo, this time, via MacWorld. The latest, 7th-generation iPad has a 10.2-inch display, and the current iPad Air 3rd generation has a 10.5-inch display. Ming-Chi Kuo reports that one of the new iPads this year features a 10.8-inch display, although he hasn't detailed whether it will be the standard iPad or the Air.
Whether this expansion will be accomplished by switching to an edge-to-edge display is also not a sure thing.  If that's the route Apple takes, it will once again necessitate an upgrade to the TruDepth camera system or an on-screen Touch ID feature. 
Beyond the screen size prediction, Ming-Chi Kuo reveals that this upgraded iPad will be one of Apple's more affordable tablets, and that it will also feature an upgraded processor. There are also rumblings that this tablet, if it's an updated iPad Air, will switch from a Lightning to a USB-C connector. It also seems likely that Tru Tone display will come to the standard iPad, since the latest iPad Pro, mini, and Air already include the feature. 
One Last iPad 2020 Rumor
20W Charger
Apple Insider revealed that a new, faster 20-watt charger had been mentioned in Apple's regulatory filings. Although it's pure speculation at this point, many hope that the new charger will be included with the new iPad lineup.
Which New iPad Features Are You Hoping for in 2020?
Have you heard any iPad rumors that I haven't mentioned? Are you planning on purchasing a new iPad after the Fall Apple event, and if so, which one? Let me know in the comments.
Check out our free Tip of the Day for helpful Apple device tutorials. Next, learn how to set up and iPad for work.