By

Leanne Hays
Tue, 02/04/2020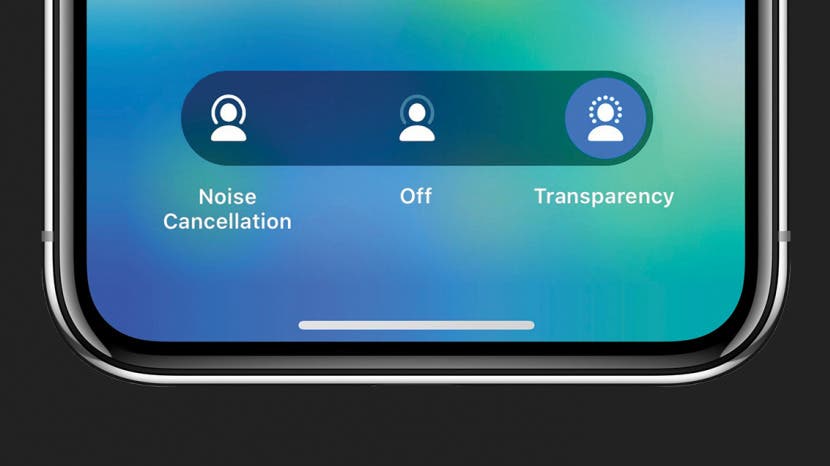 The AirPods Pro, Apple's latest wireless, Bluetooth earbuds, have more noise-canceling options than previous generations. AirPods Pro owners can decide how much noise reduction they'd like by choosing between three noise-control modes: Active Noise Cancellation, Transparency mode, and Off. There are several ways to switch between these modes, either directly from your AirPods, or by using your paired device, whether it be your iPhone, iPad, Mac, or Apple Watch. Let's get started learning how to turn on and switch between AirPods Pro noise-canceling settings on all your Apple devices. 
Related: Apple AirPods, AirPods 2 & AirPods Pro Guide: Charging, Pairing, Setting Up, Using, More 
What's the Difference between Noise Canceling & Transparency Mode?
With Active Noise Cancellation, the outward-facing external microphone of your AirPods Pro detects sounds in the environment and counters it with a noise of the same amplitude, but an inverted phase, thereby canceling it out. The inward-facing microphone performs the same function, but for noises like chewing or breathing. Transparency mode, on the other hand, lets outside sound through, so you're tuned in to your surroundings. 

Discover your iPhone's hidden features
Get a daily tip (with screenshots and clear instructions) so you can master your iPhone in just one minute a day.
AirPods Pro Fit Test
For noise-canceling settings to work, your AirPods Pro need to fit properly. To that end, you'll want to do a fit test to see if you should use the small, medium, or large ear tips included with your earbuds. Here's how:
Test the ear tips to see which set feels the most comfortable, and which set produces the clearest, best sound.
When you've found your favorite set, open the Settings app, then tap Bluetooth on your iOS device.

Tap the info icon next to your AirPods Pro in the Bluetooth device list.
Tap Ear Tip Fit Test (only available for iOS 13.2 and later).


 

Tap Continue, then tap the Play icon.
Your device may suggest that you adjust your earbuds, or try a different size of eartips. You may need a different size of ear tip for each ear.

Once you've adjusted your earbud or changed the ear tip, tap the Play icon again to retest your fit. 
When you've finished the test to your satisfaction, tap Done.


 
AirPods Pro Controls: Switch Between Noise-Control Modes
To switch between noise-control modes directly from your AirPods Pro, all you need to do is press and hold the Force Sensor on the stem of your AirPods until you hear a chime.
If you're wearing just one earbud, this will switch modes between Transparency and Off. If you have both earbuds in, you can switch back and forth between Active Noise Cancellation and Transparency modes.
It's also possible to change these AirPods Settings by going into the Settings app of your iPhone or iPad, tapping Bluetooth, choosing your AirPods, and changing which AirPod Pro controls which feature. 
Use Siri to Adjust Your AirPods Pro Noise-Cancelling Settings
For a hands-free way to adjust the noise-control settings on your AirPods Pro, use Siri! Just say, "Hey, Siri, turn on (or off) Noise Cancellation". You can also say, "Hey Siri, turn on (or off) Transparency mode". Easy!
Change Your AirPods Pro Noise-Control Settings via Your iPhone or iPad
If you're more comfortable changing your AirPods settings with your iPhone or iPad, it's possible to do so using the Control Center. To do this:
Open your iPhone or iPad's Control Center. 
With both AirPods Pro in your ears, touch and hold the volume slider until the noise-control options appear.

Tap Noise Cancellation, Off, or Transparency.
​

 
How to Switch Between Noise-Control Mode in Settings
If you'd rather use Settings to change your AirPods Pro noise-control mode:
Open the Settings app on your iPhone or iPad.
Tap Bluetooth.


 

Tap the info icon next to your AirPods Pro.
Under Noise Control, tap Noise Cancellation, Off, or Transparency.
​

How to Switch between Noise-Control Modes with Your Apple Watch
If you're using your AirPods Pro to stream or control audio through your Apple Watch, it's an easy, two-step process.
Tap the AirPlay icon on the audio screen.


 
Tap Off, Noise Cancellation, or Off in the Noise Control menu.


That's it! Now you know how to change noise-control settings on all your Apple devices!