By

Kevin McNeish
Thu, 04/03/2014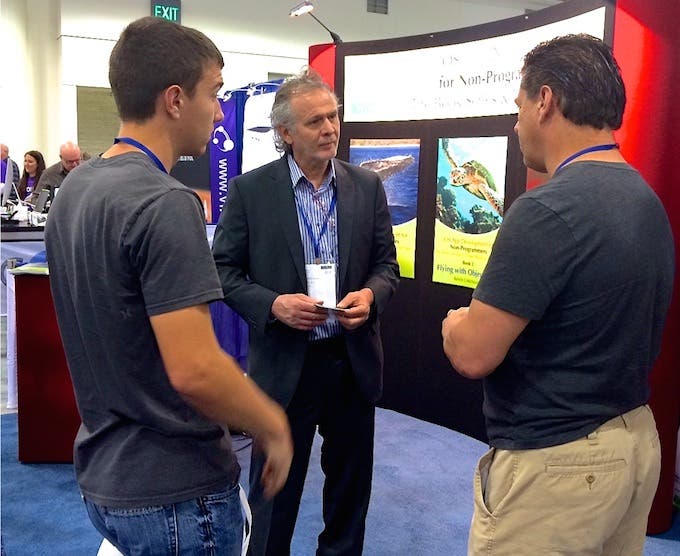 I'm finally back at the helm after attending last week's Macworld / iWorld 2014 conference at the Moscone Center in San Francisco! My company had a booth at Macworld again this year, selling books in my iOS App Development for Non-Programmers series, and it was the best conference for us to date! There was a lot of positive energy at the conference and we met lots of great people who are interested in getting into iOS app development.
Here are some of the highlights of Macworld / iWorld 2014.
How to NOT Get Your App Reviewed by Macworld Editors
I didn't get to see many sessions at Macworld since I was at our booth most of the time, but I did catch some of the Macworld Editor panel on the last day of the conference. One of the attendees asked the panel a great question: "How can I get my app reviewed by the editorial staff at Macworld?" One of the editors stated that he currently has over eight thousand requests for reviews sitting in his in box, so it's extremely difficult to sift through all the requests even if he reviews two or three apps each day. He offered the suggestion that app developers provide a bulleted list at the beginning of their email stating clearly what the app does, what its special features are, and how it's different from other apps in the App Store.
One of the senior editors generated some laughs when he stated that he has a filter on his in box that deletes any email containing the phrases "game-changing," "innovative," or "groundbreaking".
SCOTTEVEST "Geek-Wear"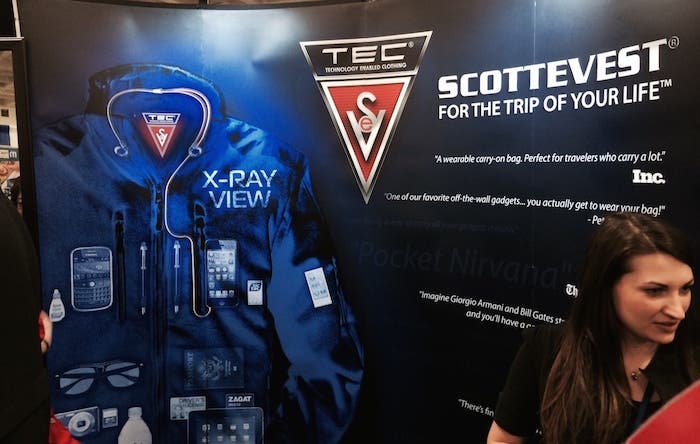 There was a lot of excitement at the SCOTTEVEST booth which offered a vest ($145) with 42 pockets, including two pockets large enough to hold an iPad. The vest also includes a pocket lined with RFID-blocking material that helps protect your credit cards and passports from theft by RFID skimmers. When I first heard about the vest, I thought it would look bulky and be obvious to the rest of the world that you were carrying lots of gear. However, one of the workers at our booth bought one and I was surprised at how light and trim it is.
Sheldon Cooper's Dream Comes True with Double Robotics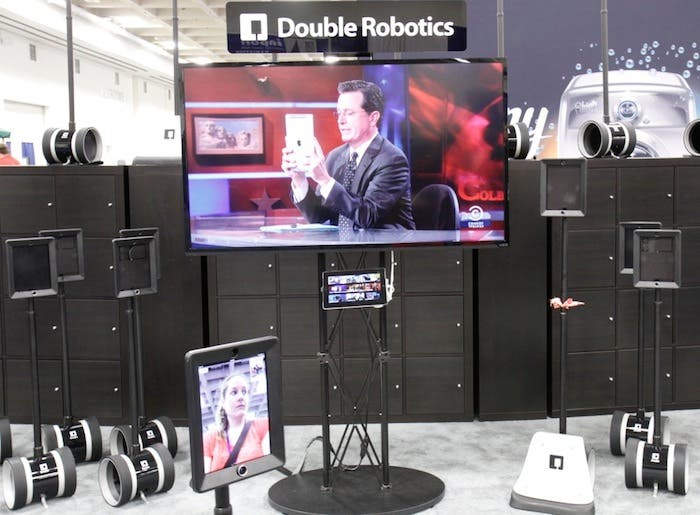 If you watched the Big Bang Theory episode where Sheldon Cooper creates a virtual presence robot for himself and you wondered where you could get your hands on one for yourself, you're in luck. Double Robotics sells a $2,499 remote-controlled, mobile teleconferencing robot that allows you to be "present" in a remote location. 
The unit is equipped with an iPad that is used to display a streaming video of your face, allowing others to see you as you talk to them. It's also equipped with a set of wheels that you can move forward, backward or rotate with the Double app running on an iOS device. I found Double easy to operate and responsive to the touch interface, not to mention a lot of fun to use. Since the unit only weighs 15 pounds, you don't have to worry about wreaking havoc with your Double when you bump into objects at a remote location.
Double Robotics bills the unit as "the ultimate tool for telecommuting" and lists companies such as Google, Coca Cola, ebay, and Twitter as their customers.
What Your Cat's Doing When You're not Home
One of the products I was impressed with, simplicam ($149.99) from Closeli, won a Macworld Best in Show award. For those of us who travel frequently and wonder if the cat is plotting our demise or the dogs are really playing poker while we're gone, simplicam allows you to see and hear what happens in your home on your smartphone, tablet, or computer.
One of its most impressive features is face detection, which can tell the difference between your pet's movements and the presence of a human face. Facial recognition (who the face belongs to) is an upcoming feature. Note that facial detection is only available when you subscribe to Closeli's recording services.
Another company offering a similar product, but more specifically targeted at monitoring your pets while you're gone, is Petcube ($199). It has the added feature of a laser pointer on a movable platform that you can control from their mobile app so you can play with your cat when you're not home.
Motivate Your Kids to Do Their Chores with Chore-inator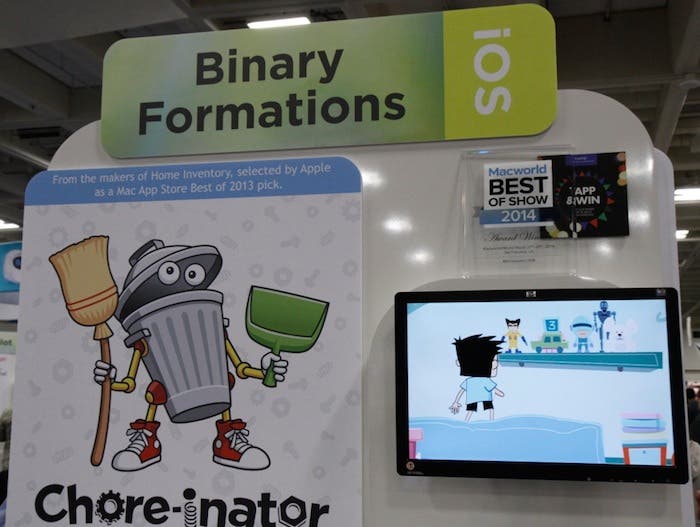 If you have kids, you know it can be a real struggle to get them to do their chores without constantly reminding them. Enter the Chore-inator app.
This app also won the Macworld 2014 Best In Show award, and for good reason. Chore-inator is an iPhone / iPad app that uses positive reinforcement (rewards) to get kids motivated to do their chores. It's an image-centric app, so it's easy to use for kids of all ages. Parents can set up a set of chores and assign them to one or more child. It has an easy interface for setting up the day and frequency of a particular chore, and even allows you to create "floating" chores that can be performed any time during the week.
I personally like the feature that allows a child to take a picture of a completed chore to be reviewed by a parent (a child's opinion of "my room is clean" is often very different than a parent's opinion).
Smooth Out Your Shaky iOS Videos
We all have our share of shaky videos that we have taken on our iPhones and iPads. The Emulsio app by Creaceed does an incredible job of taking the jitters out of your shaky iOS videos. You can import iOS videos or any other videos taken by an H.264 camera.
One of the features I like best is the fact that Emulsio takes advantage of the 64-bit architecture of the iPhone 5s and iPad Air to double the performance of the app on these devices.
The app is free for editing videos that are up to 30 seconds in length. For longer videos, you can purchase the Pro Pack (just $2).
Conclusion
Without a doubt, the Macworld conference is much smaller than it was in it's heyday, but it's still a lot of fun to attend the conference and meet lots of great Apple enthusiasts as well as see new and up-and-coming Apple products first hand.