By

Becca Ludlum
Fri, 06/02/2017

* This post is part of iPhone Life's Tip of the Day newsletter. Sign Up. *
There are a few different ways to leave a Family Sharing group, however, there are some rules you should be aware of before doing so. This tip will show you how easy it is to leave a Family Sharing group, then tell you about Apple's Family Sharing stipulations.
Once you leave Family Sharing you will lose access to most content purchased by other members of that Family Group, including in-app purchases, movies, books, music, and iCloud storage family plan.
If you are a family member over age 13 who wants to remove yourself from a Family Sharing group, go to Settings, tap iCloud and tap your name. Next, tap Leave Family Sharing. That's all there is to it!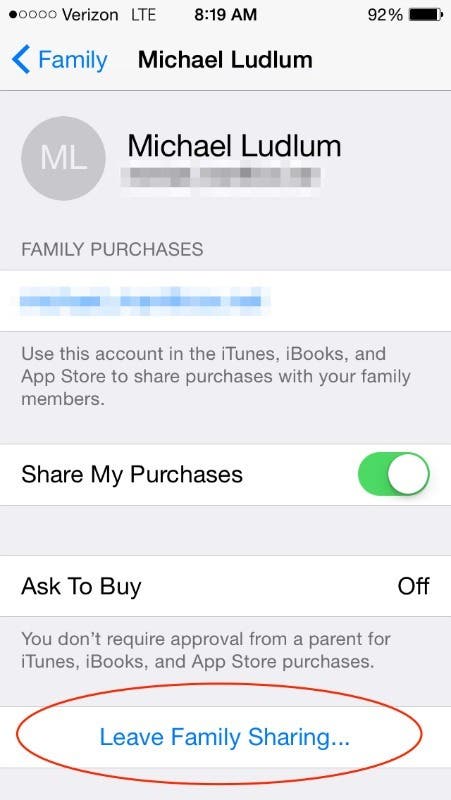 If you are the Family Organizer, you will not see the Leave Family Sharing option. Instead, you will have the option to Stop Sharing. Selecting this option will disband the Family Group. It's important to note that if you have family members who are under age 13, you will need to transfer them to a different Family Group before you can stop sharing.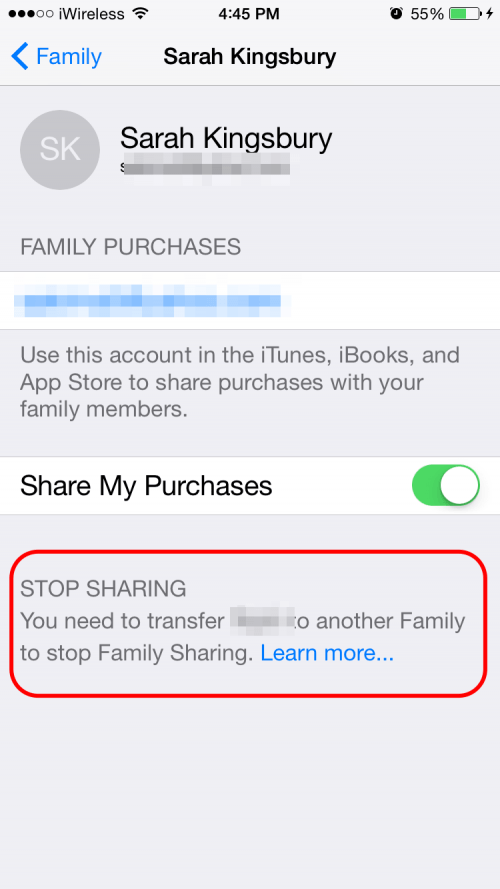 If you are under 13, you can be transferred to another Family Group by being invited to join by that group's organizer—as long as the family organizer of your current Family Group approves it.
Here is some important information about Family Sharing:
After you leave a family group, you can join or create a new one, but you may only switch family groups once every year.

Family members over the age of 13 may leave a Family Sharing group at any time, and the group organizer may remove members over the age of 13 at any time.

Children under the age of 13 cannot be removed from a Family group; they can only be transferred to a different Family group.

If the Family Organizer stops sharing or leaves the group, the Family group will be disbanded.
As you can see, leaving a Family group is easy. Take care to not unintentionally disband your group!