By

Daniel Rasmus
Updated 02/26/2015
This case round-up looks at the first big wave of iPhone 6 cases that I received after the Consumer Electronics Show. Keep in mind that price doesn't necessarily reflect the quality or protection attributes of the cases. It is very difficult to compare cases to each other because you need to include your own personal use case in the equation. As you read these reviews, think about the following questions:
Do I drop my phone a lot?
Do I drop my phone occasionally, but usually from a pretty good distance?
Do I want the case to complement the iPhone's design, or just protect it?
Do I want to protect my iPhone completely (front-and-rear)?
Do I want to protect my iPhone from the elements (water, dust, dirt, etc.)
Do I want to use my iPhone case for something other than protecting my iPhone? 

If so, d

o I want a case that also holds cards, money or ID? 

Do I want a case that will keep my iPhone charged longer (and I'm willing to trade-off weight for longer battery life)
How you answer these questions for yourself will help you triangulate on a case that works for you. Perhaps your case isn't on this list. There are hundreds of different cases and dozens of manufacturers. These evaluations give you an idea of how these cases stack up. Look to the table at the end for an overview.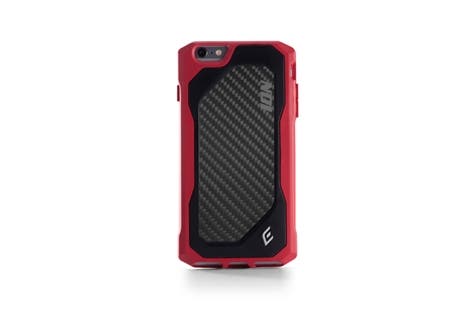 An outstanding, well-designed case that provides the iPhone 6 with protection that enhances the look and hand-feel of the bare iPhone. The combination of high-impact materials and a real carbon fiber back plate also makes for a great looking case.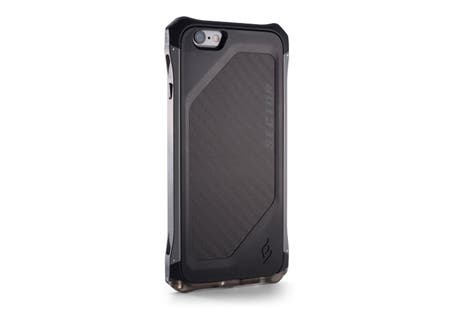 The Sector Pro takes the Ion to the next level and beyond. The precision machined aluminum case requires some dexterous disassembly and reassembly, but the final product is worth the effort. Not only does the Sector Pro offer protection, but it is a piece of engineering beauty that makes the iPhone look like something out of a spy movie. There are two downsides to precision though: the assembly process makes it a chore to take the case on and off (but with such a cool case, why would you?); and because of the precise fit, using a screen protector with even the slightest profile keeps the cover from aligning properly. Tools and spare parts included.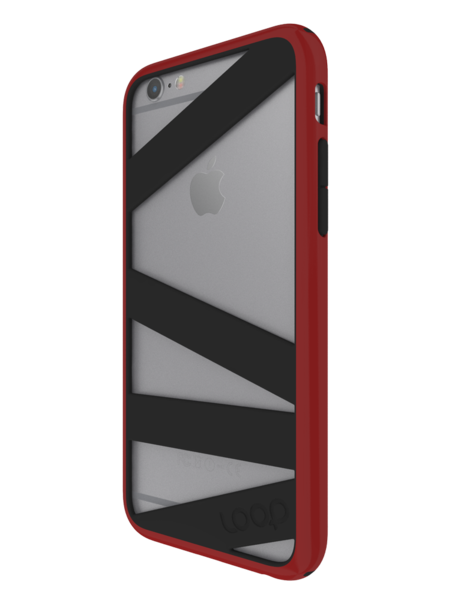 There are wallet cases, and then there is the Loop, a simple bumper with a series of straps across the back that accommodate credit cards, money, or business cards. Another clever Kickstarter that turned an idea by a few into a product for the many.
Tylt has created the first near-perfect solution to a charging case: a case within a case. The interior case, however, is just basic. I love the direction, but would like see Tylt design a more attractive case for the iPhone when it isn't in the 3200 mAh battery. Functional and utilitarian, with a very cool innovation that is likely to be the next trend in battery-powered cases. Unlike many other battery cases, the headphone jack is large enough to accommodate a standard Apple headphone jack.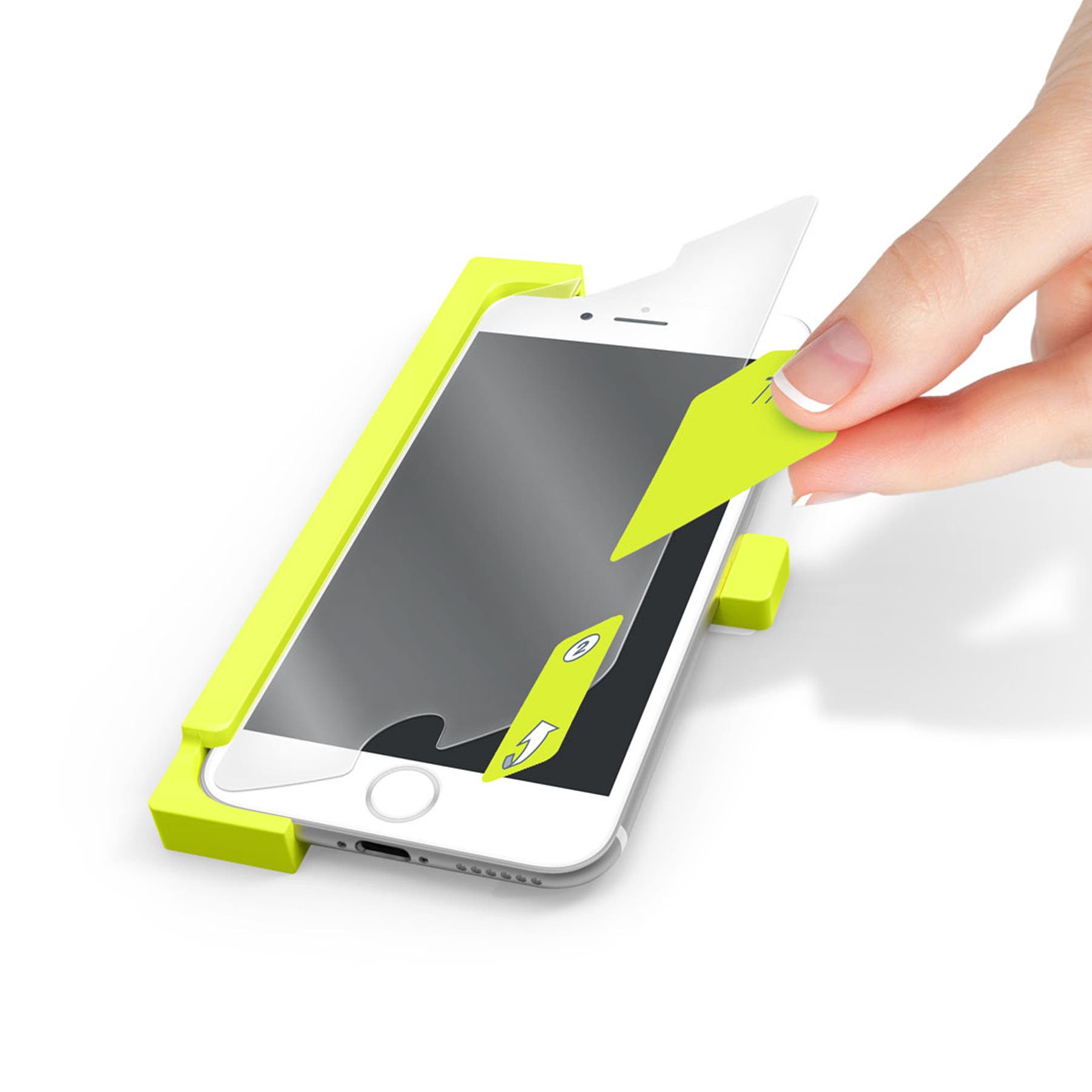 This product proves the design acumen within Tylt: a screen protector with an alignment tool. No more guessing at how to align the screen protector by meticulously floating it down from some arbitrary set of lines in space that never seem to end up hitting the phone where they should. With Alin, place the edge of the screen protector on the tool and just lay down the protector on a clear surface of the iPhone 6. Brilliantly simple.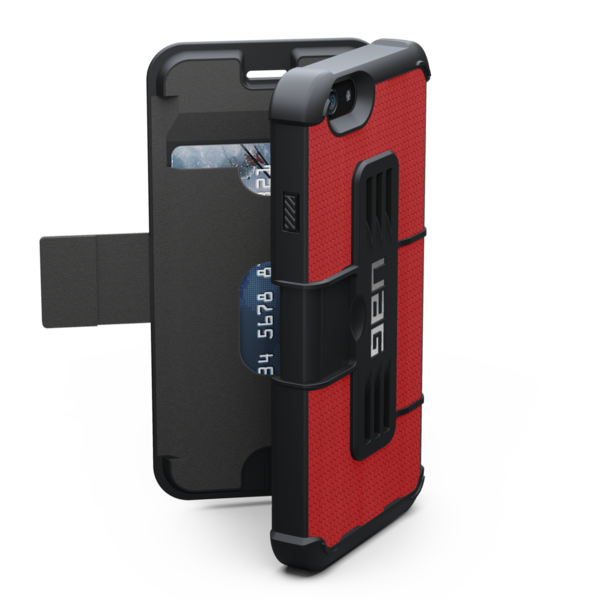 Urban Armor Gear (UAG) cases live up to the brand's hip intonations. This wallet case looks like something out of an urban adventure for the team from the movie Red. Offers 360-degree protection, a place for stuff, a soft interior cover, shock absorbing material, and a magnetic closure. Looks bad ass, and is bad ass.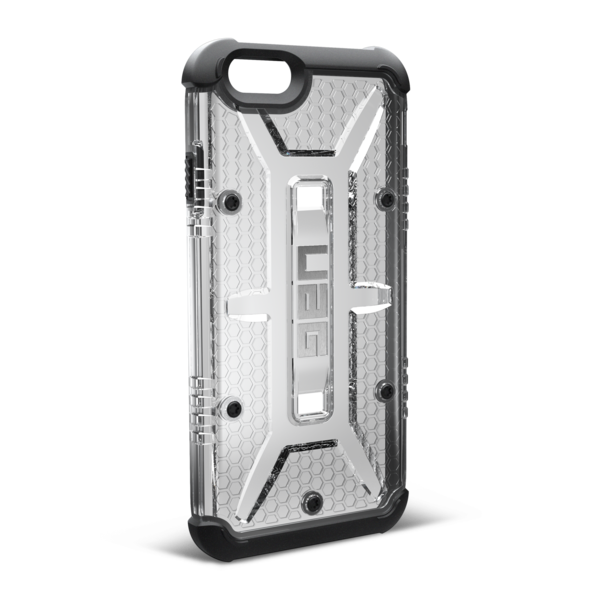 Simple and cool. The one reviewed was clear with black accents, and studded with the cool little Urban Armor screws (just for looks, not functional). This one tough little case that makes you iPhone 6. I'm hoping it was inspired by a little James Garner and a little Top Gun. Includes a screen protector.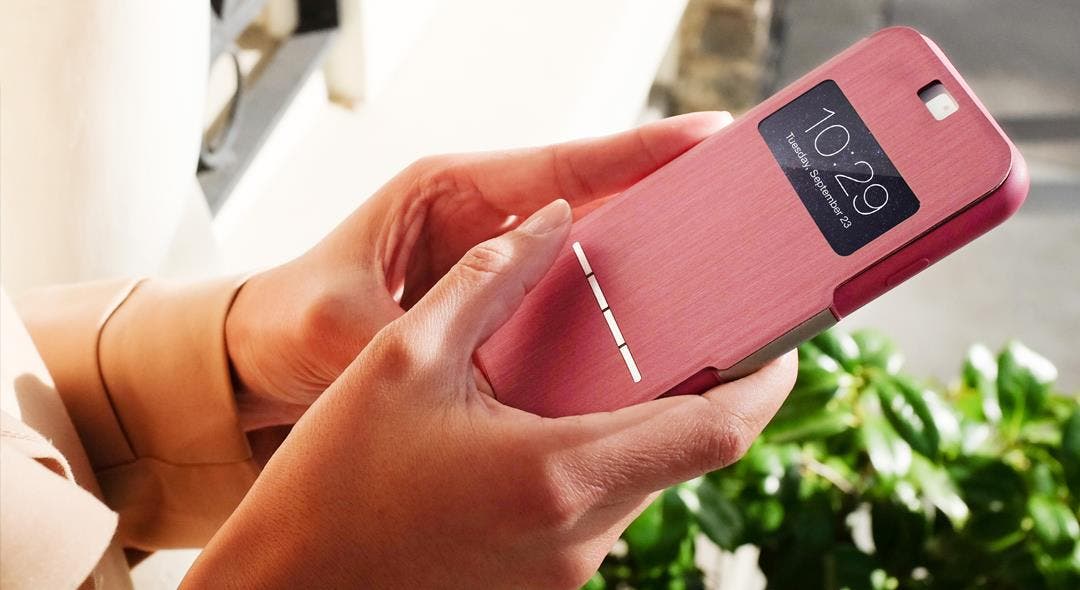 For people who don't like Bluetooth headsets, cases with covers often present too much case, with the opening and closing and folding back of the cover. So what's the option? Place sensors in the cover so it can stay in place to answer the phone or silence alarms. The Sensecover features 360-degree protection, but without extra shock absorption. A magnetic closure snaps it shut. I'm not a fan of the satin exterior material.
$44.95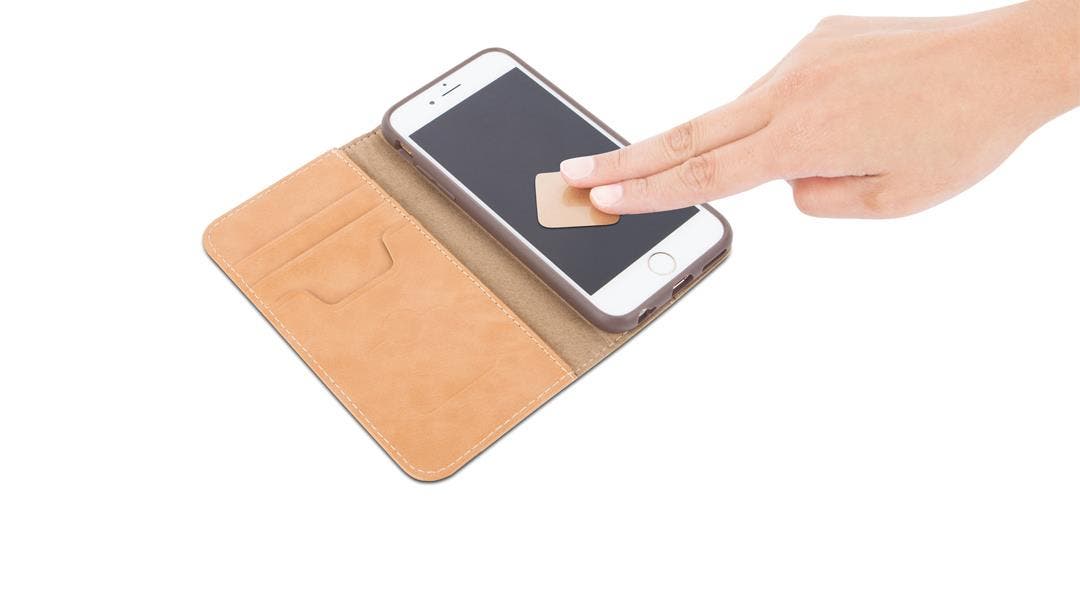 This wallet case offers good, all-around protection. There is room for three cards inside. I really like the removable screen cleaner include as a little microfiber feature inside the front of the case. As above, I'm not a fan of the exterior material, which has a satin finish. But if you like satin finishes and want a wallet, this case may be what you are looking for.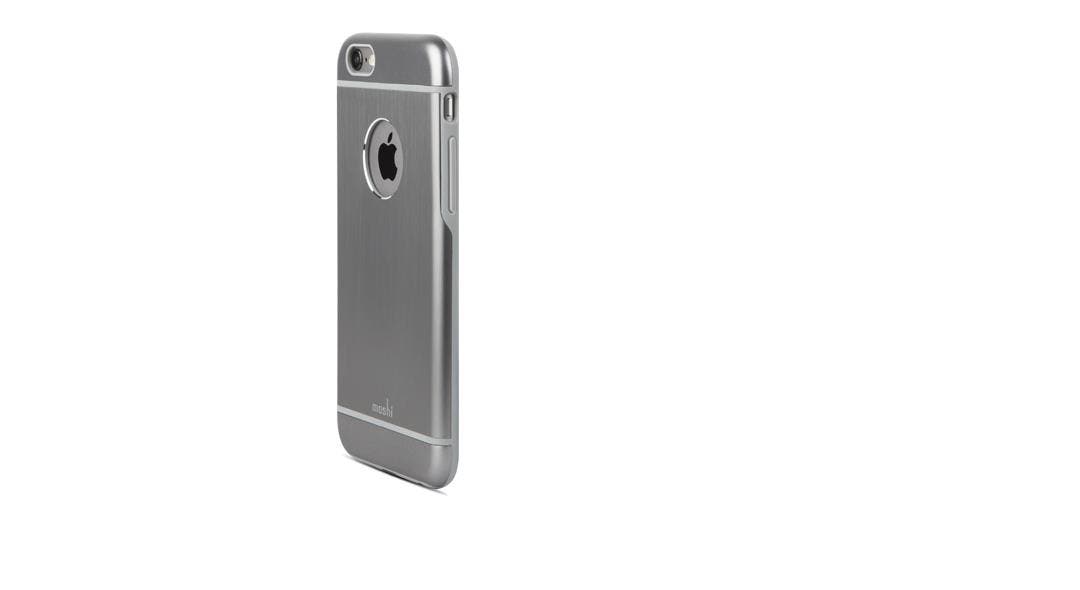 A nicer than basic case that combines a plastic interior with an aluminum exterior. It looks clean and professional and should handle most bumps and scrapes.
If you want complete protection for the front of your iPhone, consider these Moshi products and their unique edge adherence which completely eliminates bubbles by engineering the adhesive away from the screen. The AG is a clear plastic cover that can be washed and reused, while the iVisor Glass sports IonGlass™ which is harder than tempered steel. Both are pretty low profile, but make sure your case isn't so precisely fitted that the screen protector interferes with the case.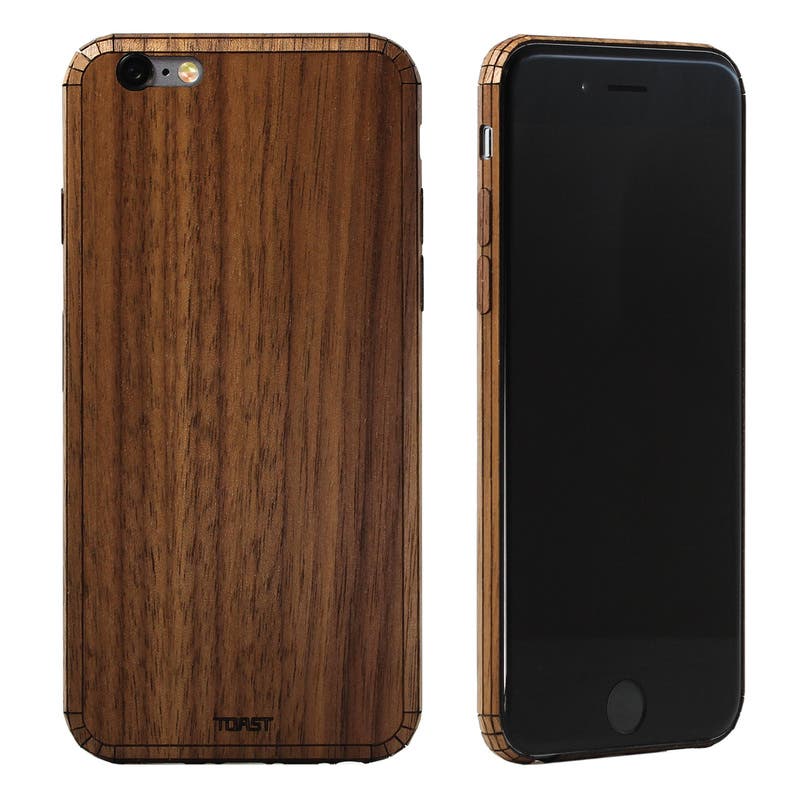 If you want a case that isn't a case, and a material that isn't plastic, consider a Toast real wood cover. The Toast cover is anything but wooden. This very thin cover adheres directly to the iPhone, with precisely cut edges that wrap around the phone. There are versions that cover the back only, or the back and the front. This cover isn't going to protect your iPhone from a big drop, but it will keep it nick free from everyday bumps and help connect your high-tech device to natures high-touch.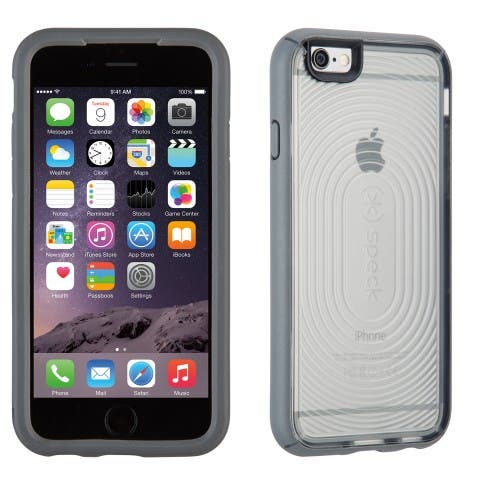 The Speck MightyShell is a solid, second-tier case, meaning it isn't just a cover, but offers solid drop protection as well. Swirls of protective material keep the iPhone off the back of the case, ready to absorb shocks. The case comes in multiple colors. As with most cases, I like the clear version so I can see the nice champagne tone of the gold iPhone through the case.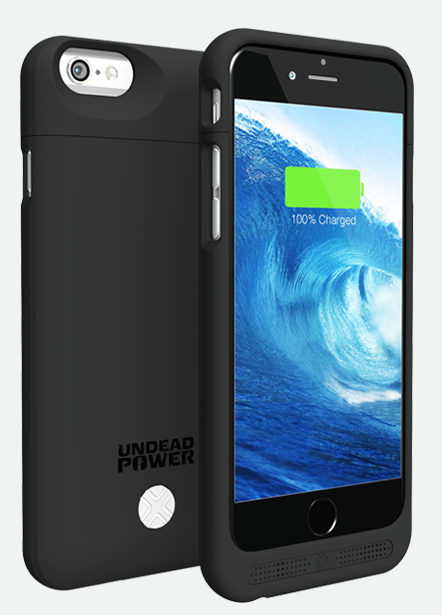 Lenmar's Maven 3000 mAh Battery Case isn't as flexible as Tylt's Energi Sliding Powercase, but its slide-in, slip-out design makes it nearly easy to swap (if you don't count removing whatever case you may already have on your iPhone 6.) The finish is outstanding. Requires an audio extender for headphones. Speaker ports design to channel music out rather than muffle it.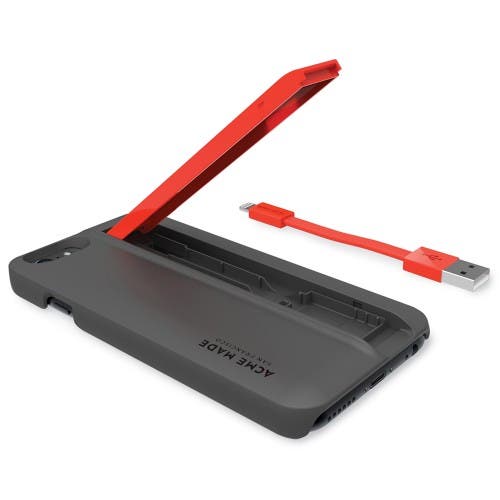 The Acme Charge is kickstarter case that does what many a kickstarter programs do: add one clever idea to a something that exists. In this case, the existing thing is a basic iPhone case with a built-in stand. The clever part? Including a Lightning cable under the stand. The case itself is rather basic. The stand is fine, but it doesn't exude quality or engineering. The lightning cable is convenient but as with all things with part, even something with a compartment is something that can be forgotten. Because the cable is short though, its likely it will be used via the USB port on a computer rather than on a charger plugged into the wall, which will make it easier to remember.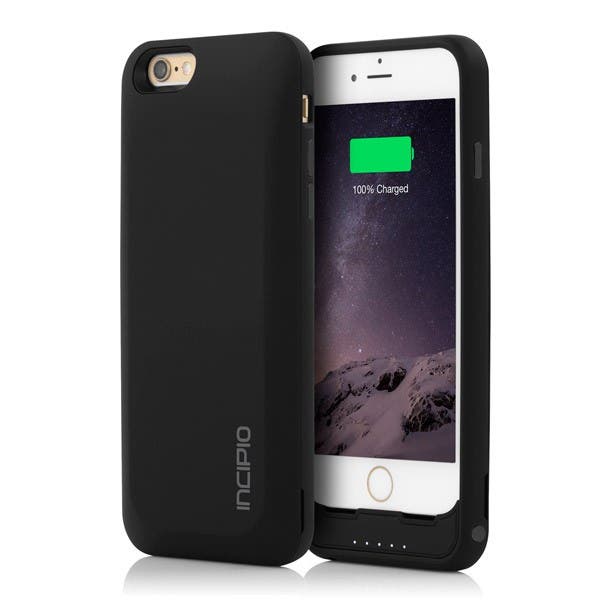 Incipio's offering in the iPhone 6 extended battery department provides yet another way to mount an iPhone to a battery: insert the phone into the case at a slight angle, lay it flat, and then install a bumper around the phone and the battery. The 3000 mAh Express looks good when assembled, but not as complete a solution as Tylt's. 
iPhone 6 Case Round-up Feature Comparisons
 
Case

Drop Protection

(H, M, L)

Design

(out of 5)

Coverage

F/B/2/S

Elements

Holds Suff

Material

(out of 5)

Power

Stars

(out of 5)

Element Ion
H
5
B
N
N
4
N
4
Element Sector
H
5
B
N
N
5
N
5
Loop 

Straitjacket

 

M
4
B
N
Y
3
N
3
Tylt 

Energi Sliding Power Case

H
5
B
N
N
3
3200mAh
5
Urban Armor Folio
H
5
2
N
Y
4
N
5
Urban Armor Maverick
H
4
2
N
N
4
N
4
Moshi SenseCover
M
4
2
N
N
3
N
3
Moshi Overture
M
3
2
N
Y
3
N
3
Moshi iGlaze Armour
M
2
B
N
N
3
N
3
Toast Cover
L
4
S
N
N
4
N
4
Speck MightyShell
H
4
B
N
N
4
N
4
Lenmar Maven
M
3
B
N
N
3
3000mAh
3
Acme Made Charge
L
3
B
N

Y*

2
N
3
Incipio Offgrid Express
M
3
B
N
N
3
3000mAh
3
Legend:
Drop protection: High, Medium, Low
Coverage: Front, Back, 2=both, S=some front, not screen
Elements: sealed case Yes/No
* the Acme Made Charge does not hold items beyond the Lighntning cable beneath the stand.