By

Mike Riley
Fri, 09/28/2012
Having been previously
won over
by Phiaton's PS 300 NC noise canceling headphones, I was eager to try out Phiaton's noise canceling bluetooth earphones. Read on to see how they performed.
Phiaton's PS 210 BTNC earphones paired easily with my iOS device, and thanks to the PS 210's support for the Bluetooth 3.0 standard, battery life lasted all day with juice to spare. According to Phiaton's specs, the earphones can stay powered on stand-by for a whopping 600 hours (assuming that the noise cancellation features have been turned off).
Speaking of the noise cancellation functionality, I found it worked even better than the PS 300 headset due to the fact that the earphones "half-in-ear" design already block some amount of external noise even without the "Echo Off" noise cancellation feature activated. I was concerned that this "half-in-ear" design might feel too heavy but they were surprisingly comfortable, allowing me to wear them most of the day without fatigue.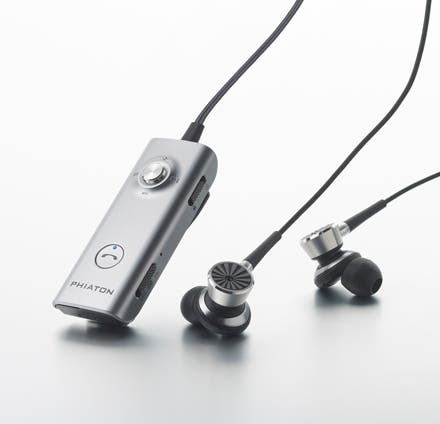 The PS 210's rechargeable battery pack is attached to the earphones and has a 4 way joystick to control music playback. It also has a call button that can be used to answer phone calls. The mic is also built into this pack, making it clipping on a lapel or shirt pocket ideal for clear outbound audio and easy access to the controls. Once paired with the phone, these intuitive controls worked flawlessly.
Sound quality is also great considering the limitations of Bluetooth audio, and the package even includes a audio cable that can be used to connect the earphones to your iPhone should you forget to recharge the battery. The cable also comes in handy when traveling by airplane, since you're not supposed to use Bluetooth radios during commercial flights. In addition to the earphones and audio cable, the package includes several different sized ear tips for a better custom fit, a USB cable for recharing the battery and a pouch to carry everything in.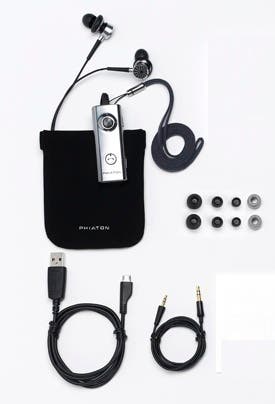 The one minor issue I had with the earphones is the same I have with most so-called Bluetooth wireless earphones. They're not entirely wireless. I appreciate the constraints that the designers are faced with when it comes to managing battery and control hardware into an earphone configuration, but I look forward to the day when these can be somehow worked into the earphones themselves rather than rely on a third piece of control hardware that dangles by wires.  The primary benefit of the current design is that I can have an iPhone zipped up in my jacket pocket and not have to fiddle with the screen to answer calls or control my music, but I can already do that with a set of wired earphones. So the value proposition of Bluetooth earphones is somewhat diluted by the fact that you don't get that much more mileage out of having the earphones attached to a wireless Bluetooth transmitter, since the wires are still tapping against your face when you turn your head. Hopefully Phiaton and other wireless earphone product companies can come up with a truly wireless (as in no wires) earphone configuration some time in the near future.
Given today's technical considerations and design limits, the Phiaton PS 210 earphones deliver what they promise and sound terrific. If you're looking to untether your auditory experience from your phone and don't want to skimp on quality, these earphones may be just what you're looking for.
Price: $159
Rating: 4 out of 5 stars