By

Conner Carey
Fri, 04/07/2017
In the world of Facebook, unfriending someone is a big deal. And if you actually know the person, they'll likely figure out you've unfriended them at some point and want to know why. Perhaps it's not that serious and you would like to stay friends, but you don't want to see what they post. Luckily, Facebook has the option to unfollow someone while remaining friends. Here's how to do it.
Related: How to Turn Off Facebook "On This Day" Memories on iPhone
How to Unfollow Friends on Facebook
There are three different ways to unfollow someone:

1) Open the Facebook app. Locate a post by the person you want to unfollow. Tap the arrow next to their name.

Select Unfollow [Name]. You'll immediately stop seeing posts by that person but continue to be friends.
* This post is part of iPhone Life's Tip of the Day newsletter. Sign Up. *

Discover your iPhone's hidden features
Get a daily tip (with screenshots and clear instructions) so you can master your iPhone in just one minute a day.
2) You can also unfollow someone by visiting their profile:

Search for the person you want to unfollow and visit their profile.

Locate the Following icon. Tap it.

Here you can choose Default, See First, or Unfollow. Select Unfollow.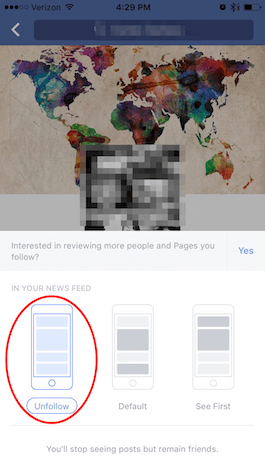 3) To mass unfollow friends, tap the Menu icon in the lower right corner of the screen.

Scroll down to the bottom and select Settings.

Tap News Feed Preferences.
Tap Unfollow people to hide their posts.

Tap the people whose posts you want to stop seeing in your News Feed.

Tap Done when finished.