By

Chosie Titus
Sat, 02/08/2020
The Rocketbook Everlast notebook is a smart notebook that's conventional in look and feel, but is built for the digital age. The Everlast makes it easy to digitize and organize all your notes in an instant. Writing is the same as with any other notebook—with one main exception. Adding a bit of water erases all your notes so you can start from scratch, making it 100 percent reusable (yay for the environment).
Related: Buyer's Guide 2019: Best iPhone Accessories & Stocking Stuffer Ideas
What Problem Does the Rocketbook Solve?
We live in a digital age, and yet the traditional pen-to-paper experience remains a valuable tool. A 2014 study published in the journal Psychological Science found that handwriting notes is more effective than typing when it comes to retaining information and memory recall. Compared to the 50-plus words per minute that's typical for typing speeds, writing is by nature slower and more deliberate, requiring internal synthesis in order to summarize the most important information.
As a recent college graduate, I found that handwriting notes during class resulted in better retention than mindlessly typing every word my professor spoke. This smart notebook would have been a great hybrid, as I often alternated between handwritten and digital notes. Now, the Everlast allows access to all my handwritten notes, digitally captured on my computer or phone. Further, considering the number of notebooks filled up over a collegiate career, this notebook has tremendous paper-saving potential, allowing you to scan your work and wipe your notebook clean at the end of each day.
How the Everlast Smart Notebook Works
As a graphic designer, I am constantly scanning hand-drawn sketches as references in my designs. Although it is possible to do with a scanner or phone, it is often inconvenient and requires a few steps. I am always looking for more efficient ways to upload my work in high resolution, a challenge the Everlast met with ease. Upon downloading the Rocketbook app, it referred me to the seven icons and QR codes present at the bottom of each page in the notebook. Using the app, you can designate each icon to point to a specific folder in your phone or favorite cloud storage space. For me, checking off the bell icon sends my notes directly to my email, whereas selecting the clover icon directs the entry to a Dropbox folder. When you are ready to digitize your page, just select your icon of choice, scan the QR code, and you're done! You can transfer the high-resolution scans in either JPEG or PDF form.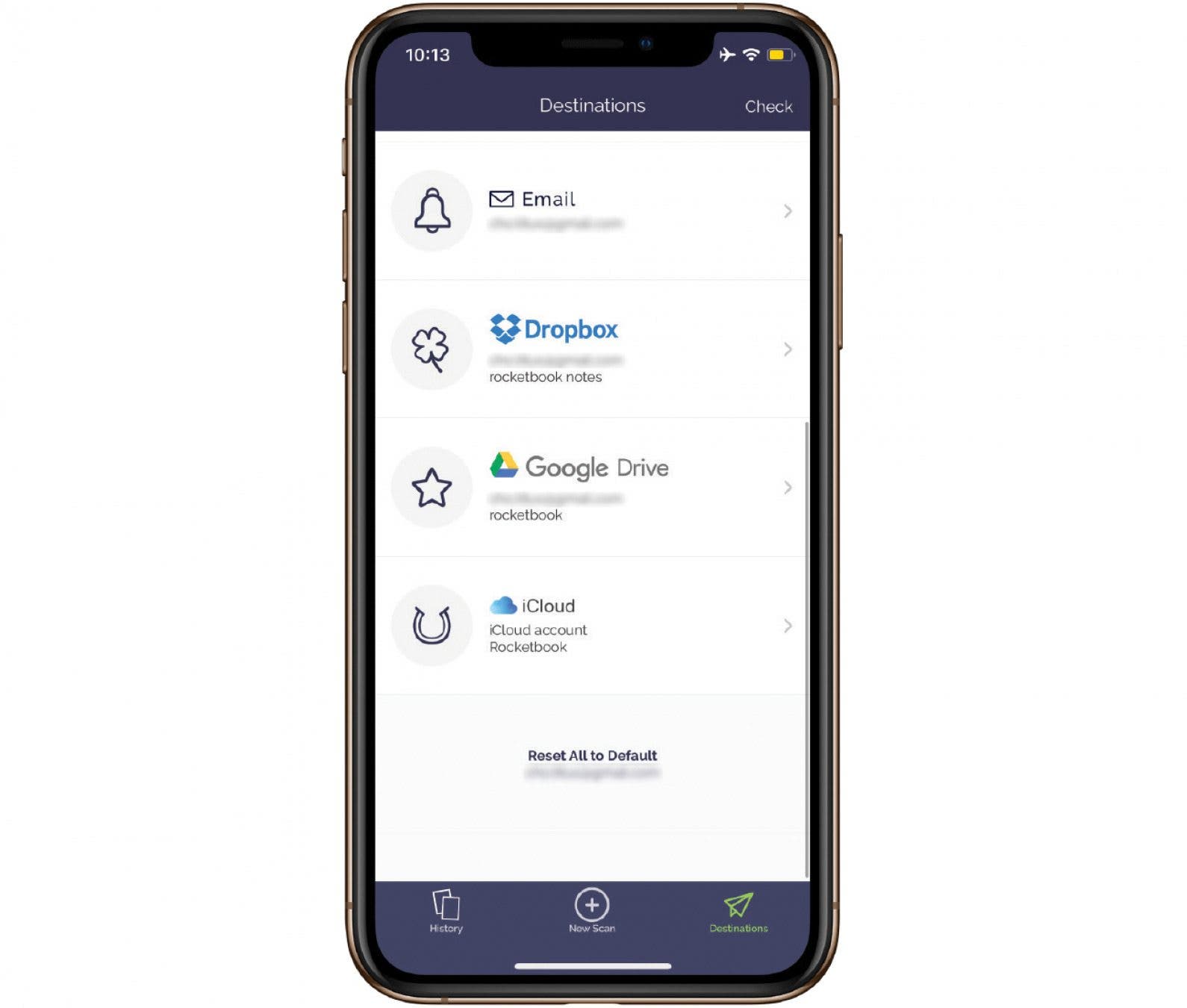 Smart Notebook & Pen Design
The Everlast smart notebook comes in a variety of sizes, colors, and paper styles. As a designer, I prefer dot grids over lined paper as it allows me to easily draw diagrams—while testing the Everlast, I found I even favor dot grids for taking notes! The Everlast comes standard with Pilot's Frixion pen, a magic pen with ink that erases with water in the Rocketbook, or that you can use like any other pen on regular paper. I was wary at first of the pen-to-paper experience as soluble ink tends to appear watery on paper, but I was pleasantly surprised by how precisely the pen gripped the glossy paper. The ink does take around 10 seconds to dry, so beware of smudging. Once dry, however, it sticks to the page until you are ready to erase it with a damp cloth. I've used the pen quite a bit, and it hasn't run out of ink yet, but once it does, a pack of three Frixion pens runs about $5–$10, a price I'd gladly pay for a pen of such high quality.
As an avid sketcher, I would not use this for fine-detailed illustrations, or as a replacement for regular drawing paper. It can be cumbersome to illustrate fine details when you have to be careful of your hand accidentally smudging an area too soon. Although it is nice to be able to go back and erase pen mistakes, it is difficult to correct small mistakes using the damp rag without the risk of water erasing other areas as well. I would, however, use this notebook for quick sketches and illustrations that I don't mind accidentally getting a little bit smudged.
The interior pages of the notebook are great; although not exactly like regular paper, each page is durable and tear resistant. However, the cover of the notebook is finished in matte black and can be damaged easily if not properly cared for. After about a week, the notebook began to show signs of wear, and the cover began to scrape off. This can be a non-issue if strict functionality is the main concern, but for professional purposes, it can wear quickly, taking on a distressed look.
The best way to keep the Everlast working consistently is to take good care of it. I found that pressing too hard with the pen left indentations in the paper, which remained long after the ink had been washed off. Fortunately, the paper's glossiness makes it easy to write effectively and softly, so be sure to not press too hard. With a bit of care, the interior pages should last practically indefinitely, a plus compared to traditional notebooks.
The Rocketbook App
One of my favorite parts of this product is the Rocketbook app. Unlike a regular scanner, the app processes each page individually to ensure that each scan has ideal lighting conditions, making them perfectly readable. Although each scan presents high contrast between the notes and the page, the dot grid did show up with some regularity—the first few did not show the grid pattern behind it, but the last few did. Using the notebook for illustration as well as note taking, it would be nice to have the option of whether to show the paper pattern in the background.
Pros
The app makes it exceptionally easy to scan, store, send and organize all of your notes instantly, a great advantage over traditional scanners

Reusable pages make the smart notebook an environmentally friendly option
Cons
Smudgy, slow-drying ink

Paper patterns that appear unpredictably in scans

Cover page durability
Final Verdict
The Rocketbook Everlast smart notebook is an excellent alternative to bridge the gap between classic note-taking and the digital world, and its environmental advantages add to the appeal. With some extra attention and care, the Everlast could easily be any notetaker or sketcher's best friend.