By

Todd Bernhard
Wed, 09/16/2020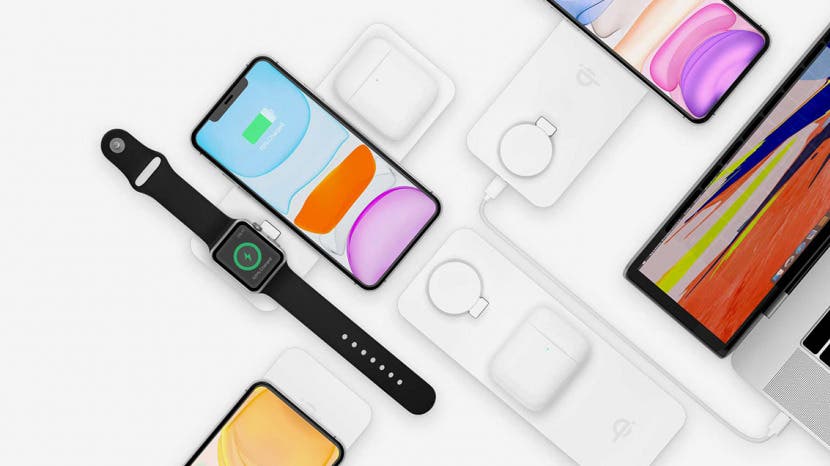 Eggtronic always makes stylish devices and the Power Bar ($149.99) the company sent me to try is no exception. The Power Bar is a 10,000 mAh battery pack in a rounded rectangular brick with a glossy white exterior that looks a lot like an early iPod or the actual packaging that enclosed my original Apple Watch. Aside from the glossy white surface, the only markings are the Eggtronic logo and two "Qi" logos to indicate the two fast charging 7.5-watt wireless pads that are a highlight of this device. These can be used for iPhones, Android phones, or AirPods that support Qi. Like most portable Qi chargers, you have to push a button to activate it, otherwise it would be drawing a small amount of power all the time, eventually running out.
Related: Review: Griffin's Best Portable Chargers for iPhone
At one end, there is an Apple Watch 5-watt charging pad built in to the Power Bar. You can place your Apple Watch on the pad and it will start charging, but a neat option is the ability to raise the pad about half an inch to support your watch. You might need to use a finger nail or credit card to lift the riser. Unfortunately, if you use a loop-style band, you have to wrap your watch around the Power Bar, which could make it a little unstable. It's not a deal-breaker, but an inclining or rotating pad might have been a nice option, and it would support Nightstand Mode.

Discover your iPhone's hidden features
Get a daily tip (with screenshots and clear instructions) so you can master your iPhone in just one minute a day.
Additionally, there is a USB-C port which puts out 30 watts via Power Delivery. That same port is used to charge the device itself, and the company includes both a well-made USB-C to USB-C cable and a USB-C to Lightning cable. You will need to provide your own USB-C to A/C adapter, but you probably have one of those if you're looking for a USB-C battery pack. The cables can be used to charge an iPad, iPad Pro, or MacBook. Just keep in mind that 30 watts will slow charge a laptop and might not provide enough power to charge while the computer is being used.
Pros
Elegant Apple-like styling
10,000 mAh of power
Apple Watch charging pad that can rise in height
Two fast charging Qi pads
USB-C port for 30-watt Power Delivery
Includes well-made USB-C to Lightning and USB-C to USB-C cables
Cons
Apple Watch charging pad rises but doesn't rotate, so best for watch bands that lay flat versus loop bands
USB-C to A/C adapter sold separately
Qi pads are a little close together so two large/wide phones might not fit
Final Verdict
The Power Bar from Eggtronic is an elegant companion for travelers with multiple Qi devices such as an Apple Watch and more.