By

Mike Riley
Mon, 11/07/2016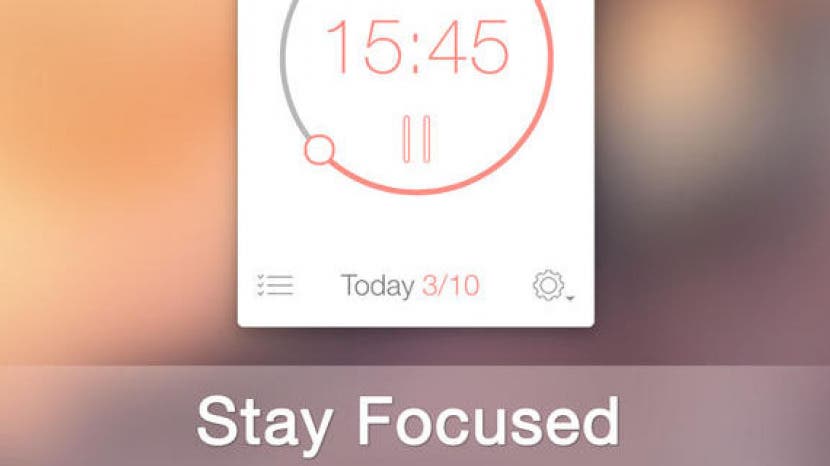 Looking for a way to stay focused and disciplined on completing a task on time? The Pomodoro Technique  is a proven approach to time management that has been programmatically captured in a number of iOS apps. Some are simple timers while others offer much more. This review takes a closer look at Be Focused Pro ($1.99 iOS, $4.99 macOS), one of the more comprehensive, Apple-hardware-friendly programs available on the App Store today.
Related: Podcast Episode 35: Productivity, iPhone 7 Pro Rumors, and Keyboard Tips
Be Focused Pro starts with the Pomodoro-style timer approach of setting each work duration to the default of 25 minutes. During the countdown, focus on the task at hand and leave Twitter streams and Facebook notifications disabled. You can reactivate those services during your breaks, after your focus period is concluded. Focus times and break durations can be customized, as can the sounds emitted from the start, stop, and tick-tock countdown that some find either hypnotic or annoying.
Most Pomodoro-inspired stopwatch app features end there. But Be Focused goes well beyond this countdown timer by capturing these focus intervals and graphing their results on a bar chart, sort of like a fitness graph for paying attention. The app also supports simple project task lists to further refine focus steps toward a larger goal. Tasks are entered in the To Do tab, and completed tasks are maintained in the Done tab. Task lists can be exported to CSV for further reporting from the Settings screen. Best of all, Be Focused Pro uses a secure synchronization service that shares this task list between multiple devices such as an Apple macOS computer running the macOS version of Be Focused Pro. The macOS version allows the ability to import as well as export task lists, making it easier to load up the task list items on a Mac versus an iPhone or iPad. While I would have preferred keeping this data synchronization information within my iCloud account instead of a separate third-party server, the actual task list that most people would keep is probably innocuous for the most part.
The iOS version of the program supports 3D touch, includes a notification center widget, and extends itself to the watchOS platform with nice Apple Watch app that allows you to select or add the task, start and stop the timer, and keep the results synchronized across the iOS and macOS platforms.
Final Verdict:
All these small, nice to have features add up to a really easy-to-use, well-designed timer utility that takes advantage of the latest features that Apple hardware has to offer. If you're looking to practice focusing on getting things done, Be Focused Pro is a great little app that will help you complete your tasks and achieve your project goals.