By

Donna Cleveland
Updated 06/30/2021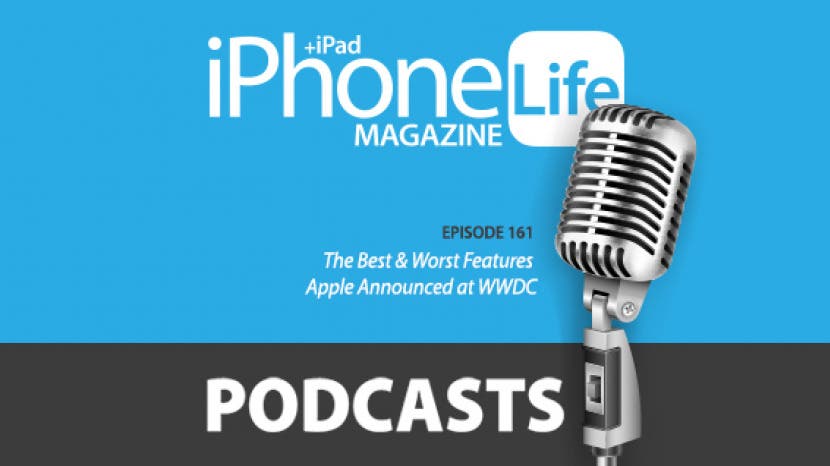 Apple made some big moves at its annual Worldwide Developers Conference, bringing things like cross-platform support and video sharing to FaceTime and on-device voice processing to Siri (no more spying on us!). Tune in to learn all the features David and Donna can't wait to try, and what they definitely won't be using.
Click here to listen and subscribe. If you like what you hear, be sure to leave a review. And remember to tune in every other week to hear our editors share with you the latest Apple news, best apps, iPhone tricks, and coolest accessories.
Limited time offer! Claim 30% off your subscription to iPhone Life Insider when you visit iPhoneLife.com/PodcastDiscount.
This episode was brought to you by:
PhoneSoap 3 ($79.95)
You might have heard that our iPhones are dirtier than surfaces in a bathroom, and it's true. Studies have found that the average phone is covered in 18 times more germs than a public toilet seat. Gross. You can't wash your phone, so how do you keep it clean without ruining the protective coatings on your device? PhoneSoap is here to help with the first patented line of UV phone sanitizers on the market. The PhoneSoap 3 uses the power of UV-C light to eliminate 99.99 percent of bacteria and viruses in just 10 minutes. 
CASEBUDi Crossbody Phone Lanyard ($20)
Losing your phone is more than just annoying: it can leave your private data in the hands of whoever finds it! Instead of worrying about someone else having access to your location, passwords, and photos, it's best to find a way to keep your phone close by. CASEBUDi's adjustable lanyard is an affordable and stylish fix for this issue. The comfortable crossbody strap pairs with a PopSockets PopGrip (not included) on the back of your phone—just slide it on and it locks into place. You can use your phone as you normally would without having to remove the lanyard.
Questions of the week:
What do you think is the best or worst feature from Apple's WWDC keynote? Why or why not? Email podcast@iphonelife.com and let us know. 
Articles referred to in this episode:
Useful links: