By

Kenya Smith
Updated 01/18/2023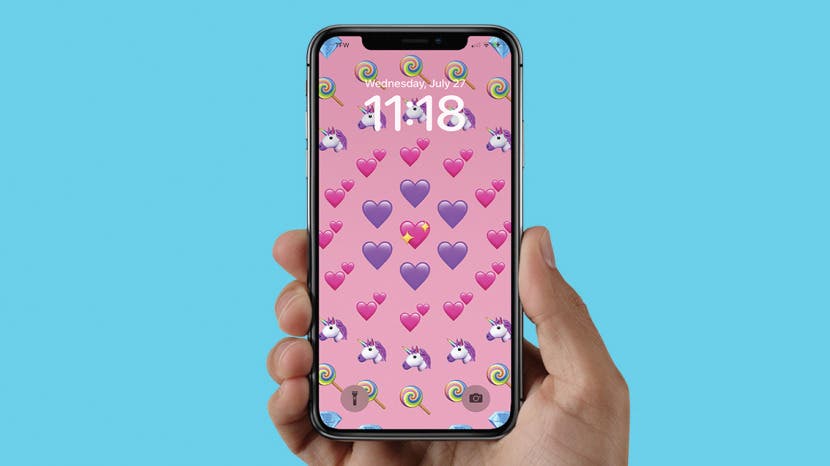 iOS 16, Apple's upcoming operating system, has cool features, and one of them is lock screen customization with emojis. That's right! iOS 16 will allow you to personalize your lock screen by adding your favorite emojis. We will show you how to use this fun feature.
Related Article: How to Turn Off Automatic Emojis in iPhone Text Messages
How to Customize Your Very Own Emoji Lock Screen
I thought this would be a gimmicky Lock screen that I'd never use, but I ended up falling in love with it. It is so much fun to experiment with your favorite or even most recently used emojis to create a unique Lock screen that can help express or evoke certain moods. If you're planning a tropical vacation, for example, create one with planes, palm trees, hibiscus flowers, surfers, and waves. My favorite trick is to include several of the same emojis to create a fun effect!

Discover your iPhone's hidden features
Get a daily tip (with screenshots and clear instructions) so you can master your iPhone in just one minute a day.
Go to Settings.


Tap Wallpaper.



Tap Add New Wallpaper.


Make sure to select either a pre-set Emoji option or tap the Emoji icon.





Tap the Emoji icon in the bottom left of your display.


Here you can see the current selection. You can select up to six, and there can be repeats to create the desired effect. You can also use just one once if you prefer.



Select the emojis you wish to use by tapping them just as you would if you were sending a text.


If you wish to delete one, tap backspace.



You can also tap in the typing field to enter a new emoji in between previously selected ones or to delete one.


As you add or delete emojis, you will see the changes appear in the background.

Tap X or the background when you are satisfied with your emoji choice(s).


Swipe left over the center of the screen to see different configuration options. The default is Small Grid.



Then there's Medium Grid.


Next is Large Grid.



There's also one called Rings.


Finally, there's Spiral.



In any configuration, you can tap the more icon.


Tap Background.



Here you can pick one of the 18 color options.


You can move the slider to make the background color lighter or darker.



You can also tap the rainbow circle to access a more advanced color selection.


Tap X or the background when you are satisfied with your background choice.



Tap Done.


To learn more about all the settings here, please reference the steps under How to Change Your Lock Screen's Font and Color.