By

Conner Carey
Tue, 02/21/2017
'How much data does Netflix use' is an important question to answer if you have limited data on your iPhone or iPad. If you often enjoy streaming Netflix on your device, your Netflix data usage can quickly get out of control. We'll cover how many GB (gigabytes) Netflix uses per hour, which makes it easy to figure out how much data Netflix uses per movie. Remember, if you're streaming Netflix on Wi-Fi or watching offline content you've downloaded from Netflix, there's no reason to be concerned over Netflix data usage, unless you have very limited bandwidth with your Internet provider at home. Netflix does use a decent amount of data when you're streaming movies and TV shows, but you can control how much data Netflix uses within the app on your iPhone or iPad. Let's jump in: here's how much data does Netflix uses on iPhone or iPad and what to do about it.
Related: How to Watch Netflix Offline on Your iPhone or iPad
We all love Netflix. But when it comes to streaming data usage, making sure Netflix doesn't cost you an extra chunk of money is important. If you're watching Netflix using your monthly data plan through your cellular carrier, you'll want to be aware of just how much Netflix data usage you're doing. You might also want to set limiations on how much data Netflix uses, which we'll show you how to implement below.
Table of Contents:
If you have a monthly bandwidth limit on your cellular data plan, it's important to know how much data Netflix uses. How much data Netflix uses is dependent on the quality of the video you're streaming. According to Netflix itself, Netflix uses the following amount of data on iPhone or iPad:
For Standard Definition, Netflix uses about 1GB of streaming data per hour.
For High Definition, Netflix uses about 3GB of streaming data per hour.
To be exact, Netflix uses 0.7 gigabytes of data per hour for standard definition video quality, but rounding that number up to 1GB is an easy way to make sure you don't go over your alloted amount of Netflix data usage. 
You might be using way less or way more data watching Netflix than you realize. Luckily, you can check. On your iPhone or iPad,
Open the Settings app.
Tap Cellular.
Scroll down and locate Netflix.
If you want to make sure Netflix never uses Cellular data, toggle it off.
Just below the word Netflix, you'll see a number. The screenshot example below shows I've used 31.0MB of data streaming Netflix on my iPhone.
Netflix allows you to set limits for the amount of data it uses. You can do this within the Netflix app on your iPhone or iPad. Doing so is an easy way to reduce the amount of internet you use watching Netflix. You have different options: Off, Low, Medium, High, Automatic, and Unlimited. To make it easy to understand, think picture quality. Low will mean a rougher picture quality but it will use the least amount of data. High will be the best picture quality and use the most amount of data. Automatic or Unlimited is not what you want to select if you're trying to control how much data Netflix uses. By selecting Automatic or Unlimited, the picture is based on the quality of your internet data connection. So if the internet is working well, it will give you a high quality picture and use a lot of your internet data. You can also choose to turn cellular data usage within Netflix off all together. To control how much data Netflix uses,
Open the Netflix App.
Tap the three horizontal bars in the upper left corner to open the main menu.
Scroll down and select App Settings.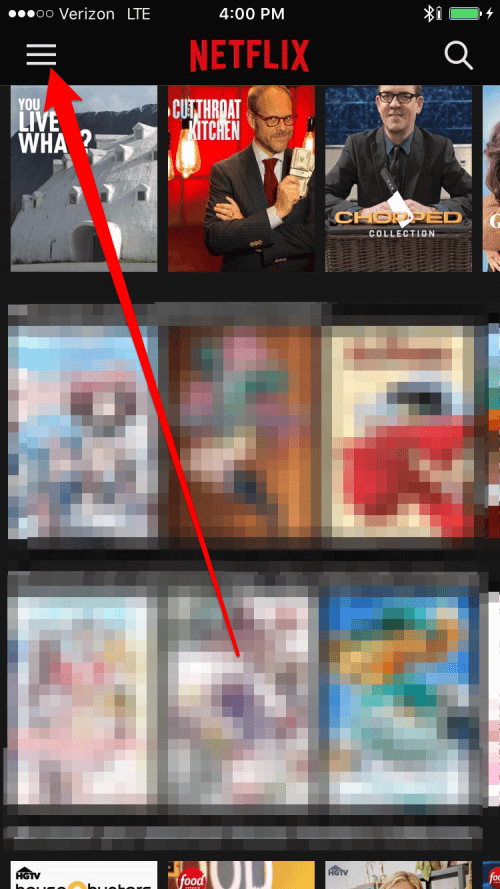 Tap Cellular Data Uage.
Toggle off Set Automatically.
Select which option is best for you. Below Low, Medium, and High it gives you a rough estimate of how many hours of streaming Netflix will use 1GB.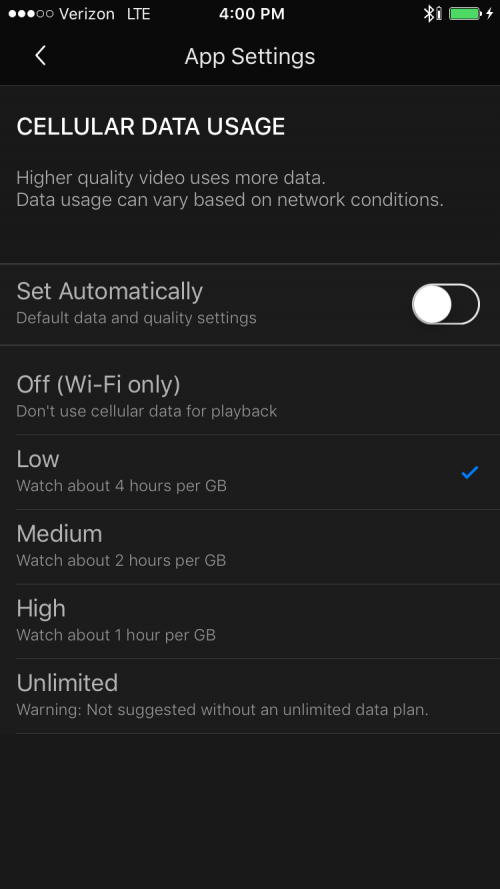 Top Image Credit: Kaspars Grinvalds / Shutterstock.com