By

Dig Om
Fri, 04/08/2016
Over the years I've written a lot about great Bluetooth speakers, in particular great Bluetooth speakers that are rugged and outdoor friendly. One of the most common questions I receive in the comments section of these articles has been, "Out of all the rugged speakers, which has the best sound and the loudest volume?" Do I ever have an answer for you now! Not only does this new Bluetooth speaker from Monster boast some of the loudest, most robust audio of any Bluetooth speaker I've come across, rugged or otherwise, it is packed with features that elevate it so far above the competition that it is in a league of its own.
The Monster Rockin' Roller 2 ($145.99) is large and heavy, but not so much so that it is a hindrance to the speaker's portability, especially when you consider the fact that it has wheels and a telescoping handle built in, much like those a carry-on  might be equipped with.
It's also a stylish speaker, however its design errs on the side of rugged durability and therefore the Rockin Roller 2 looks more reminiscent of a Hummer all-terrain vehicle than other high-end, more fashion-oriented Bluetooth speakers on the market.
That being said, I don't think of the Rockin' Roller's size or appearance as deterrents, as anyone in the market for such a powerful and reliable speaker probably won't mind its looks or bulk one iota. In fact, I personally think it looks fantastic, and I would be proud to rock this speaker at any outdoor barbecue, beach party, or tailgating event.
If you want a speaker that can do more than just fill a large room with sound, but instead can fill a large, open-air outdoor space with killer audio, look no further. This speaker is ideal for any situation where you need maximum volume from a portable heavy-duty speaker. Whether you are teaching yoga in the park or Pilates at the gym, this speaker packs plenty of punch, allowing everyone in the vicinity to experience clean, crisp acoustics.
While volume, audio quality, and ruggedness may top the list for most people, this speaker comes with a lot more bells and whistles than just high-quality sound. Some of my favorite extras that come as part of the Rockin' Roller 2 package are a built in dual-LED flashlight, a 100-hour capacity battery which can power the speaker and recharge USB-powered devices as well as standard AC-powered devices, and its ability to play standard FM radio stations. This speaker also has a convenient slot on its topside for securely mounting an iPad or iPhone and a large pocket attached to its side for carrying its AC cable and even an iPhone.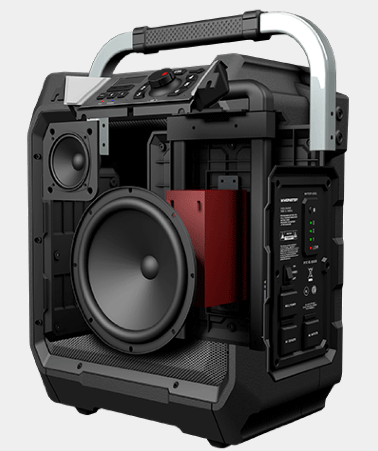 Pros:
Incredibly long battery life with up to 100 hours of playback.
At under $150 this is a remarkably affordable speaker. Especially considering its heavy-duty design and massive sound.
80 watts of omnidirectional acoustics.
Recharging capability, allows you to power up most any USB charged device.
Allows for powering AC devices with handy AC input plug.
Incredibly rugged design, guaranteed to last for many years and perform well in a wide range of environments.
Remarkable sound quality, with no distortion at really high volumes. It has clearly defined highs and mids, and a bass response that will rattle the ground you stand on.
Great style, with a relatively neutral design that would be appropriate in everything from a casual to a more official or formal setting.
AUX input for connecting devices via an included 3.5mm jack cable.
FM radio receiver is a nice touch, though one I personally never used beyond initial testing, what with the likes of Spotify, Amazon Music, and Sirius XM all so conveniently located on my iPhone.
The added convenience of a telescoping handle and roller wheels to make its heft and weight negligible.
Cons:
A variety of color choices would be a great selling point for this excellent speaker.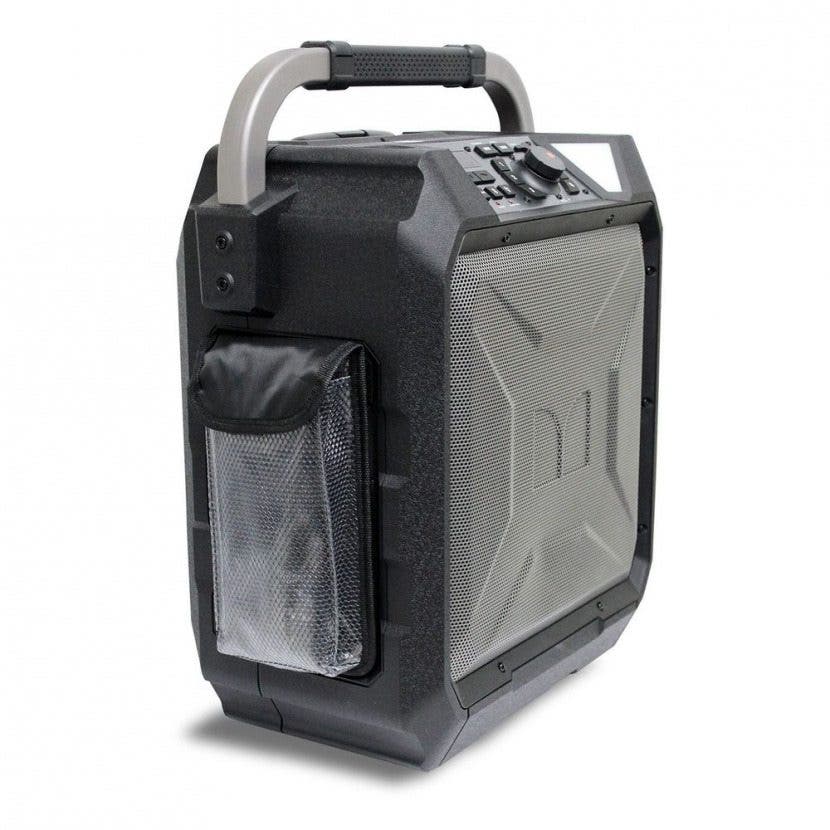 Final Verdict:
The Rockin' Roller 2 is, hands down, my favorite outdoor/indoor, rugged speaker at the moment. It's the best dollar for decibel value I've found and the bang you get for the buck is truly impressive. It's packed with amazing and practical features and its impressive battery life will keep the soundtrack going for days between recharges. Whether you are looking for a hardy portable speaker for work or for play, the Rockin' Roller 2 will not disappoint. I highly recommend it.