Keep your iPad connected to the internet no matter where you are with these iPad cellular plans.
By

Elisabeth Garry
Thu, 05/06/2021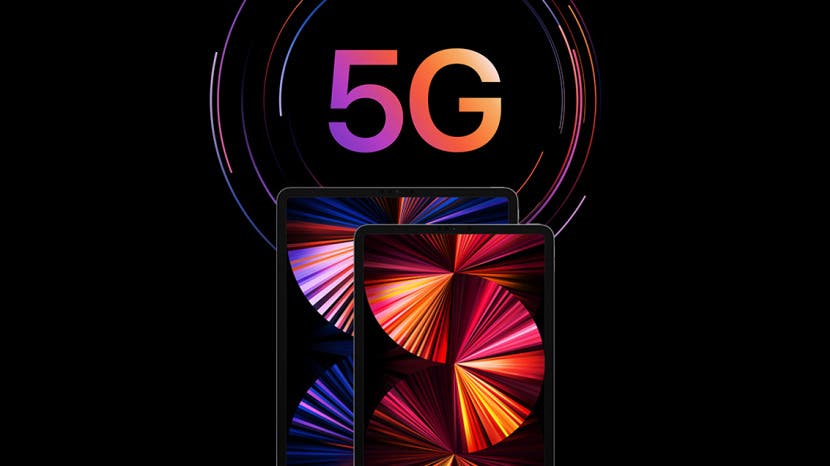 Adding a data plan for your iPad may be a little confusing because plans for iPads can look a lot different than the cellphone plans you're used to. We'll break down the best plans you can get for your iPad, plus what you need to know before you decide which iPad plan is right for you.
Jump To:
What You Need to Know About iPad Data Plans
If you are just getting started with an iPad, you may be tempted to picture it working just like a bigger iPhone, but that's not really the case. You need to decide when you purchase your iPad whether you want it to include cellular service, because models that use Wi-Fi only are different from those that support cellular data connection. Apple calls these latter models "Wi-Fi + Cellular." With an iPad Wi-Fi + Cellular, you can stay connected to cellular data networks when not connected to Wi-Fi.
When you get a cellular plan for your iPad, what you're getting is a data-only plan. Keep that in mind when you choose your cellular plan, as you'll need to ensure you choose a plan that covers your iPad.
Another thing to watch out for is that prepaid plans are more common when looking at plans for tablets. Frequently, users may only need cellular data plans for their tablets for a short stretch, for instance, when traveling and leaving their computers at home.
Pro tip: for many plans, setting up autopay will cut down on your bill by $5 or $10 per month, which is usually worth it and has the added bonus of saving you from having to remember to pay a bill each month. The prices quoted in the article below will reflect autopay prices unless otherwise indicated.
Related: What Apple Watch Cellular Plans Cost on Verizon, AT&T, T-Mobile & More (Updated for Apple Watch 6)
Best iPad Plans for Heavy Data Users
Verizon offers 30 GB of high-speed data on their network for $65/month for tablet users. You'll enjoy 5G Nationwide and 4G LTE data with HD-quality streaming. When you sign up for a prepaid plan with Verizon, you can get your third month free with a new activation.
If you have an Unlimited plan for your iPhone with Verizon, you can get an Unlimited Plus plan for your iPad for $30/month. If your iPad will be your first device with Verizon, this plan is $85/month. Unlimited Plus for your iPad features Unlimited 5G Ultra Wideband, Unlimited 5G Nationwide/4G LTE data (with 30 GB of premium data), an unlimited mobile hotspot (30 GB of 5G Nationwide/4G LTE data), and 720p HD-quality streaming on capable devices. 
AT&T's iPad plan is AT&T DataConnect, which offers 25 GB of monthly data for $60, or $50 with a $10 autopay and paperless billing discount. Their heartiest prepaid plan is AT&T PREPAID, with which you can get 15 GB of data for $35 per month. Overages for both plans are $10 for 2 GB, but certain plans offer an in-advance purchase of 5 GB of additional data for $10.
T-Mobile's most generous data-only plan for iPad users is called Essentials, and clocks in at $40/month for 30 GB of high-speed data. T-Mobile also offers Magenta for tablets, which includes unlimited 4G LTE data on your iPad, unlimited texting, and 480p unlimited video streaming. Upgrade to Magenta Plus Tablet to get 20 GB or 30 GB of 4G LTE mobile hotspot data and unlimited HD streaming in the United States. Current pricing is available by contacting 1-800-TMOBILE.
Best iPad Plans for Travelers
AT&T has an international data package option for iPads called AT&T Passport Data. You can choose 2 GB of data at $70 for 30 days or 6 GB of data at $140 for 30 days. Overages for this plan are $30/GB. AT&T Passport Data for tablets includes data-only coverage in over 200 eligible countries.
T-Mobile's Magenta plan for tablet also includes texting and data in over 210 countries and locations. Your data speed is capped at 128 kbps, though, so keep that in mind. You can increase your data speeds to 256 kbps if you upgrade to Magenta Plus Tablet.
Another option for travelers is to pick an international plan directly from your iPad, via one of Apple's carrier partners. You can choose a local carrier in more than 180 countries and regions, install a local carrier SIM card if you wish, and change back to your local carrier when you return to the US.
Best iPad Plans for a Budget
T-Mobile offers a plan for as low as $5/month per connected device. This plan is for you if you intend to only occasionally use data; with it you get only 500 MB of high-speed data per month.
Though T-Mobile's option remains the cheapest among the big carriers, AT&T's prepaid data-only plans provide a similarly small amount of data for a low monthly charge. With AT&T's DataConnect Pass Auto Renew, you can get 1 GB of data at $19.99 for 30 days.
Check Your Network by Location
Picking out the best carrier may also depend on your geographic location. Before you choose the best plan for you, consider testing out the Opensignal app or viewing their coverage maps. This app lets you test 5G, 4G, and Wi-Fi signal speeds. Before you buy, make sure that your preferred carrier has coverage where you'll need it most.