By

Conner Carey
Wed, 09/07/2016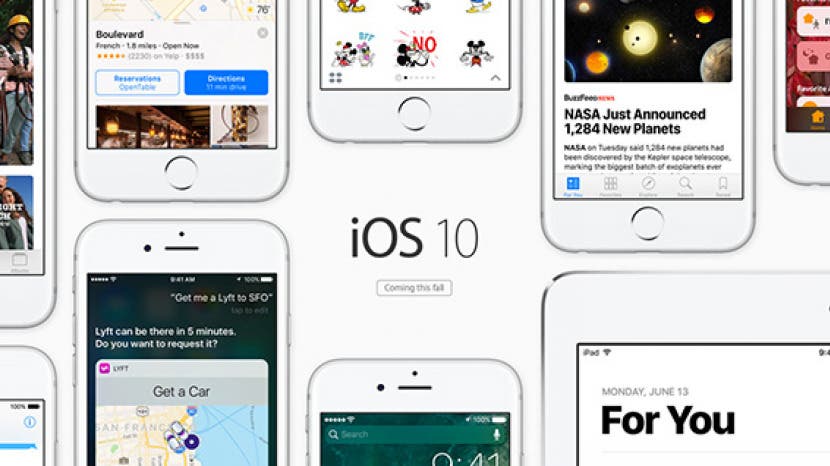 The iPhone 7 will ship with iOS 10, but users can begin to download and install iOS 10 next Tuesday, September 13. At its September event, Apple announced that iOS 10 is the biggest iOS release ever. And I would have to agree. Simply using the beta version of iOS 10 has convinced me I could never go back. Apple didn't talk about iOS 10 much today, mostly as an intro to the iPhone 7 debut, but we're going to cover everything you need to know about the latest and greatest operating system. This upgrade will seriously change how you use your iPhone from Siri's ability to integrate with third-party apps to your ability to annoy friends with messages that rain confetti. Let's take a look at the top ten iOS 10 changes coming to iPhone, in no particular order.
Related: How to Update to iOS 10 
Apple added a lot of features with iOS 10. We'll cover the ten features most likely to change how you use your iPhone, but some other awesome features include Quick-Type contextual predictions, facial recognition for Photos, redesigned News app, Apple Pay on the web, Bedtime in the Clock app, Organ Donation sign-up in Health app, One-click sorting in Mail, Notes collaborations, avoid tolls in Maps, added 3D Touch functions, and so much more. Want to learn how to do all this stuff? Sign up for our tips newsletter; we'll be sending out how-tos on all the new features of iOS 10.
Master your iPhone in one minute a day:
Sign up to iPhone Life's Tip of the Day Newsletter and we'll send you a tip each day to save time and get the most out of your iPhone or iPad.
10. HomeKit with the Home app
HomeKit products are meant to automate functions within your home. But before iOS 10, those devices didn't have a home. Meet the new Home app. It's the first app to bring home automation together in one place. You'll be able to easily manage your HomeKit devices on your iPhone whether you're at home or away. You can also quickly access what you need to from a special Control Center screen for Home. And of course, you can ask Siri to do the work. So long as your device is compatible with Apple HomeKit, you'll be able to use and adjust everything you need to right from the Home app.
9. Redesigned Maps
Apple has gotten a lot of criticism in the past for its terrible Maps app. Well it appears things are finally turning around with iOS 10. I used the iOS 10 beta Maps when I recently went on a three-week road trip. It was a lifesaver. My friend and I found ourselves stuck in traffic in the middle of the desert between California and Arizona. Luckily, Apple Maps found a detour very few other people seemed to know about and we were able to keep moving down the road. When you look up a destination, you'll see lots of information about the place sourced from Yelp, making it easy to decide whether or not to go there from within Maps. iOS 10 Maps will also be able to integrate with apps such as OpenTable to allow you to make restaurant reservations from within the Maps app. One of my favorite new features? The ability to search along your route. While I was on a road trip this feature was fantastic for finding gas stations without ending my current route. Maps was even able to tell me how much time stopping somewhere would add to my overall time. If you've been using Google Maps for the past few years, it might be time to give Apple Maps a second chance.
8. Voicemail Transcription
I hesitated to include this in the list because it's not earth shaking; however, it's quickly become one of the most useful features of iOS 10. Who wants to listen to their voicemail? And if you're busy or in a loud area, it feels like a chore that can be put off and put off. But with iOS 10, you simply click the voicemail and read the transcription. I'm able to grasp ninety percent of what the person was saying and quickly decide whether to call them back, text them, or delete the message.
7. Widget Lock Screen
Widgets on your Lock screen are the iPhone version of complications found on Apple Watch. It allows you to quickly glance at the weather forcast, your top Apple Music playlists, events on your calendar, reminders, nearby in Maps, app suggestions, activity tracking, battery life, and more.  You can edit what widgets show up and developers will get to create their own widgets that you can add too such as one for Airbnb, Kindle, and more.
6. Siri Open to Developers & Third-Party Integration
This is one of the iOS 10 features I'm most excited to see in action. Developers will be able to integrate with Siri, allowing you to do all kinds of things without ever opening an app. Whether you need to call an Uber driver or make a reservation for the fancy restaurant that just opened—you'll be able to just by talking to Siri. There's a lot developers can do with this, and we'll start to see more and more features from Siri as they do.
5. Messages App Gone Wild
Check out our Editor in Chief's article on Messages in iOS 10 to get the full breakdown with helpful tips and tricks. You'll need it, because the Messages app has gone wild. You can add effects that range from Invisible Ink, which creates a message that only be seen when you rub your finger over it, to confetti and fireworks falling from the message screen. It's out of control. You can also tap to replace a word with emojis, which is helpful when you don't want to search through the list to find one, but please don't start replacing words with emojis all willy-nilly. I will go nuts thinking I'm in kindergarten all over again. There's also a special App Store you can access within the Messages app that will allow you to utilize all kinds of stickers and gifs, or get third-party app features. You'll be able to make reservations, hail a Lyft car, and anything else developers can come up with...right in the Messages app.
4. Raise to Wake
This is a pretty small feature change with a lot of impact. If you're afraid of it killing your battery life, you can turn it off in Settings. But I've come to love Raise to Wake on iPhone a lot. No more clicking the Home button and accidentally opening your iPhone when you meant to view notifications. Just pick up your iPhone and you'll see what's on the screen. I've also found this to be the safer way to change music when driving: I just lift my phone and tap the next button.  
3. Apple Music Redesign
iOS 10 also redesigned Apple Music to be more intuitive and easy to navigate. At first, I wasn't too sure Apple had made an improvement with the change, but my For You suggested playlists have been getting increasingly better and the Browse tab has allowed me to discover all kinds of new music. And I can't forget to mention the added lyrics in iOS 10 Apple Music! Not all songs have lyrics, it's usually the more popular, mainstream songs that do, but it is a work in progress and I imagine we'll see more and more songs with all the lyrics we could want to sing.
2. Delete Those Stock Apps!
Well, mostly. It's unclear as to whether or not deleting a stock app actually clears space on your iPhone. However, for all intents and purposes, when you delete a stock app it's gone. In order to get it back, you have to visit the App Store to redownload the app. That's good enough for me. My Apple stock apps folder has become much more sparse. There are certain apps you're still not able to delete but for the most part those are apps you'd want to keep anyway. It's good to note that if you delete the Flashlight app, it will also disappear from Control Center.
1. Rich Notifications
Notifications used to have a mostly singular function: to notify you of activity. Rich notifications in iOS 10 will allow you to do a lot right from Lock screen. From replying to messages to seeing what someone commented on your Instagram photo with the picture to remind you, there's a lot more you can get done now without ever unlocking your iPhone. Of course, if you're concerned about privacy and security you can turn this off in Settings. But overall, it's incredibly convenient.