Navigate the web faster by taking advantage of this easy-to-use iPhone keyboard shortcut.
By

Rhett Intriago
Updated 01/19/2023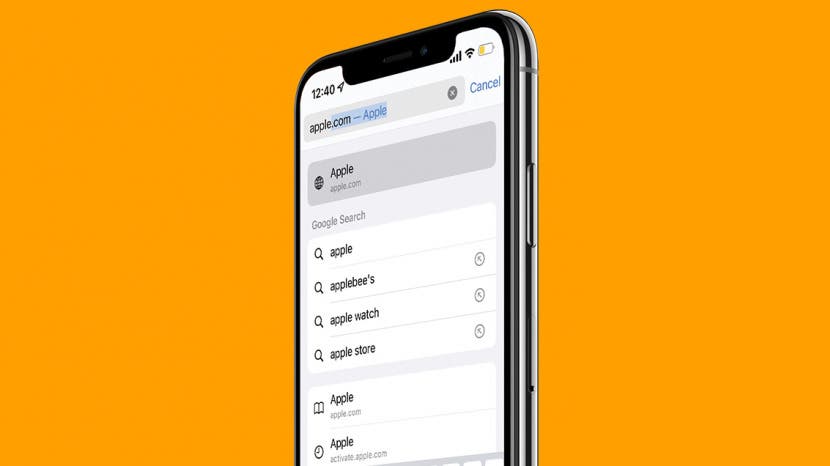 * This post is part of iPhone Life's Tip of the Day newsletter. Sign Up. *
Browsing the web has never been easier with this iPhone keyboard shortcut that allows you to quickly bring up a list of the most commonly used web domains. Whether you're typing a .com, a .edu, or a .gov, web domain or email.
Related: How to Retrieve Deleted Contacts on iPhone
Why You'll Love This Tip
Browse the web faster by typing URLs quicker.
Save time when entering email addresses on your iPhone.
Use This iPhone Keyboard Shortcut to Bring Up Commonly Used Domains
To learn more about your iPhone features, sign up for our free Tip of the Day newsletter. This iPhone keyboard shortcut is one of the simplest tools you can use while drafting an email or navigating to a website on your browser, such as Safari, Chrome, or Firefox. All you need to do is follow the steps below.
Open your preferred web browser.


Tap the address bar.


Tap and hold the period key in the lower right.


You will be presented with a list of domains.


While still holding the period key, slide your finger to select one of the listed domains. Alternatively, if you let go immediately after the menu appears, .com will automatically be inserted, since it is the first selection.


Depending on your region, you may see a different list of domains than the ones pictured above. For example, users in the UK may see options for a .uk or .co.uk domain. If you have installed different language keyboards on your iPhone, you'll also see options more common in those languages' countries of origin. Additionally, this trick also works when typing in email addresses. Now that you know how to use this keyboard shortcut on iPhone, you can type URLs much quicker, allowing for faster web browsing.